Neil is styled in Planete, Pacific, and Lock frames from the Tan France x Eyebuydirect collection.
Dressing appropriately for your age is always a topic in fashion. On the one side, everyone should feel confident enough to express their style in a way that makes them feel and look their best – a concept that has nothing to do with how young or old you are. On the other side, so much of what we see and learn from the fashion world highlights the importance of wearing age appropriate clothing and accessories. 
Queer Eye's resident fashion expert, Tan France, is a huge advocate of styling yourself in a way that makes you feel amazing while being age-conscious, which never means sacrificing your style. In this week's styling session, this legendary style icon is going to guide you to find fabulous frames at every age!
Fab Frames If You're Under 30
This is probably the most liberal age-range when it comes to experimenting with fashion. Ah – to be so young and carefree that anything goes! This stage of life is all about trying new things and figuring out who you are while evolving your personal style along with your personality. As your taste in clothing changes, so will your choice in eyewear. Be bold and daring when it comes to picking a shape that flatters your face! Whether you're into classic cat-eye, sleek square styles or retro round looks, you'll want to play with metals like silver and rose gold, colorful transparent acetate designs and whimsical patterns that draw attention to your beautiful features. The sky's the limit when it comes to pushing the envelope, so you'll probably even want to explore heart-shaped glasses in light pink or raspberry!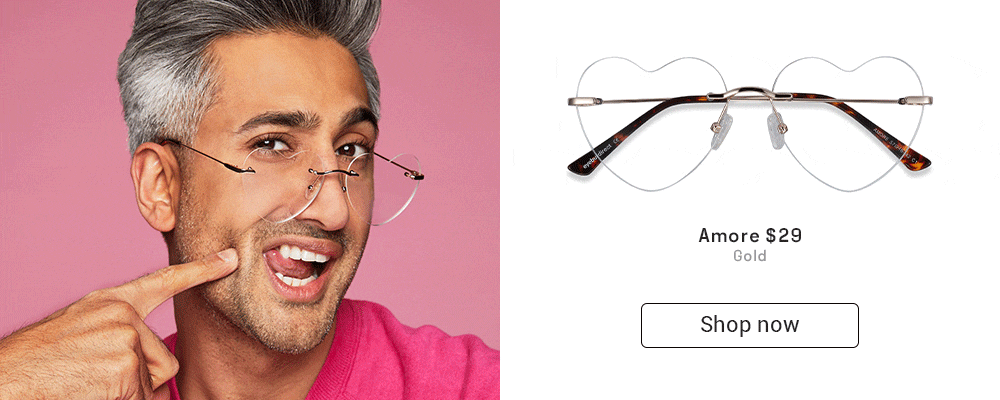 Amore in Gold
Fab Frames If You're 40 to 50
At this point in time, you're absolutely secure in yourself and feel completely comfortable being unapologetically authentic. This comes across in your day-to-day style and the way you carry yourself with total confidence. But it could also mean transitioning from styles that you've always loved to something a little bit more subtle and understated. But just because you have a few extra years of experience under your belt, it doesn't mean you can't step out of your comfort zone and play with the latest trends! Tortoiseshell frames are a timeless way to express your style with elegance. Planete are ultra lightweight and feature spring hinges for added comfort. Try on transparent styles like Pacific, adding a modern and spirited effect without being over-the-top. Aviator frames with contemporary design elements lend a refined look that's anything but boring. The important thing is to keep having fun and accessorizing in a way that accentuates your personality and lifestyle.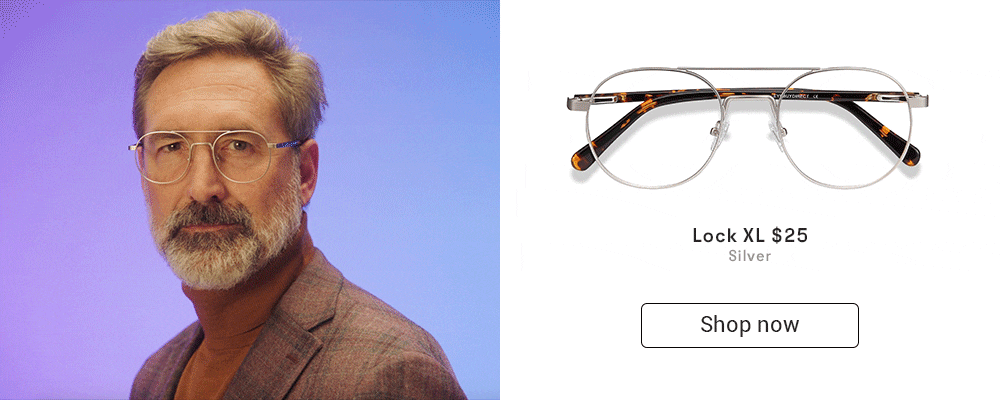 Lock XL in Silver
Fab Frames If You're 60+ 
You're not old yet honey, you're classic! It's time to focus on yourself and really take the time to place attention to details in order to look your absolute best – but most importantly, feel fantastic! Stick to what makes you exude confidence or reinvent yourself with fashionable accents that are totally YOU. At this stage in life, comfort is key, but that doesn't mean forfeiting personal style. If you're a little bit self-conscious about attracting attention to your fine lines from living a full and happy life, then you may want to opt for rimless glasses. Not only do they offer strong visual accuracy no matter your prescription, but they are super lightweight and limit irritation when wearing them over long periods of time. If these screen grandma in a way you're not willing to accept just yet, then don't let your age define your style choices! Sequence is a great premium style with square lenses and studded silver accents. Want a classic pair of black frames? Opt for Tower to express your uncompromising sensibility in sleek single-hued acetate.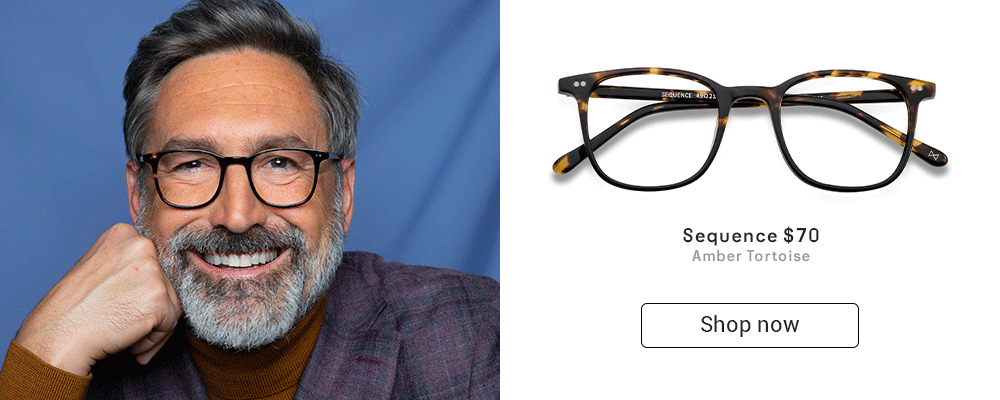 Sequence in Amber Tortoise
When it comes to your personal style, it's all in your hands! Stay true to what you've always love or keep evolving with the time and trends. Fashion and life are what you make of it – so have fun and be courageous every step of the way!
Now that you know all about age appropriate eyewear, don't forget to stay tuned for more styling sessions led by fashion guru, Tan France. Next week we'll explore finding glasses that flatter your face shape.