Acacia is styled in Sisi, Dazzle, Brittany and Attitude frames from the Tan France x Eyebuydirect collection.
Did you know that the average person spends at least one hour per day looking at themselves in the mirror? That number adds up quickly over the years. But how many of those times have you ever considered your face shape? This pivotal feature is something that so few people ever think about, mainly because it could be hard to figure out the shape of your face on your own. When picking the perfect pair of frames, accessories, hairstyles or even makeup to flatter your unique look, it's one of the most important aspects to consider. While it's easy to fall in love with a style that's aesthetically pleasing to you, it's not necessarily the best for your facial features. Fashion expert, Tan France, is here to share his style tips and tricks to find the glasses that compliment your face shape and balance your features perfectly. 
Determining Your Face Shape
Most people can determine their face shape simply by looking in the mirror. By tracing the outline of your face with your finger, you can figure out whether you have an oval, square, round, heart-shaped or diamond mug. 
If you're still having trouble differentiating between the 5 main face types, then there are a few quick and easy steps to figuring out your face shape. The first step is assessing the widest part of your face. This can usually be determined just by looking in the mirror or asking a family member or friend for a second opinion – but if you really want to get specific, you can use a measuring tape. If your jaw is the widest part of your face, then you have a square face shape, but if your cheekbones have the most width, then you likely have a round face. If your forehead has the most width, then you have an oval or square face. The second step is assessing the shape of your jaw and determining if it's round, square or pointy. Round jaws are associated with round or oval face types, while square jaws with square, and pointy with heart-shaped or diamond. The third step is about assessing the length of your face; short faces are often round or heart-shaped, while long faces are either oval or diamond. Now that you've figured out what category your stunning face falls under, it's time for the fun part – accessorizing with fabulous frames that flatter!
Frames that Flatter Oval Faces
If you have an oval face type, then you have evenly proportioned features that make it easy to play around with different frame shapes and styles. Be bold and experiment with the latest trends or tend towards classic and timeless looks that'll take you through the seasons looking your best. The frames that will flatter your face the most are round, aviator, trapezoid frames and cat-eyes. Go for a redefined classic with Coxon, golden aviators with geometric details and tortoiseshell accents. Embrace elegance with Lighthouse trapezoid frames in chic champagne or opt for a colorful cat-eye look with Aroma.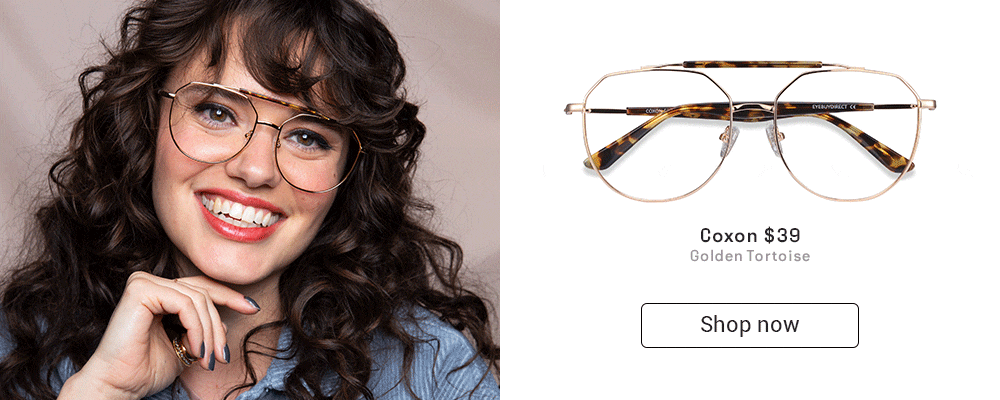 Coxon in Golden Tortoise
Frames that Flatter Square Faces
If you have a square face type, then you have strong angular features and a sharp jawline. You'll want to explore round and oval frames, since they will add contrast and balance out your facial features to perfection. Keep it simple and stunning with Daydream, a classic round frame available in shimmering rose gold. Looking for a fresh pair of sunnies? Go with Village, a retro round frame with geometric details that lend a luxe look.
Frames that Flatter Round Faces
If you have a round face type, then you have soft features and a circular jawline. You should start your search with square and rectangular frames that provide balance with their strong and angular structure. Experiment with transparent and wooden styles or timeless trapezoid glasses. Tan suggests Giverny for a sophisticated square style made modern in transparent acetate or Ethereal in chic champagne to block the sun's powerful rays.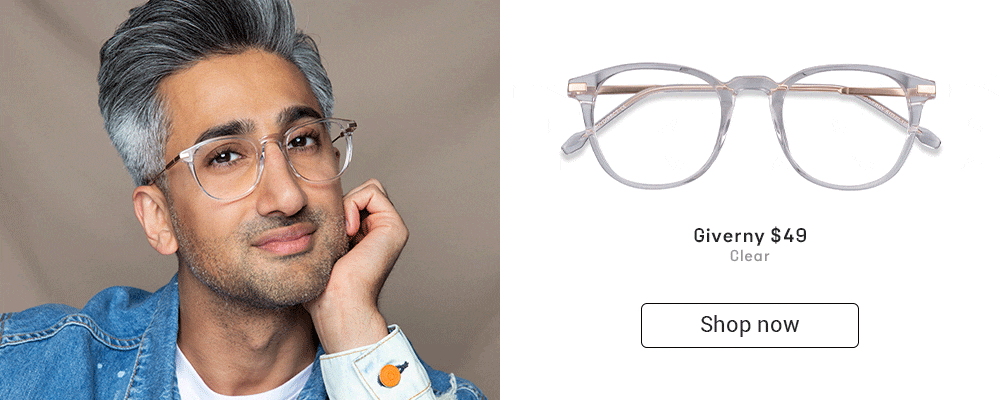 Giverny in Clear
Frames that Flatter Heart-Shaped Faces
If you have a heart-shaped face, then you have curved lines and delicate angles. Your loving look works best with oval or rectangular frames, minimalist rimless styles or classic trapezoid frames. Take on Tower in tortoiseshell or sleek gray to balance your features or dip your toes into the transparent trend with two-tone Illusion frames. If simple and minimalist designs are what you're all about, then opt for rimless oval Athena glasses in rose gold.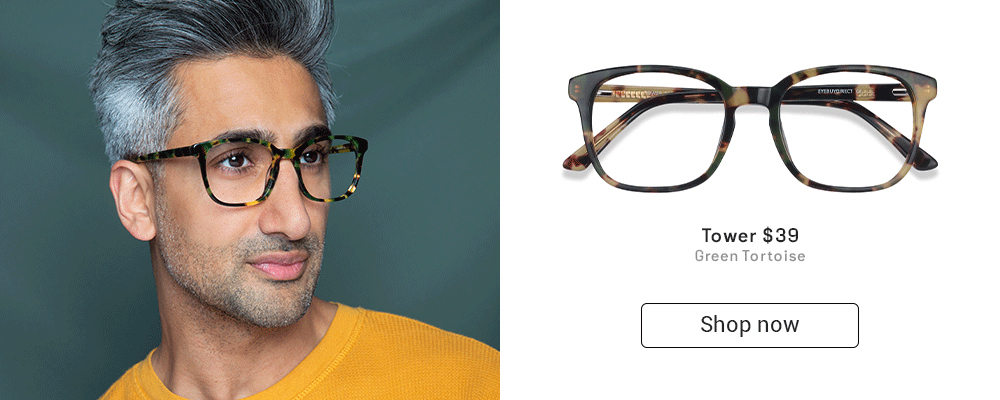 Tower in Tortoise
Frames that Flatter Diamond Faces
If you have a diamond face type, then you have angular cheekbones, a smaller forehead and sharp chin. You'll want to soften your features with cat-eye, oval, rectangular, and horn-rimmed frames to bring balance and harmony to your look. Tan suggests Attitude for a high-fashion look that complements your face shape. Sequence is also a style favorite that'll effortlessly add elegance to your outfits from sunrise to sunset.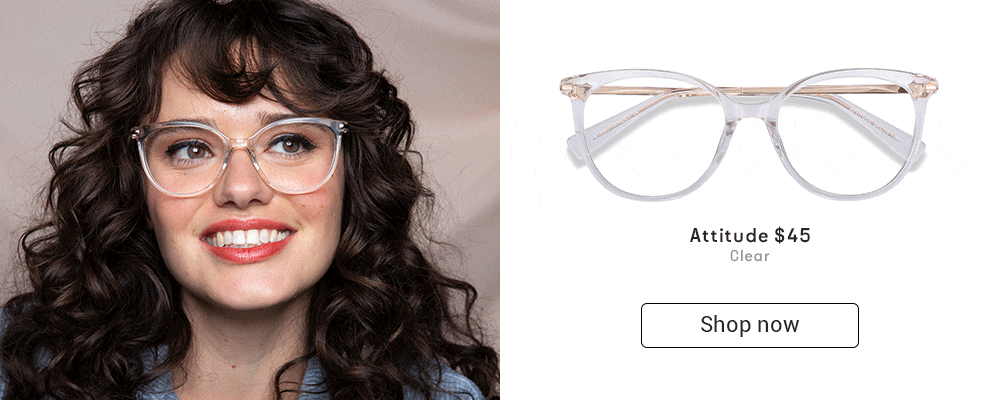 Attitude in Clear
It's all about contrast when it comes to finding frames that flatter your face shape. Since no frame fits all, it's important to experiment with designs that fit your aesthetic and play up your best features. Let these tips guide your next selection and you'll be sure to fall in love with your next pair of glasses. And if you don't, send them back for a full refund with our 14-day Fit & Style Guarantee. It's time to see yourself through the right frames, totally risk-free!
Now that you know all about face-flattering eyewear, follow our guide to fabulous frames at every age. And don't forget to stay tuned for more styling sessions led by Tan France! Next week we'll explore finding glasses that complement your skin tone.