Use the code CATHERINE30 to save 30% off orders over $100
I pride myself on being an excellent gift-giver, but each year buying gifts for the holiday season gets tougher! Choosing something for my family that's thoughtful and surprising takes a lot of work. When so many gifts bought for the holidays are hardly used after we open them, I think the best gifts are things that are useful and show our loved ones we really care.
For a unique gift idea, EyeBuyDirect offers amazing eyewear in tons of styles, with options for any face shape. Even if you don't need glasses to see, they offer lenses that can block blue light from digital screens. Blue light blocking lenses help protect our family's eyes from the harmful effects of blue light, especially with the increased amount of time we spend in front of screens in the colder winter months!
EyeBuyDirect has an amazing number of frame styles, with sizes and shapes that work well for everyone. While I was looking for some glasses for Sean and the kids, I couldn't help but spot a few for myself!. It didn't take long to find frames I loved for the whole family!

Clotilde, in Rose Gold
My nose bridge is quite small, so it makes it hard to find a frame that fits well. I went for the frame called Clotilde in rose gold, with nose pads that I can adjust to sit on my nose snugly. This frame has an oversized style and beautiful color that really makes my eyes pop! The thin design makes it subtle and not too heavy, and, along with the nose pads, they are super comfy to wear. I've found my dream glasses!

Vantage, in Gold
Vantage is another frame that really caught my eye. It's a larger style, like Clotilde, but I think the rounder lenses really change the whole vibe. It also has adjustable nose pads, so it suits me well.   

Tower, in Green Tortoise
For my Sean, I wanted something stylish and masculine. I decided Tower, with a green tortoise pattern, is perfect for him. The thick square hinges and warm color make him look so approachable and friendly, this color is ideal for him! These glasses are made with acetate, which is extra tough and kind to skin.

Gallo, in Gold
I never thought of getting aviators that weren't sunglasses, but these are practically made for Sean! The golden color fits him well, and the shape makes them stand out in the best way. I can't wait to see him in these!

Little John, in Black
I wanted a cute frame for the boys, that's strong enough to survive playtime and as comfortable as possible for my little ones. Little John is definitely built to last! The compact design and acetate material make this frame extra sturdy, and they make Samuel and Isaiah look like adorable little professors!

Little Morning, in Clear
Another frame I'm considering for the kids is Little Morning, with a clear coloring. This one is just as cute as Little John and adds a modern twist to a pretty standard shape. It's also lightweight to keep my boys comfy throughout the day!
EyeBuyDirect's adorable holiday packaging! So festive!
EyeBuyDirect has something for everyone! Whether you need vision correction or not, their stylish frames make the perfect gift for your loved ones that will definitely get a lot of use.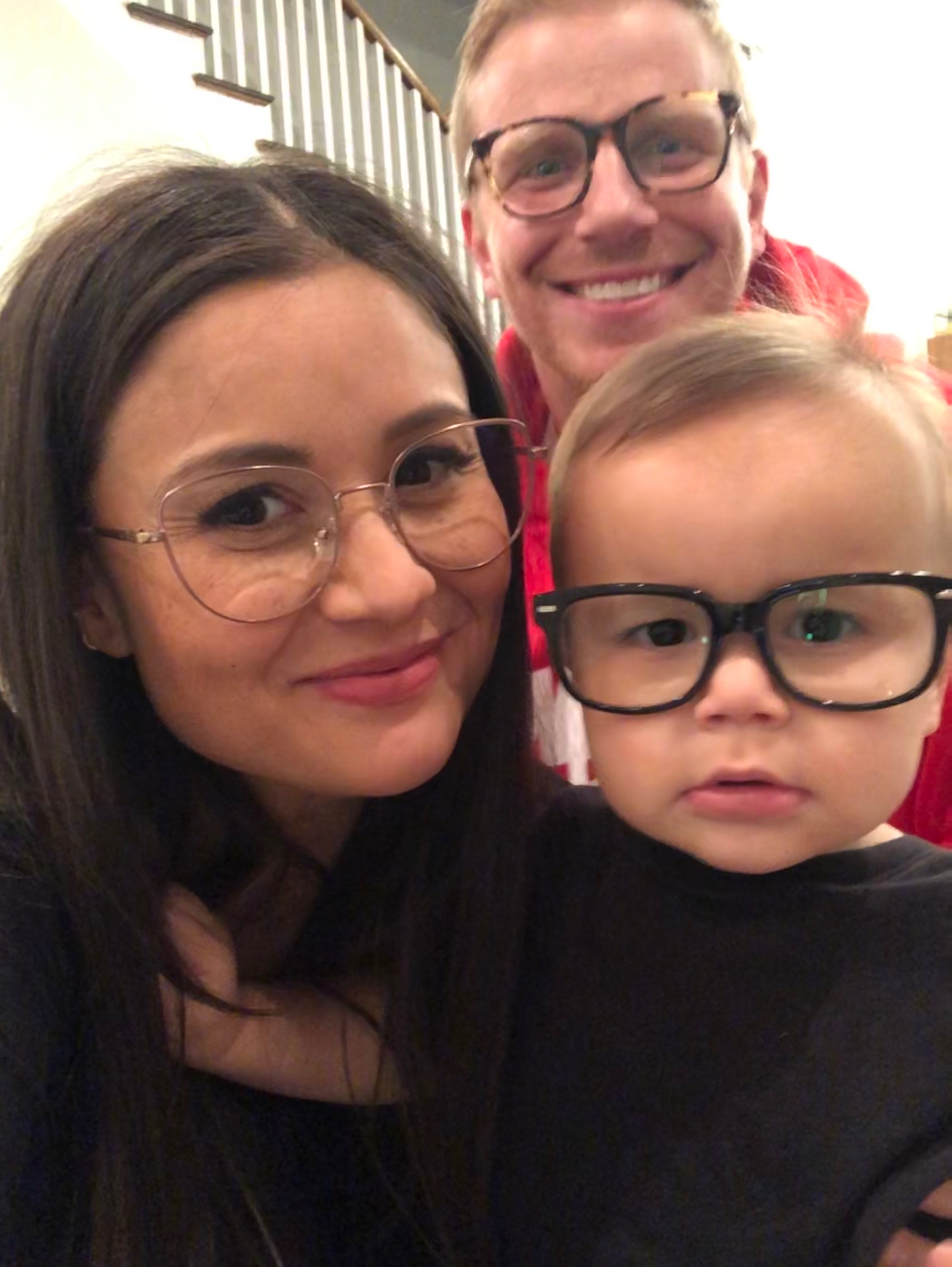 Looking fierce in our new frames!