Constantly moving between dimly lit buildings and bright sidewalks can really make your eyes uncomfortable sometimes. If you're the type that's always on the move, you're probably tired of that intense, eye-straining pain you get whenever you leave and enter places with different amounts of light. You could try carrying around a pair of eyeglasses and sunglasses, but switching between the two can be such a chore! That's where transition lenses come in. With glasses customized with these lenses, one single pair of glasses can adapt to both bright and dark surroundings. Sounds like magic, right? In truth, the secret to finding out "how do transition lenses work?" all boils down to a series of tiny, miniscule chemical reactions.
How do transition lenses work?
Transition lenses (also sometimes called photochromic lenses) darken and lighten depending on the amount of UV rays present in your surroundings. For example, walking out into the sunlight will have your lenses gradually darken to resemble the effect of sunglasses. When you walk back into your house, the lenses will lighten and become clear. The transformation is smooth and effective, and takes zero effort on the wearer's part.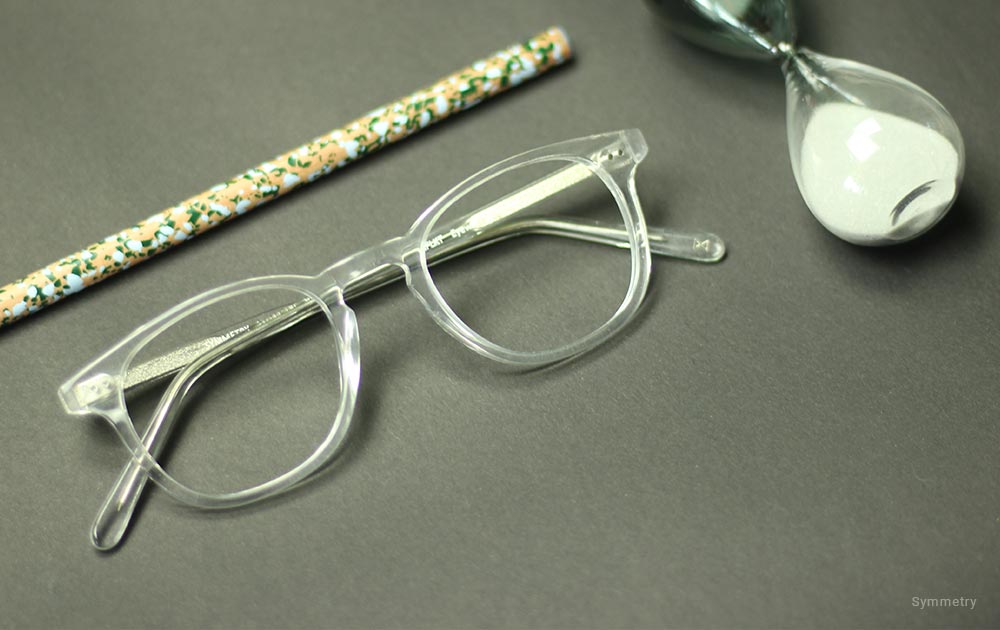 Symmetry, in Translucent
It all happens with the help of a patented chemical compound that reacts to ultraviolet light. These special chemical compounds are synthesized into a special photochromic dye that transition lenses are coated in. The coating doesn't affect vision quality, and it lasts for years!
If you're looking for a way to get more out of your average pair of glasses, transition lenses are your next step. They're appropriate for outdoor use, indoor use, and even work efficiently in front of computers. At EyeBuyDirect, you can customize any of our thousands of frames to incorporate high-tech transition lenses. Simply select the "transition lenses" option to get started.