6 of the best blue light filtering glasses for kids
If you're a parent, you'll know that screens are an inevitable part of your child's everyday life.
While the many tech options available to them are life-enhancing in many ways, they also come with their issues.
One of these is the concerns around blue light and its potentially harmful effect on kids' eyesight, general health, and wellbeing.
That's where blue light filtering glasses for kids come in. They're an effective, affordable way to protect your kids' eyes by filtering out potentially harmful blue light rays.
Maybe you've heard about blue light and glasses that filter it but aren't quite sure what this means for your child.
That's exactly why we've put this article together. So if you've ever wanted to know more about what blue light is, its effects, and how you can reduce them, you've come to the right place. We'll discuss all these issues right here in this post and also discover some of the best blue light filtering glasses for kids, picking out some of the most wearable, durable, and trendy styles that they'll love.
Let's start by learning more about blue light and why it can be potentially harmful to your child's wellbeing.
What is blue light?
Blue light, also known as blue-ray light, is emitted from devices such as cell phones, computers, flat-screen televisions, and other household items like lightbulbs. Its features include short, high-energy waves.
It's worth knowing that sunlight is another source of blue light. In fact, this type of blue light helps to set our waking and sleeping cycles. When the sun's out, we feel alert, awake, and energetic. Sunset gives our body the cue to wind down and get ready for a good night's sleep.
We'll discover more about the potentially harmful effects of excessive blue light in the next section.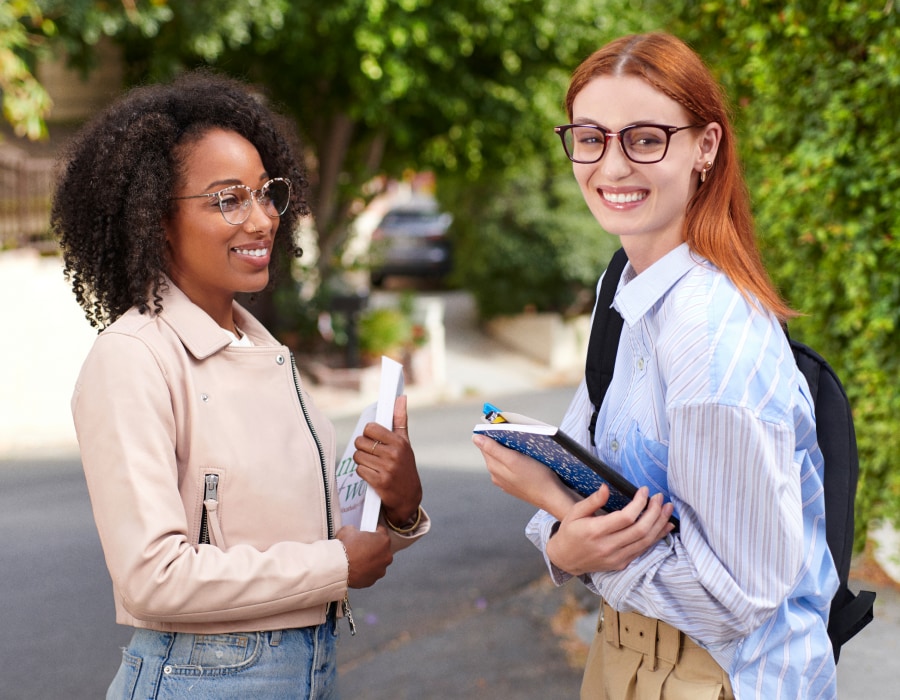 How is it harmful?
Now that you know the basics of blue light, you can see why too much of it can be a bad thing, especially towards the end of the day.
If your child has been playing games that involve screens during the evening and exposed to blue light during the day from computer and TV screens, their sleep cycle may be easily disrupted.
Poor quality sleep is one of the best-known harmful effects of blue light. But there are more. Overuse of devices emitting blue light can sometimes lead to:
Dry eyes

Sore or irritated eyes

Tired eyes

Blurred vision

Headaches

Fatigued facial muscles
Going back to the issue of sleep disruption, many studies have considered its effects. They've found that a lack of sleep or poor quality sleep may have long-term health consequences such as:
Higher risk of hormone-related cancers, such as prostate and breast cancer. (

1

)

Lower levels of the hormone leptin, which make you feel full after eating. This can lead to excessive eating and weight gain. (

2

)

Changes to your metabolism, including your blood sugar levels. (

3

)
All these factors tell us that limiting the amount of blue light your child receives from everyday sources such as computer and cell phone screens makes sense.
How can I protect my child?
It goes without saying that as a responsible parent, you're looking for ways to limit your kid's exposure to blue light.
Fortunately, there are several simple steps you can take to hit this goal:
Encourage them to take screen breaks by going outside for 10 minutes, for example.

Use dimmer lights or blue light-free bulbs at home.

Introduce them to hobbies that don't involve screens, such as reading a book instead of playing online.
Get your child a pair of the best blue light glasses for kids which we'll find out more about in the next section.
Our most wearable and durable blue light filtering glasses for kids
We all know that kids and eyeglasses don't always mix! Sometimes it can be a challenge to get your child to wear their glasses in the first place.
And once you've jumped that hurdle, you want to know that their glasses will withstand the stresses and strains that go hand-in-hand with being an active, curious kid.
That's why we've picked out some of the most wearable and durable styles of blue light filtering glasses for kids.
Little John rectangle black eyeglasses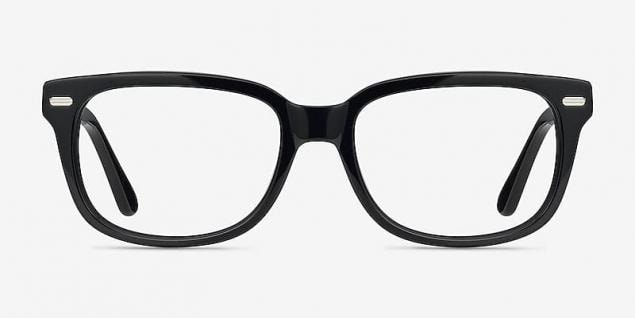 If your child is new to wearing glasses, start them off with our Little John Rectangle Black Eyeglasses. They look just as good on girls as boys, and their sturdy acetate frame won't let them down. Metal rivets and flexible spring hinges add the finishing touches to this wearable style.
Piano square floral eyeglasses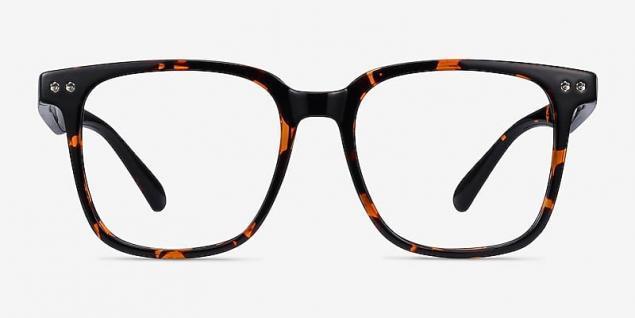 Looking for a classic frame for your kid's blue light glasses? Then reach for Piano Square Floral Eyeglasses for an elegant look that suits boys and girls alike. There's a slightly retro feel to them too, which will appeal to a child who appreciates vintage style.
Little Coexist browline black eyeglasses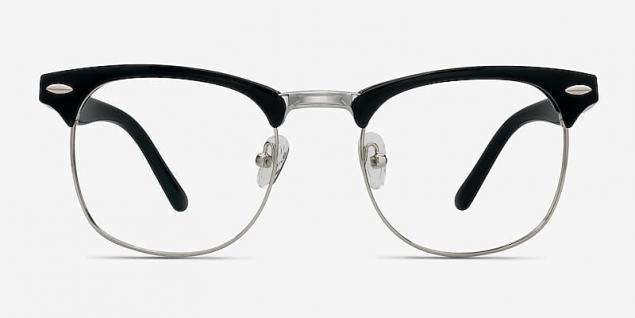 The Little Coexist Browline Black Eyeglasses have got it all: Style, durability, and a look that suits all. The browline shape defines little faces, while the plastic and metal frame will weather all the wear and tear that an active child subjects them too!
Trendy styles combatting kids' digital eye strain
If your child is a mini-fashionista, then finding the right style of glasses will be number one on their list of priorities.
Don't worry — it'll be super easy to tick all those style and practicality boxes when you choose a pair of glasses from our kids' collection.
We've got all the cool and trendy styles they're looking for, so have fun picking out the perfect pair!
Supermoon round teal eyeglasses for kids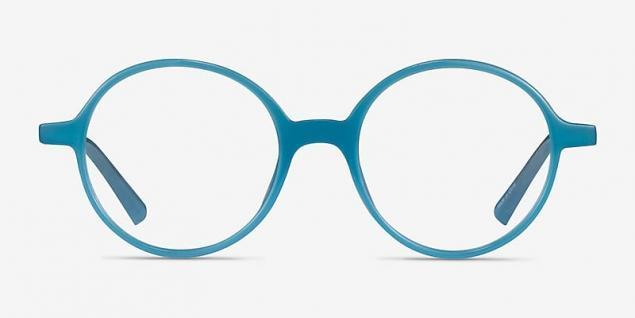 If your little one is reluctant to start wearing eyeglasses, they'll most definitely be persuaded with our Supermoon round teal eyeglasses for kids. Round like the full moon, these awesome specs glow in the dark — elevating them to an almost magical status! The only problem you'll have is getting your child to take them off at the end of the day.
Posie rectangle purple eyeglasses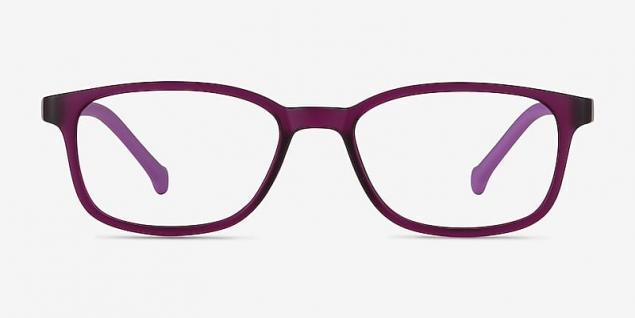 So, which frames do you choose if your child loves making a statement and is a fan of bright and bold colors? The obvious answer is our Posie rectangle purple eyeglasses, designed to stand out from the crowd. Not only that, but they're practical too as they're made of hard wearing yet lightweight plastic for a comfy fit.
Little Charlotte cat eye pink eyeglasses
Our Little Charlotte cat-eye glasses in pink are the cute kids' version of the classic retro style. Thanks to their stylish look, they're absolutely made for any child who loves to dress up every day. Not only are they elegant, but they're practical too. The full-rim acetate frames are sturdy enough to withstand all the usual knocks of your kid's everyday life.
Get to know more about buying blue light glasses for kids online
To protect your child, you need to be informed. You've taken the first step by reading this article on blue light glasses for kids, and by now, you'll understand the importance of looking after their eyes and general health.
So, whether you're looking for general kids' glasses or the best blue light filtering glasses for kids, know that there's a whole range available in our affordable kids' glasses collection.
Take your pick from fun, funky, and classic styles arranged in three groups for Juniors (age 6-8), Tweens (age 9-12), and Teens (age 13+), making it easy to view age-appropriate styles.
And ordering your child's blue light glasses online is super easy. Simply find the style they love, select the right size with the aid of our size guide, choose their vision correction needs, and confirm their prescription.
Whichever frame you choose for your kid (or they choose for themselves), you can match it with our blue light lenses.
All you need to do is select "blue light filtering" at the lens color stage, then choose one of our four different types of blue light lenses:
Then let us create your child's perfect glasses that will help them look super cool and protect them from potentially harmful blue rays too!
If you're still a bit daunted at selecting your child's glasses online, we offer a 14-day Fit & Style Guarantee, making it easy to return your chosen pair if you didn't get it right the first time.
In fact, buying blue light glasses for kids online is child's play, so browse our complete collection for you and your child. For more information on how blue light filtering glasses can protect your child's eye health, check out our digital protection page. Or contact our friendly team who are always happy to help.