These days, as much as we don't like to admit it, we spend most of our time in front of a digital screen.
The average person now checks their phone every 6.5 minutes, and this is ontop of all the time spent looking at computer screens, digital TVs, tablets and every other gadget we have in our lives. The majority of us spend an average of 8 hours connected to some sort of device, adding into a total of 12 hours spent consuming media every day. Digital devices have undoubtedly revolutionized the way we live but they aren't without their drawbacks.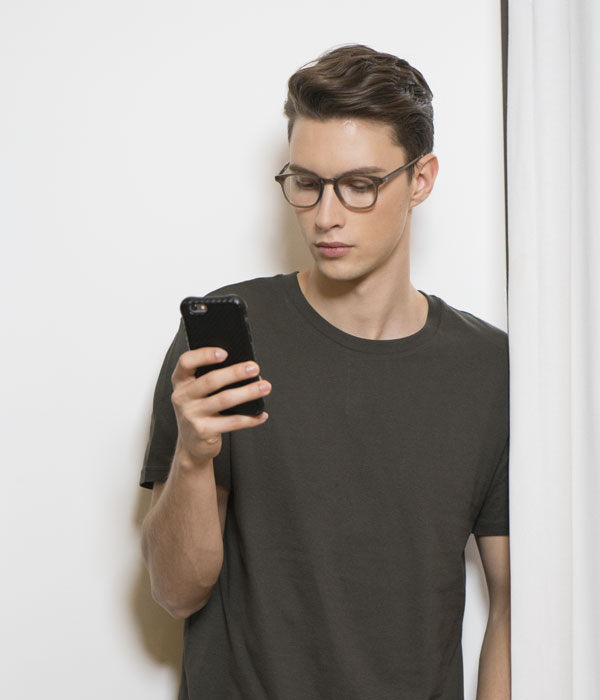 Frame: Symmetry in Taupe 
Although we need light to see, the type of light that our eyes detect has different effects on our bodies. Blue light affects the timing of our body functions, specifically our sleeping pattern. The 5 most common symptoms of digital eye strain from blue light exposure include:
Sore, tired, burning or itching eyes
Difficulty concentrating
Headache
Sore neck, shoulders or back
Blurred or double vision
The most recommended way to reduce the impact of blue light is to limit screen time. However, we all know that in this day and age, this isn't always possible. So what else can we do?
(Image: Aura Eyeglasses in Clear Jade)
If you're looking to reduce eye strain, stop disruption to your sleep and minimize the effects of blue light on your health, then our Digital Protection Glasses are for you. They do all of the above by filtering out harmful blue light which means you can still use all your favorite digital devices whenever you want to use them. In our opinion, it's a no-brainer that glasses for blue light are something everyone should own in 2017!  
Whether you're into big glasses or small glasses, aviators or trapezoid glasses, any and all of our frames can be used for Digital Protection. Stylish, affordable computer glasses, that improve our health and don't cost an arm and a leg? Sign us up!
Get a pair!
Tom