When this season's sunny days start coming around, you're going to want to grab yourself a pair of cool sunglasses for guys. Don't know where to start? Let this short style guide from the fellas at EyeBuyDirect help lead the way.
Tip 1: Embrace The Keyhole Nose Bridge
The urban fashion scene's latest fad can be summed up in three words: keyhole nose bridges. If you're searching for cool sunglasses for guys, make sure that they're stylishly modern by picking one with a keyhole nose bridge.
Why is this important? When it comes to selecting cool sunglasses for guys, you have to pay attention to the silhouette of the frame. That means you have to take into account everything from the shape of your lenses, the browline, and most importantly: the shape of the nose bridge.
Tip 2: Nothing Beats Warm Acetate Colors
Keep yourself looking sleek and sophisticated with classic warm colors. That means tortoiseshell, dark brown, and maybe even striped amber hues are the way to go.
In our opinion, you can't go wrong with Shadow in Neapolitan. This frame's subtle striped pattern keeps things interesting and fashionable without going overboard. After all, no self-confident guy wants to wears shades that scream, "please look at these!"
Don't be that dude.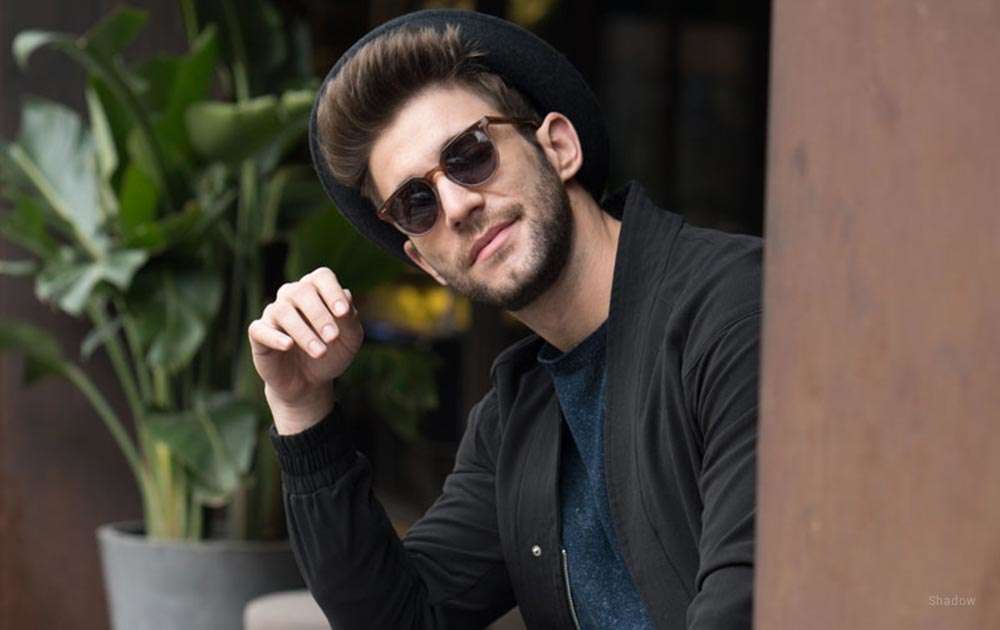 Shadow, in Neapolitan
Tip 3: Match Your Shades to Your Specific Face Shape
You could spend your whole waking life looking for cool sunglasses for guys… but none of it will be worth it if they don't fit your face shape. When it comes to men's fashion, nothing is more important than playing to your strengths and knowing what looks good on you personally.
Here's a quick run down:
Square faces look good with frames that are round.
Round faces contrast extremely well with square frames.
Heart-shaped faces go great with sunglasses with oval and round shaped lenses
Diamond-shaped faces fit well with trapezoid-shaped sunglasses, that place more emphasis on the browline
Oval-shaped faces look good with just about everything. Go nuts! The sky's the limit.
Want to learn more about which category your facial features belong to? Check out our little face shape guide on the EyeBuyDirect website.
Tip 4: Never pay more than you need to
The sunglasses industry can be a sleazy place, full of companies that overprice their frames to an unbelievable amount. EyeBuyDirect breaks that slimy mold by offering high-fashion sunwear for crazy affordable prices.
The best part? By ordering online you can get your sunglasses delivered directly to your doorstep. It's zero hassle for you, and it lets us cut down costs by taking the middleman stores straight out of the picture. Talk about a win-win situation. We even have a 14-day styling period and a 12-month replacement policy to sweeten the deal.
So what are you waiting for? Get your search started and find your perfect pair today.