People with petite faces are all too aware of the plight that is finding eyeglasses or sunglasses that are the right size. For whatever reason, the fates seem to have decided that having a narrow face means you're destined to wear glasses or sunglasses that will perpetually be slipping off your nose. That's why when it comes to fate, we turn a blind eye! At Eyebuydirect, we have a host of super stylish, narrow frame sunglasses and eyeglasses just for you small-faced folk.
What are narrow frame sunglasses and eyeglasses?
As you may have already guessed, sunglasses and eyeglasses with a petite frame are for men, women, or even children with smaller faces. Typically, the width of narrow frame sunglasses and eyeglasses ranges from 115 cm to 127 cm. At Eyebuydirect, we have extra small and small eyewear for your petite face. Extra small eyeglasses start at approximately 120 cm in width. Just a quick note: all frame width measurements at Eyebuydirect are done from screw to screw at the hinges.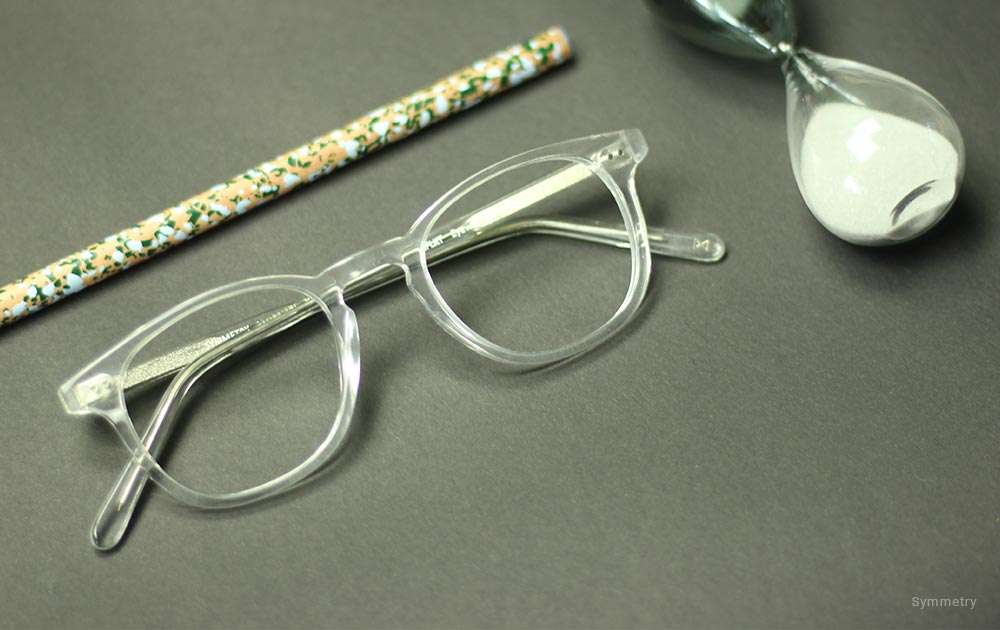 Symmetry, in Translucent
How to find narrow frame sunglasses and eyeglasses
Our number one tip for finding small-framed eyeglasses or sunglasses is to shop for your fit. While that may sound like a bit of task, it's actually much easier than you'd think!
To make your mission to find glasses for your thin face more efficient, employ our frame filter. If you already have a pair of small glasses or sunglasses that fit you, you can easily get their measurements and then use those measurements to shop for a new pair that matches your precise fit. To help you out figure out the size of the glasses you already have, Eyebuydirect has a tutorial that teaches you how to read your frame measurements or measure your frame by hand.
Once you have those numbers, click Size in the frame filter and adjust the sliders to your frame measurements. This will only display small glasses or sunglasses that fit your size criteria. And if you want to try on your new pair of petite eyeglasses or sunglasses before you buy them, you're in luck! Try on any frame style from Eyebuydirect using EyeTry, our virtual try-on mirror. When shopping a pair, simply click Try on and upload your photo to see what you'd look like. If you're having trouble finding the right shape frame, check out our face shape guide for some helpful hints and tips.
Glasses tips for people with narrow or petite faces
First and foremost: shop the right size. One of the most common mistakes people with thin faces make when shopping for glasses is settling on a pair that doesn't fit right. If you really want to keep your glasses from slipping off your face, make sure that they're small enough! And don't worry if you don't get the right fit on your first try with Eyebuydirect. We have a two week, worry-free exchange and return policy. If your first pair doesn't fit, simply contact customer service and they'll help find a new pair of narrow eyeglasses or sunglasses.
Even if your glasses are the right fit, sometimes they still feel like they're falling off your face. There are a few to help prevent your glasses or sunglasses from slipping down your nose. First, if your glasses frame has adjustable nose pads… adjust them! Gently bend the arms of the nose pads so that they're at the right angle to keep them from slipping off your nose.
Second, you can adjust temple arms. Notice how the tips of your glasses arms bend a bit? You can bend them downwards a bit to help hook them behind your ears better which can help prevent slippage. For those of you with plastic or acetate eyewear frames, run the tips of the temple arms under warm water for a couple of seconds to help make them easier to bend.
Finally, nobody likes a loose screw, especially when it comes to their glasses. Use a mini-screwdriver to tighten any loose screws in the hinges. This will help keep your temple arms sturdy and from being too loose when they hug your head.
And there you have it. We hope that this helps make your hunt for small eyewear a smaller feat! To start, browse our small eyeglasses or our small sunglasses catalogs. Happy hunting!