Shopping for a pair of female glasses can be confusing. Where do you start? There are so many styles out there, so many colors, so many choices to make! But fear not: we've put together a four step plan to help you choose the right pair of female glasses.
Step 1: What are they for?  
First things first, what do you need these glasses for? The type of glasses you require will vary depending on what you want them to do.
Glasses are ultimately all functional, but it's always good to bear in mind what they are ultimately being used for.
For example, if you need a pair of female glasses for driving, we suggest a pair that provide good coverage over the whole eye. Aviators are a great style to choose, as they were originally designed for pilots in the 1930s to help block out the bright sunlight they are exposed to when they are flying. It may also be worth considering a yellow or brown tinted lens, as this will balance out the bright blue and white light present in sunlight. Check out Step 4 below for our tips on polarization.
If you need a pair of female glasses for sports, then it's best to get something specialized. For example, if you are looking for a pair of glasses to wear whilst running, then we suggest a close fitting wraparound pair. These styles will stay in place even during strenuous activity, and are designed to allow you to focus on the sport rather than be distracted by your glasses.
If you are looking for a purely fashionable pair of glasses, then the world is your oyster and you have a wide variety of styles to pick from.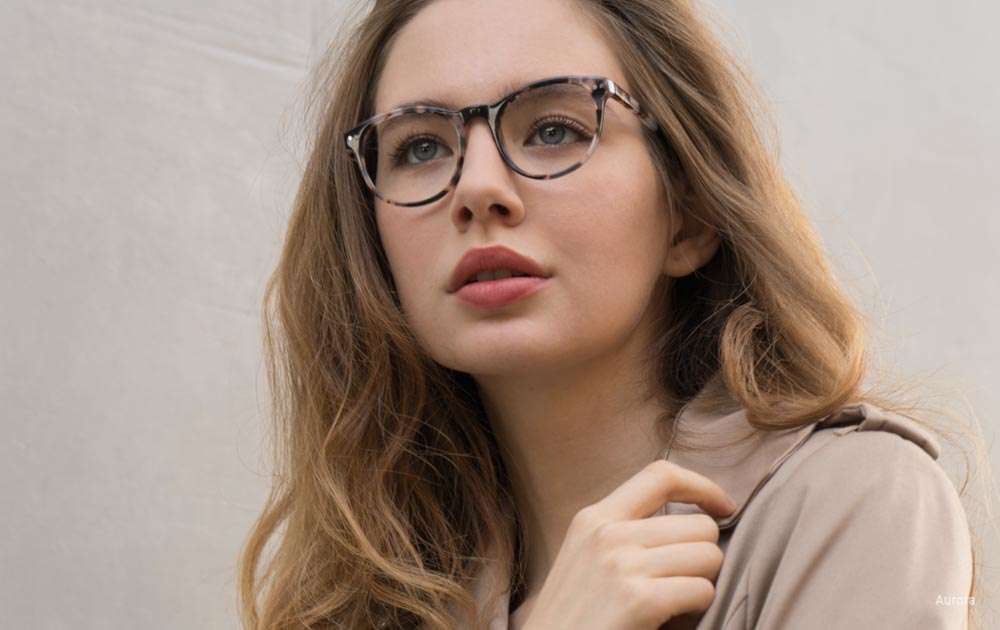 Aurora, in Flecked Ivory
Step 2: Choosing a Style,
Choosing a style is all about deciding what you want your glasses to say about you. Do you want to project a cool intellectual look, a geeky hipster vibe, or a fun and slightly cheeky aesthetic?
Classic styles such as browlines are incredibly popular. They mix a cool intellectual look with a stylish retro aesthetic. You can choose from subtle styles such as small wire rimmed glasses to larger tortoise shell frames.
You can have a bit of fun with some flattering 1960s inspired cat eye glasses. This iconic style is perfect for a pair of female glasses.
Alternatively, if you're feeling brave, consider a pair of ultra-modern glasses that are sure to be a conversation starter.
Step 3: Color
There's a whole world of color open to you. You can change the color of the frames or the lenses. Plastic frames are particularly good for this, with many patterns and colors to choose from. Have a bit of fun, or choose a color you know you will always love.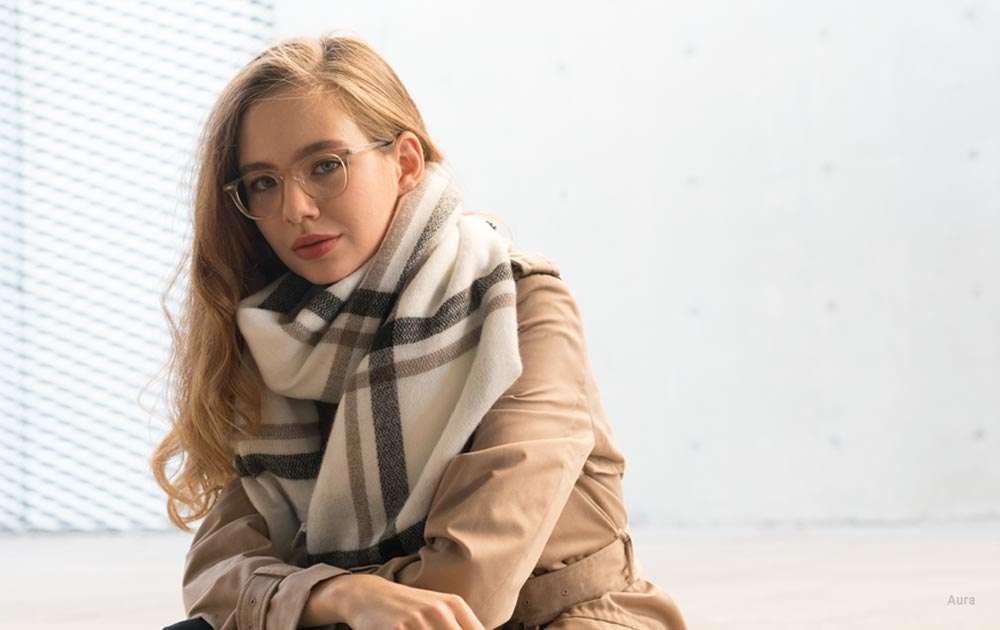 Aura, in Champagne
Step 4: Sunglasses
If you need a pair of female glasses that also function as sunglasses, consider a pair of transitions lenses. You can also choose to make your lenses polarized, which helps to keep your eyes comfortable by blocking out glare from the sun.
We recommend having a look through our range of female glasses here.