Floral sunglasses have long been a go-to for women's sunglasses styles. What makes a pair of sunglasses "floral"? When talking about frame patterns, floral is used as a catch-all term for patterns that are not quite striped and not quite tortoise. While tortoiseshell patterns tend to be caramel, chocolate, and honey hues mixed in with black, floral patterns tend to be bright swirls and bursts of blue, rose, and violet set against black. Floral patterns also incorporate the whimsical, ink-in-water type of motif and the occasional frost-kissed or crystalline pattern has been known to make its way in with floral frames as well. So if you're new to the world of florals or feel like you need some tips on how to find the right pair of floral sunglasses, then this little guide is for you!
Finding your floral fit
Finding the right floral pattern can be a task in itself, especially when not every floral looks like it has flowers. Sunnies with a frosted floral pattern can be an amazing accent piece for people with darker skin tones. For you blondes and brunettes, a pair of floral sunglasses can also be a great way to add a little bit of color to your face. But if you're someone who likes to follow the rules, then head on over to our color guide for help figuring out which color combo best matches your hair and skin tone.
Can't find a style that you like? If you feel like you want a wider selection, then we suggest that check out our regular eyeglasses. Why? Because you can turn any pair of EyeBuyDirect glasses into shades by adding some tinted lenses. Just find a pair of floral patterned eyeglasses that you like best. Next, while you're choosing your lens type, select Sun. There, you can choose from cool or classic tint options including: Basic, Gradient, Mirrored, or Polarized.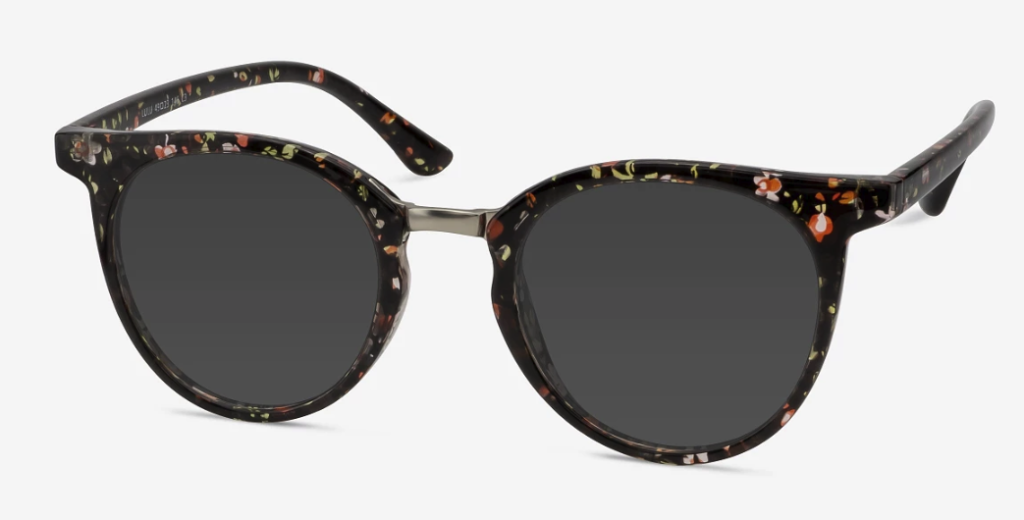 Lulu, in Floral
Getting the right frame shape for your floral sunglasses
Before you let yourself fall in love with some fun and flirty floral sunnies, make sure to shop a shape that's most flattering for your face. So how do you know if you've chosen the right shape? Well, it's how you frame it… your face that is! The general rule of thumb is to pick a frame shape that complements and balances out the shape of face. You can check out our complete guide for some helpful hints and tips on how to figure out which frame shape suits you best.
Try it before you buy it
If you're one of those people who likes to try on every pair shades on the rack in the checkout line, we've got you covered. Just find a pair you like and click "Try on" to upload a photo for a digital try on. What makes our digital try on feature so amazing is that it lets you know how the floral pattern and shape of your sunglasses frame will look before you even buy. It's a great tool for you wary shoppers.
Protecting your eyes
Even if you don't have a prescription, floral sunnies are an accessory that is kind of a necessity. Just like your skin, your eyes are susceptible to the damaging effects UV rays and overexposure to the sun's ultraviolet rays has been linked to eye damage like macular degeneration and cataracts. That's why it's important to protect your eyes with sunglasses that block UV rays. All sunglasses and tinted lenses from EyeBuyDirect come with 100% UV protection.
Oh and by the way, all sunglasses from EyeBuyDirect come with a risk-free, 14-day trial period and are backed by a 12-month product replacement guarantee. So what's keeping ya'? Shop now and have some fun in the sun with some floral sunnies.