Mirror lens sunglasses for men are more than just a trend. In fact, these reflective shades have been a mainstay of men's fashion for decades. To give a lens this reflective appearance, a special coating called "flash coating," or "mirror coating," covers the lens with a layer of metal that's so thin, it's transparent. At Eyebuydirect, we offer mirrored tint for both prescription and regular lenses. They come in three flashy colors: blue, gold, and silver. The most popular frame styles of mirror lens sunglasses for men include trapezoid frames, aviators, and square.
Acing your vintage look with Mirror Lens Sunglasses for Men
For you fellas who have that inner flyboy, we suggest aviator sunglasses with mirrored lenses. As the frame name implies, aviator sunglasses were originally created in the 1930s to help protect pilots' eyes while flying. Designed to cover as much of the eye as possible, they have a unique shape, similar to an inverted and rounded right triangle. Many aviator styles also have a double nose bridge to give the frame extra support.
Over the years, aviators found their way into men's fashion. They are popular for their strong and authoritative look, especially when paired with mirrored lenses (hence the nickname "cop glasses"). If you're sights are set on men's aviators with a more retro feel, then you might want to shoot for a frame wire metal frames; silver and gold frame colors paired with silver tinted lenses will give you more of a vintage look. Down to funk? For a look that's a more modern, choose an acetate frame with either a patterned or solid color paired with the mirror lens color of your choice.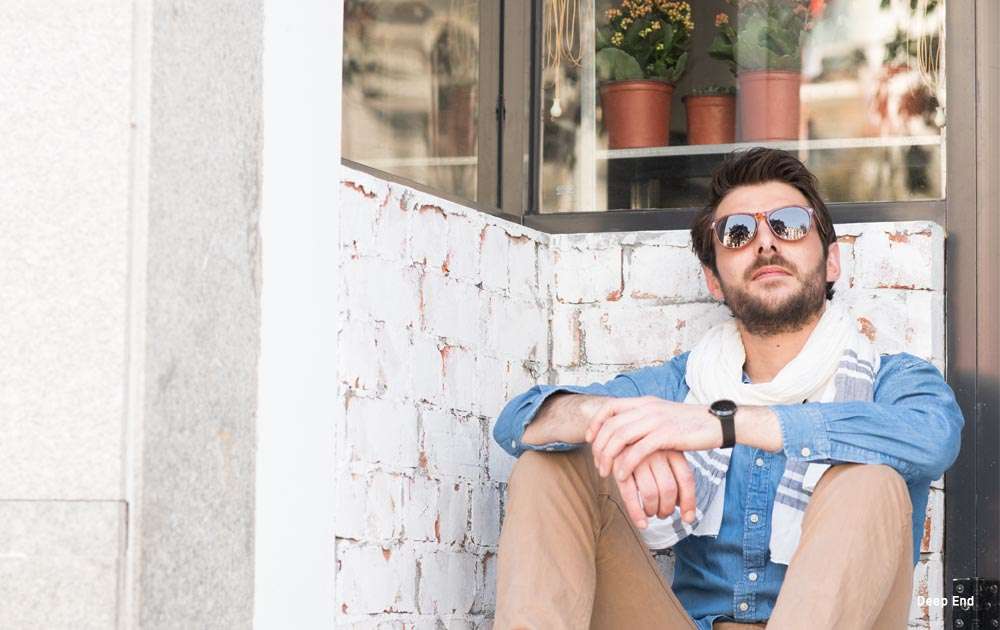 Keeping it classic
When it comes to classic shades styles, trapezoidal shape frames with thick rims are so iconic and versatile that this frame style fits most any face or any look.
If you prefer a pair of mirrored sunglasses that are more elegant and understated, pair silver mirrored lenses with a more modern trapezoid frame. For a more contemporary style, you'll want to go with a black acetate frame that has thin temple arms. Go for a classic trapezoid frame with thick temple arms and pair it with blue mirrored lenses if you want a pair of shades that's more for everyday wear. And if you're really looking to add some flash to your style, then go for gold… lenses that is! Aside from giving your sunglasses a bit of pop, gold mirrored lenses have the added benefit of cutting down on haze and improving your depth perception.
Life's a beach
Headed to the beach? Well, there's nothing wrong with being square, especially when it comes sunglasses. Square sunglasses with mirrored lenses embody the essence of men's sunglasses for the beach. Square sunglasses have a lens that's about a tall as it is wide and most men's are identified by straighter, more linear brow. The quintessential beach look is defined by black frames with silver or gold mirrored lenses. For something a little more fun and funky, try a bright red frame with blue lenses.
And while we're on the subject of catching rays at the beach, make sure you bring protection!  Your eyes, just like your skin, can be damaged by exposure to UV rays. So when you go to the beach (or even outside), wearing sunglasses with mirrored lenses can help protect your eyes since all lenses with mirrored coatings come with UV-protection, anti-glare, and scratch resistant coatings as well.
How to get mirrored lenses
Getting your mirror lens sunglasses for men at Eyebuydirect is easy. If you're shopping from our our sunglasses catalogs, all you have to do is select Mirrored from the four different tint types during lens selection. You can also add mirrored lenses to any of our eyeglass frames as well. If you've found a pair of men's eyeglass frames that you'd want to add mirrored lenses to, select Sun first when choosing your lens type, and then choose Mirror.
There you have it! Not sure where to start looking for your next pair of shades? Shop from our most popular sunglasses styles for men.