Looking to shake up your style? Try making a statement with big frame prescription glasses. Oversized eyewear has been popular for years now, and is the perfect way to accent any outfit. Chunky frames can change your look in an instant, allowing you to play with your style and add some iconic Buddy Holly vibes to any occasion. Fashion should be fun, and glasses are part of that. Big frame prescription glasses are a great way to play with your look, and have some fun in the process. And the great thing about a stylish pair of glasses is that you can just throw them on and go. Once you've found the right pair for you, being effortlessly fashionable becomes as easy as pie.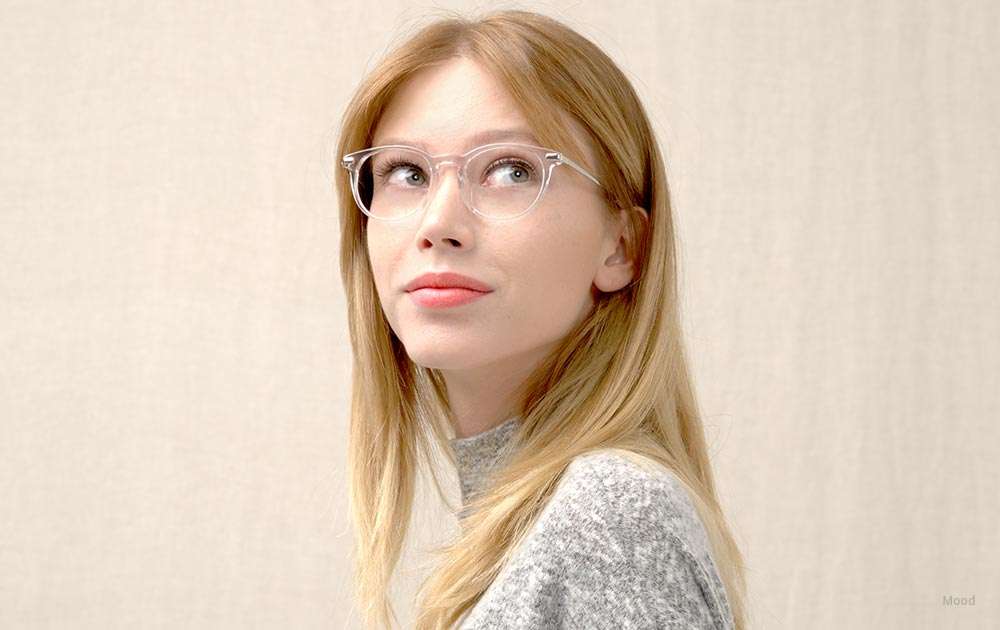 Mood, in Translucent
But Will Big Frame Prescription Glasses Suit Me?
A pair of cool oversized frames works for both men and women, and with our full range of styles you will find something for every face shape and every complexion. The right pair of big frame prescription glasses can flatter your features by complimenting your face shape, being bold without being overbearing.
Classic dark frames work excellently for those with strong features, but canbe a little bit too much for the daintier among us. If your complexion is fairer, you can try tortoiseshell frames, which help to break up a strong dark color and add interest and variety to eyewear. Whist tortoiseshell itself is chic, you can also add a modern twist with colored tortoiseshell for a whimsical take on the look.
If you are looking for something a little funkier, why not try some block colored acetate frames? Blue, green, red, there are so many choices that you can match them with a different outfit every day of the week! This style is excellent for bringing color to your face, so if you know that wearing red makes your skin look great, or that wearing green makes your eyes sparkle, then this could be the style for you!
If you are feeling uber stylish, clear acetate frames are fabulously trendy right now, a subtle nod to minimalism and futurism. Best of all, these frames work on anyone regardless of skin tone and complexion, and instantly inject heaps of style into any outfit.
And For When the Sun Is Shining Down
Big frame prescription glasses can also shade your eyes when you're out and about. Some oversized sunglasses will have you strutting your stuff like Twiggy or Audrey Hepburn in no time at all. Squinting in the sun is bad for your eyes, so investing in a pair of big frame prescription glasses to fully shield your eyes is a no brainer! Whether you need your sunglasses for sport, for driving, or simply for casual wear, we have you covered.
This style is a classic, and the trend is here to stay. Look very hot for a very cool price, and check out our impressive selection of big frame prescription glasses here.