Do you have a case of early onset summer blues? Well, there's only one cure: more blue! More specifically, a new pair of blue mirror sunglasses! One of the best things about mirrored sunglasses is that they transcend trends and have long ago secured their place among timeless eyewear styles, making them a perfect go-to pair for warmer weather. Since we're such big fans of blue mirror sunglasses, we wanted to make a quick little sunnies style guide to help you get your Summer 2018 shades game on track!
Blue mirror sunglasses styles for women
Clear sunglasses frames are here to stay, so for a crisp and clean look, crystal sunnies are the way to go. All you need to do is add a glint of glamour with blue mirrored lenses and you'll be the belle of the beach.If you're less of a beach bum and more into flower power, then you might find your gaze drawn to something a little more Janis Joplin-esque. For the perfect pair of sunglasses for festival season, match some blue mirror lenses with a vintage-styled, round metal frame.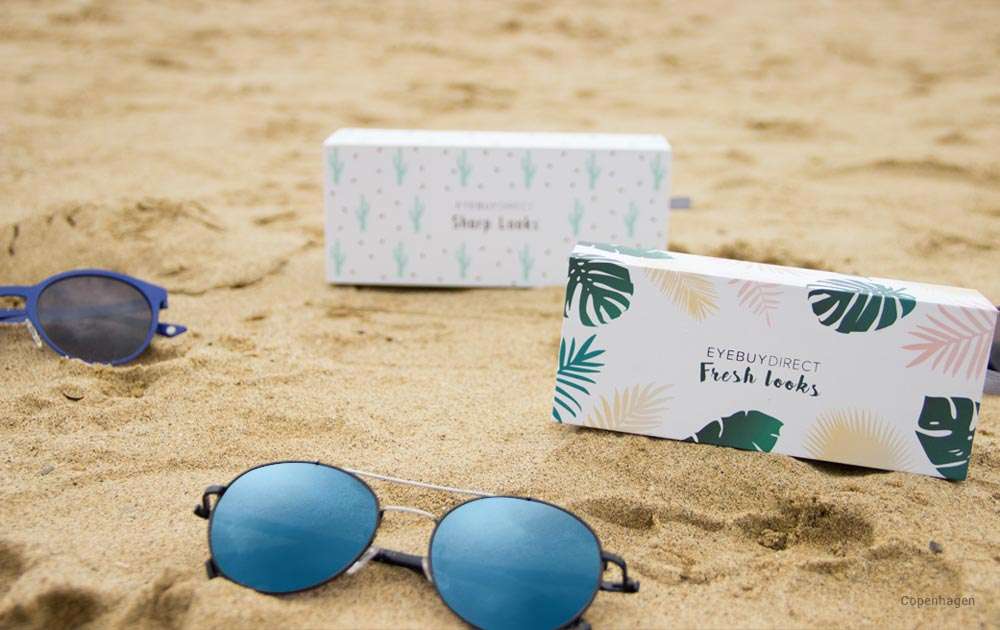 Good Vibrations, in Black
Blue mirror sunglasses styles for men
For a lot of guys, bigger equals better when choosing the right pair of shades—and we don't disagree! Two of our favorite frame styles for men who want to rock shades with blue mirrored lenses are aviators and oversized square frames.
Aviator sunglasses, also known as pilot glasses, have long been the authority on large and in charge for men's sunglasses styles. To get that vintage 70s look, pair a golden wire metal frame with mirrored blue lenses. If you're more of a never-ending-summer-type, go with an oversized, square frame with wide temple arms. Black is kind of a basic beach look when it comes the color of your sunglasses' frame. So to spice things up, match blue mirrored lenses with a hot red frame to keep your shades from being too square.
How do mirrored lenses work
Mirrored lenses, also called flash lenses, reflect light instead of absorbing it like a normal tinted lens. This makes the reflection on the lenses much more clear. And while they look opaque, mirrored lenses are actually covered in an ultra thin, reflective layer that's so fine, it allows some light to pass through. Also, if you're wondering why there isn't a reflection on both sides of the lens, it's because only one side of this coating is reflective.
Can I get blue mirror sunglasses with a prescription?
So here's the down low: all sunglasses at Eyebuydirect come in prescription and non-prescription. The means whether they're for fashion, function, or both you can get the right lens you need. When shopping a sunglass frame, make sure to click Prescription lenses so you can check out with your prescription, otherwise you'll only be able to select the tint type and color.
Did you know that you can also add blue mirrored lenses to any frame from our eyeglasses catalog? Pick any eyeglass frame and then, when picking your Lens type, select Sun and then choose Mirrored to personalize your selection with blue mirrored sunglasses lenses.
You're 100% Covered
All sunglasses from Eyebuydirect, including blue mirror sunglasses, offer 100% UVA/B protection, which is important for healthy eyes. They also come with a scratch-resistant coating to keep your lenses looking fresh and new. And for extra assurance, all EBD sunglasses (and eyeglasses!) come with a 1-year product guarantee.
So don't get over the blues, get into them with a new pair of blue mirror sunglasses. Not sure where to start? Shop your next pair of shades from our latest arrivals.