People like to have practical and fashionable accessories when it comes to eyewear. So, are clip-on sunglasses cool? Absolutely. Clip-ons come in many styles and can fit any taste, from classic designs to trendy statement pieces. And since they don't require any permanent changes to your frames, you can switch up your look whenever you want.
Clip-on sunglasses provide UV protection when spending time outdoors. Plus, they're easy to carry and can be stored in your pocket or purse when not in use.
How Do Clip-On Sunglasses Work? 
Clip-ons change regular prescription glasses into sunglasses without needing to buy new frames. Several kinds are available, depending on your unique needs.
For example, standard clip-ons attach to the front of your glasses and stay in place with strong clips. The lenses can be removed and reattached to your frames as often as you want. Others are designed with a hinge that allows them to flip up and down, so you can switch between regular glasses and sunglasses without taking them off.
Magnetic clip-on sunglasses are a bit simpler. They attach to your glasses with small but powerful magnets. The magnets provide a secure and comfortable fit with no clips needed.
Do Oakley and Ray-Ban Make Clip-On Sunglasses?
Yes. Many popular eyewear companies offer clip-on sunglasses. Designer brands are great because they use quality materials for added comfort and long-lasting wear. Oakley and Ray-Ban both have a wide selection in various styles and colors. Many have polarized lenses to reduce glare and are available with either standard or mirrored finishes.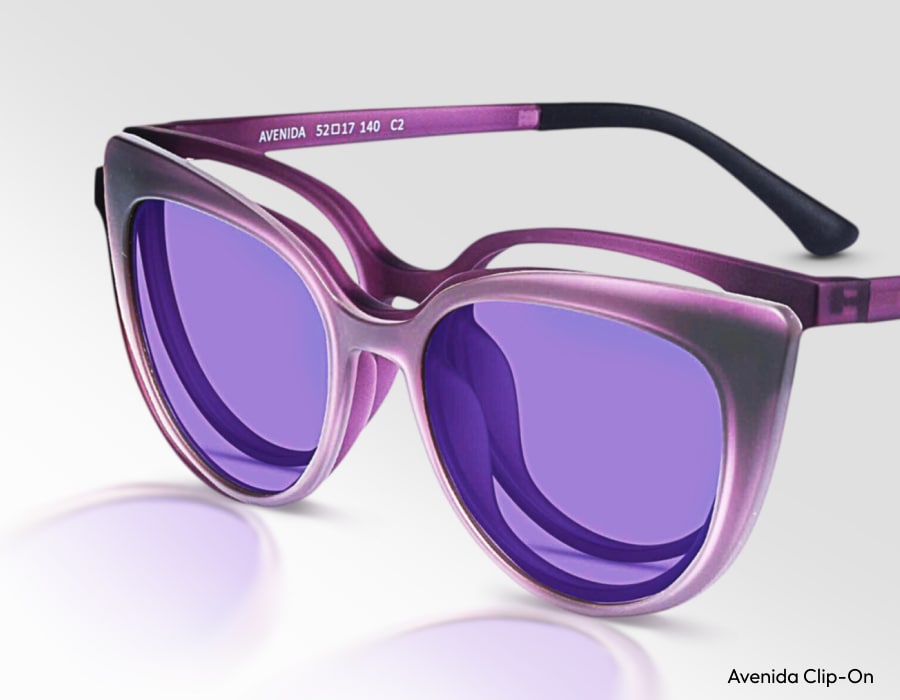 How Do You Find Clip-Ons That Fit?
It's important that the clips fit your frames properly, so they don't slip or cause discomfort. The lenses should also align with your eyes so your vision isn't obstructed.
If you're buying clip-ons online, measure your current prescription eyeglasses to determine what size you need. Be sure to double-check the product page and read customer reviews to confirm the fit and quality.
How Do You Measure Clip-On Sunglasses?
Just like your prescription glasses, clip-ons are measured by height and width in millimeters (mm). The height is measured from the top of the frame to the bottom, while the width is measured across the lens from left to right. We recommend using a ruler to find the correct size. This is especially important if you have larger or smaller-than-average eyewear.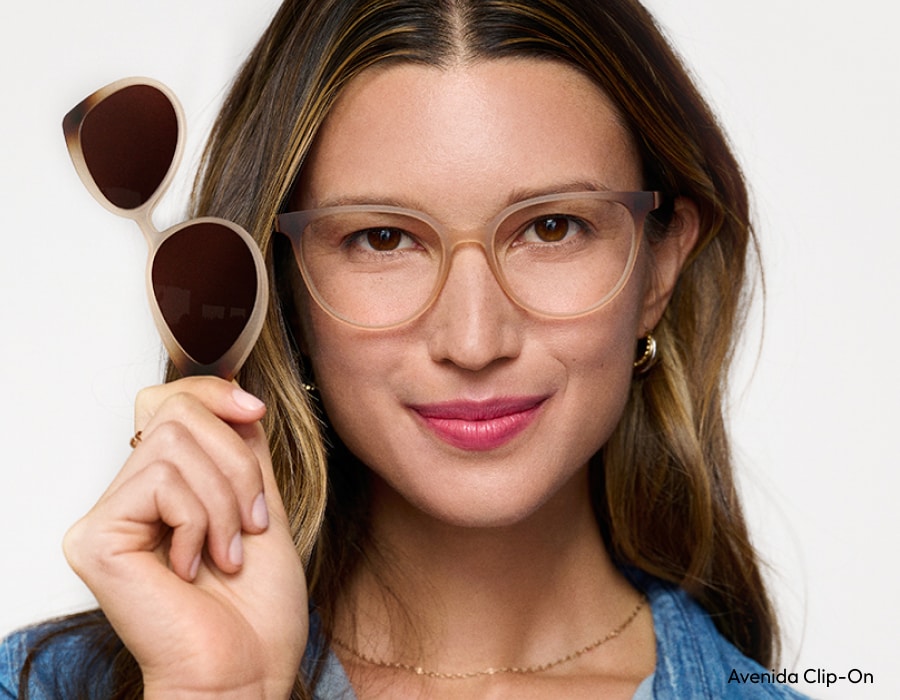 How Do You Put On Clip-On Sunglasses?
Putting on clip-on sunglasses is easy and hassle-free. For standard models, simply line up the clips with your frames and attach them to each side. Flip-up designs usually come with arms that connect to the frames. These should be secured firmly before flipping the lenses up or down.
Magnetic clip-on sunglasses are even easier to use. All you need to do is line up the magnets with your glasses and let them snap into place. This way, you can switch between regular vision and UV protection in just a few seconds.
How Do You Trim Clip-On Sunglasses?
If your clip-ons are too long or bulky, you may want to consider trimming them for a better fit. This should be done carefully using the right tools to avoid damaging the lenses. Use a pair of scissors or a utility knife to shorten the sides, making sure not to cut too much, as you can't add material back once it's removed. Take your time and make small adjustments until the lenses fit better.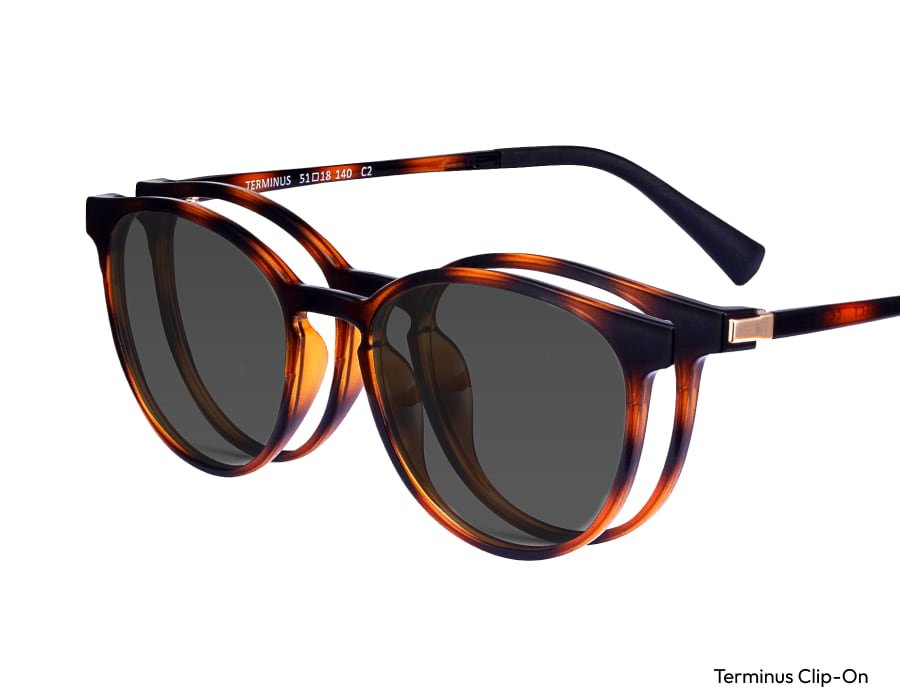 Do Clip-On Sunglasses Scratch Lenses?
No. Clip-ons are designed to fit your frames without scratching the lenses. However, it's a good idea to check them every once in a while for any signs of wear and tear. Regular cleaning and maintenance can also keep them in good condition over time. Clean your eyewear and all accessories with a soft microfiber cloth and mild soap or lens cleaning solution to keep them looking new.
Are Magnetic Clip-On Sunglasses Safe?
While magnetic clip-ons are considered safe, we recommend the following precautions to ensure their proper use:
Make sure the magnets are strong enough to hold the lens in place. Regularly inspect them for any signs of weakness or detachment.

Keep magnetic clip-ons away from electronic devices like pacemakers, as magnets can interfere with their functioning.

Store magnetic clip-ons in a protective case when not in use. This will keep the lenses and magnets clean, dry, and undamaged.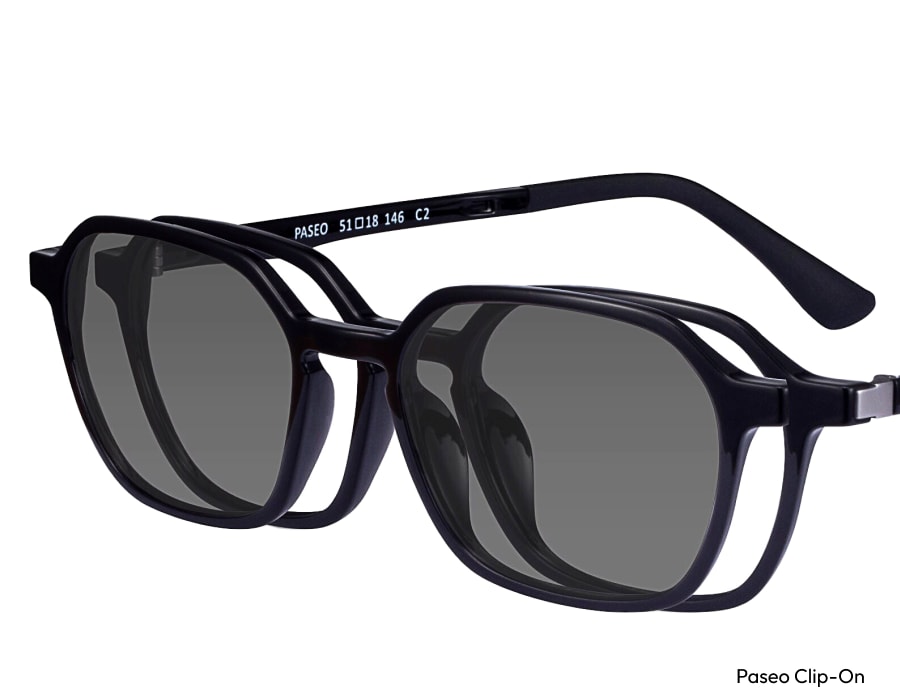 What Are the Best/Coolest Clip-On Sunglasses?
The best and coolest clip-on sunglasses come down to personal preference. Pick a style that suits your face shape and lifestyle, as well as one that fits securely on your frames. Here are some of our top picks available at Eyebuydirect:
Stroll

: This classic square shape looks great on most people, and the lightweight frame makes them easy to carry around.

Paseo

: Geometric eyeglasses provide a great way to show off your unique personality. Protect your eyes from UV rays, and enjoy crystal-clear vision all day long.
Get Your Cool Clip-On Sunglasses Now
A pair of clip-on sunglasses is a cool and functional addition to your eyewear collection. Whether you're looking for a fashion-forward accessory from Ray-Ban or a sporty companion from Oakley for your outdoor adventures, Eyebuydirect has you covered. We also have our own collection of Magnetic Clip-Ons. 
Embrace clip-ons, and enjoy the benefits of clear vision and stylish UV protection in one package. Shop now to see why so many people are making the switch.