Designer frames are experimental, bold, and catch the eye of anyone with a taste for fashion. They represent the epitome of style, and constantly push the standards of conventional eyewear. However, let's be real. With all of those awesome perks, they have one drawback: traditionally they can get a little expensive. But don't worry — You don't need to turn to Gucci, Versace, or Michael Cors to get your fix. If you order your glasses online at Eyebuydirect.com, you can get flawless frames at only a fraction of the price. Here's just a couple examples.
RFLKT Designer Frames
Aura and Symmetry are two of the most popular frames in our RFLKT line. These two come in a variety of different hues, which make them perfect as both mens designer frames and womens designer frames. Cut from Mazzucchelli Italian acetate, these modern glasses are the perfect fit for the urban eyewear lover.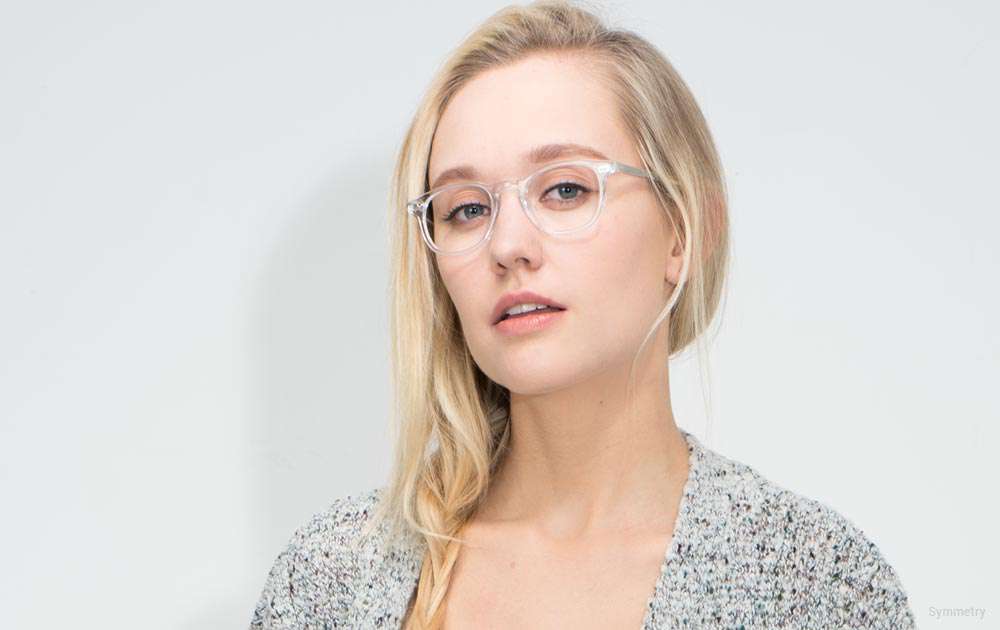 Symmetry, in Translucent
If you want something more along the metal side of things, look no further than Outline. In their Matte Silver and Jet Black variations, Outline pairs a unique combination of stainless steel and wooden temples.
So what makes RFLKT so special? Whenever we sit down to create new frames, we always draw inspiration from the world around us. In the creation of RFLKT, we specifically took inspiration from the architectural marvels of the world's greatest cities. To create our stunning line of eyewear, we followed their design philosophies not only in structure, but also in their choice of select materials.
Our frames are only crafted with the most premium materials. They're not just all for show, either. RFLKT embodies the zenith in both fashion and functionality. Every frame is equipped with both flexible spring hinges, stainless steel fonts, and more.
Titanium Designer Frames
Sometimes, the average pair of glasses just won't cut it. If you need a sleeker, more defined accessory to match your cutting-edge outfits, look no further than Eyebuydirect's Titanium series of designer frames. These minimalist glasses are both lightweight and durable. Many of them weigh no more than 8 grams each in the hand — which is half as much as other frames.
Sunglasses Designer Frames
If you think that Ray Ban has all of the fashionable sunglasses in the world, you'd be sorely mistaken. While the age-old label has been a player in the designer sunglasses industry for decades, their products could be considered sorely overpriced. Luckily for you, ordering online can Eyebuydirect save you a trip to your nearest designer frames outlet.
So there you have it. Not only is Eyebuydirect's collection of frames affordable, we also ship them right to you with a two week fit and style guarantee! Have we peaked your curiosity? Check out Eyebuydirect's extensive catalog of mens designer frames and womens designer frames here.