Maybe you're in the mood for some retro glasses. Maybe you want a classy pair of eyeglasses to smarten up your look. Whatever your desire may be, a pair of black horn rimmed glasses is your answer. But what are horn rimmed glasses exactly? Are they made from actual horns? Do they have horns on them. Where does the term "horn" come from?
Over the years, the term "horn rimmed glasses" has come to encompass a variety of different glasses frames styles that fit the horn rimmed definition in the same way that a rectangle fits the definition of a square. So while you may have an idea of what a pair of horn rimmed glasses looks like, chances are it's a bit different than what you imagine.
Before you start shopping for a pair of black horn rimmed glasses, it may be helpful to understand what makes a pair of glasses "horn rimmed" and how to be precise about the type of black horn rimmed glasses that you want. To help out, let's first take a quick look at a couple different parts of an eyeglass frame.
Really, what are horn rimmed glasses?
To start with, look at the front an eyeglass frame—literally called the frame front—and check out where the temple arms of your glasses meet the frame front at the hinges. If the place where hinges and temples extend past the outer part of the frame and are in-line with (or above with the brow, the top part of a glasses frame front, then you've found yourself a pair of horn rimmed glasses.
To answer a couple of the previous questions: while horn rimmed glasses may have once upon a time been made from actual horn, it has nothing to do with frame material. It instead has to do with the bit of the frame that gives the shape a horned appearance.
Now some of you are probably thinking, "wait a minute, that's not at all what I imagined! That's just a regular pair of eyeglasses" Well, here's the thing. The horn part of horn rimmed glasses is just the bit of material that protrudes and looks a bit like a horn. When most people think about getting themselves a pair of black horn rimmed glasses, there's a good chance they're actually thinking of one of two vintage styles of horn rimmed glasses.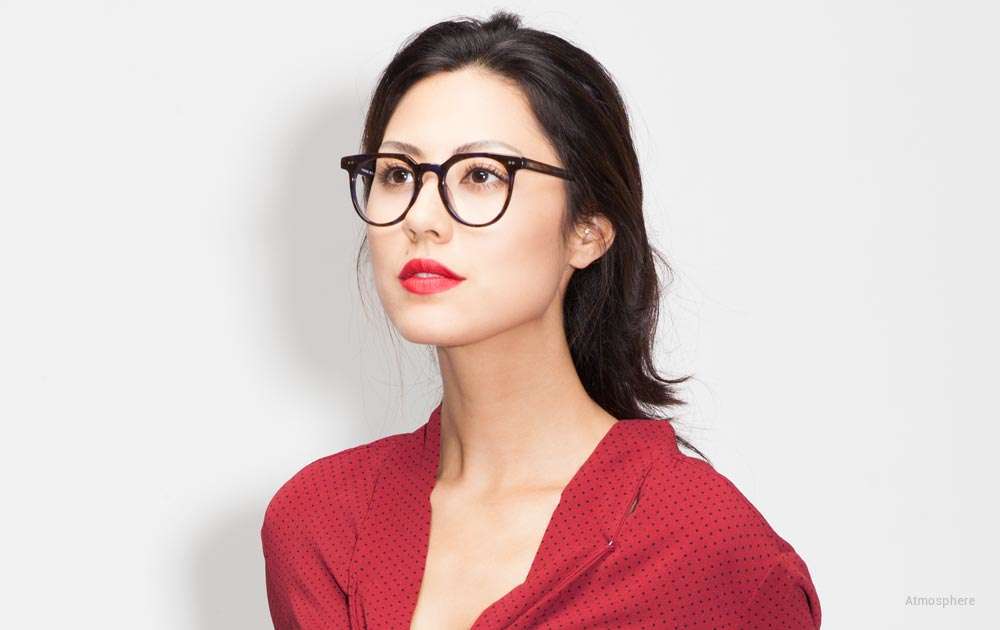 Vintage black horn rimmed glasses for women
While there are some more feminine styles of browline glasses that work for women, the most popular style of vintage horn rimmed glasses for women is called cat-eye. The horns of a cat-eye frame tend to be less prominent as the shape of the frame tends to be closer to an upswept teardrop. If you want to add a bit pop to a pair of black cat-eye glasses, look for styles with patterned or metallic temple arms.
Cat-eye glasses are closely associated with beehive and bouffant updos seemed to go hand in hand with this retro frame style. These horn rimmed glasses are popularly used for 1950s' and 1960s' secretary archetype characters, but are making a big comeback due to a reemerging appreciation for vintage fashion. 
Vintage black horn rimmed glasses for men
One of the most popular styles of horn rimmed glasses for men is actually a sub-style called browline. Browline glasses are typically the type of horn rimmed glasses you think of when you think of vintage glasses for men. A browline frame glasses usually feature flat brow pieces, usually made from plastic or acetate, that has slightly more prominent horned flare to them. Often times, the remainder of the lens is held in place by pieces made from metal.
Where have you seen browline glasses before? Harry Crane early Mad Men and Heroes character Noah Bennet, aka The Man in the Horn Rimmed Glasses (see the connection here!), are both notable for wearing browline glasses. Black browline glasses are also a common part of retro FBI get-up on the small and big screen.
Are black horn rimmed glasses for me?
Chances are, yes. Black glasses frames are times and go with just about any look, so color is of no concern. If you want to know more about pairing your glasses' frame color with your skin tone and hair, then we suggest you check out this nifty guide. But what about the shape? Good news! Horn rimmed glasses fit pretty much any face shape. The most important thing to keep in mind when shopping for a pair of black horn rimmed glasses is that the frame doesn't overpower your face.
So what are you waiting for? For a collection of our hottest black eyeglasses, click here. If you're exclusively searching for horn eyeglasses, come over to this page. Happy hunting!