Why are black rim glasses for men so popular? Aside from black always being in style, they have been a cornerstone of men's fashion for decades. Whether it's geek chic, haute couture, or even the boy next door—black rim glasses for men have found their permanent places on guys' faces throughout the ages. So due to popular demand, we've put together a little eyeglasses style guide to help all you gentlemen discover the different types of looks that can be achieved with black rim glasses for men.
Black Rim Glasses: Classic and cool
Black rimmed glasses should be a part of every man's wardrobe. Why? Because they go with everything. No matter the size or shape of the frame, black rimmed glasses for men have a timeless look that pairs perfectly with any outfit from any era. Need glasses to match your suit? A sleek pair of black glasses with some beautifully round lenses can elevate your style from "boring old formal" to "Kingsman special agent".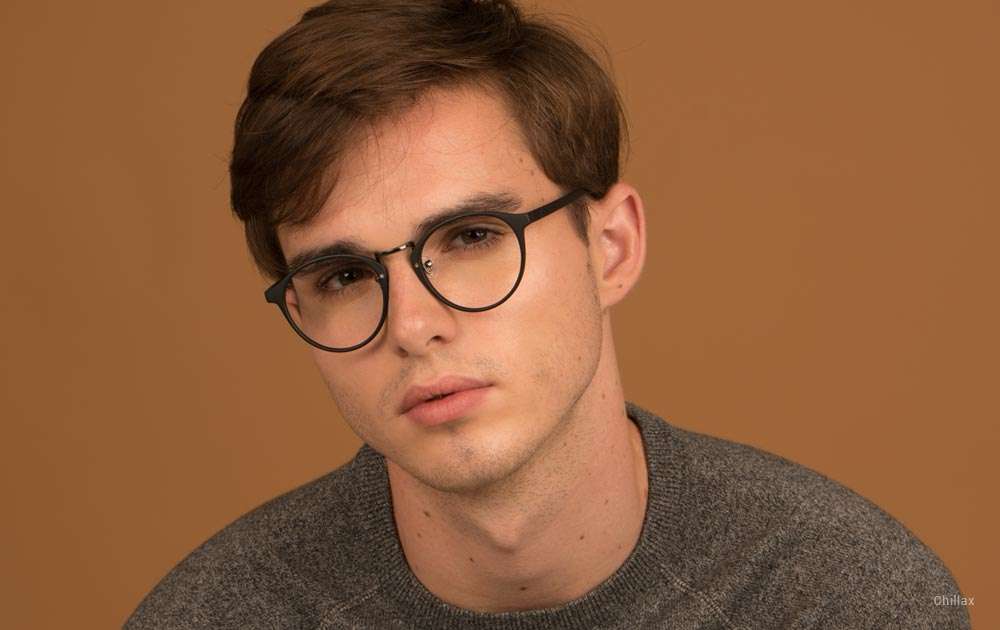 Chillax, in Matte Black
Style a la mode
Smart style, also touted as geek chic, is another glasses style for men that has been around for ages. It's defined by thick, plastic or acetate frames and tall, square lenses. Everyone knows Buddy Holly as one of the biggest icons for geeky glasses, and musicians in the 90s, *cough* Weezer *cough*, helped to breath new life into this look and secure its position in modern men's fashion. If you're gearing up to grab gloriously geeky glasses, we suggest you check out both square and aviator style frames.
The dapper designer
Designers and artists are thought to be bold, bright, and polychromatic, but when it comes to their personal styles, minimalism is actually the mainstay of most creatives' fashion choices. In the office, we have fun game called "spot the designer", want to play? Look for the guy dressed from head to toe in black. And nine times out of ten, he will be wearing Clark Kent style glasses as well. But don't mistake a designer's uniformity for conformity. For an ultra-minimalist look, rimless or semi-rimless glasses with black arms are the way to go. If you're in the market for a little bit of flair, then you'll find nothing better than browline glasses with bold, black brows and brilliant silver rims.
A superior vintage
Speaking of dapper, if you're looking for more vintage-style glasses for men, then might we suggest pairing black eyeglasses with a metal frame to your look. Known to have a lighter feel, metal frames also sport a refined air. If your palate prefers super sophisticated spectacles, then you'll enjoy the lengthy lines of black, square, metal frames. For the man who has a softer side, then you might want to round out your look with a circular style; either full-rimmed or fully-rimless glasses with a thin, black wire glasses.
Finding the right fit and shape
As fun as it is to dream of endless styles to be created with black rim glasses for men, getting started with the selection process can be a little daunting. No worries though, we're here to help you every step of the way.
If you're already a glasses wearer, one of the easiest ways to ensure that you're shopping from glasses frames that fit is to check the inside arm of your glasses and use our frame measurement guide. While size is important, let's not forget about shape! Fellas, when shopping for glasses, the shape of your face and the frames play a huge role in how good your new glasses look. The general rule of thumb is to choose a pair of glasses with a frame shape that contrasts the contour of your face. If you've got a square face, you're better off with some round glasses for men. If your face is more oval, you're in luck—you can wear pretty much any glasses shape your heart desires!
Like what you see? Check out our selection right here. Happy hunting!