From disrupted sleep cycles to early-onset eye damage, exposure to digital screens can cause all sorts of serious side effects. That's why we've teamed up with the self-care pros at Chillhouse to make sure you're healthy and stylish — so stylish you belong at New York Fashion Week!
Welcome to a New Kind of Self Care — Blue Light Blocking Glasses
When everything from your phone to your laptop emits harmful blue light, protective eyewear is a self-care must. No one knows that better than Chillhouse, the experts in relaxation.
"Chillhouse takes a 360° approach to self care," says Chillhouse cofounder Cyndi Ramirez Fulton. "Protecting your eyes from blue light is a huge part of it."
We live more and more of our lives online, and eye strain has become as much a part of our day-to-day life as tired feet or a sore back. What makes it even more dangerous is the fact that it's a lot easier to let it go unchecked! Luckily, we know a surefire way you can protect your sight.
EyeBuyDirect's Blue Light Blocking glasses protect your eyes from harmful blue light waves emitted by digital screens so your eyes are safe, you get a good night's sleep — and you have a productive day! Even after hours of screen time, cutting blue-light exposure out can keep your eyes feeling healthier and more comfortable and healthy than ever. The best part? Our Blue Light Blocking frames let you rock your self care in style.
We Debuted the Next Generation of Blue Light Eyewear at Fashion Week
Chill Out with Isabella Fernandez

A girl on-the-go, Isabella Fernandez protects her eyes as a freelance photographer with her favorite frames from our #ChillOutBlueLight collection curated by Chillhouse. Watch to hear about how they help her eyes when she's retouching and more.Isabella wears Notting Hill in Ivory Tortoise.Shop: https://ebd.world/chillhousecollection

Posted by EyeBuyDirect on Friday, September 6, 2019
It's hard to top the glitz and glam of New York Fashion Week. From aspiring fashionistas to the giants of design, the city is abuzz with next year's trends. At the EyeBuyDirect x Chillhouse Stay Chill In The Digital World event, Instagram's hottest icons and NYC fashion press dropped by to see what the Blue Light Blocking eyewear buzz was about and pamper themselves with custom manicures, massages and personal styling from EBD specialists.
Attendees got a sneak peek at EyeBuyDirect's new Stay Chill in the Digital World collection of Blue Light Blocking lenses. Cyndi rocked the venue with her favorite pair of Blue Light Blocking glasses. And, two of our stylish #EBDFamily members — winners of our Instagram contest — joined the fun as well!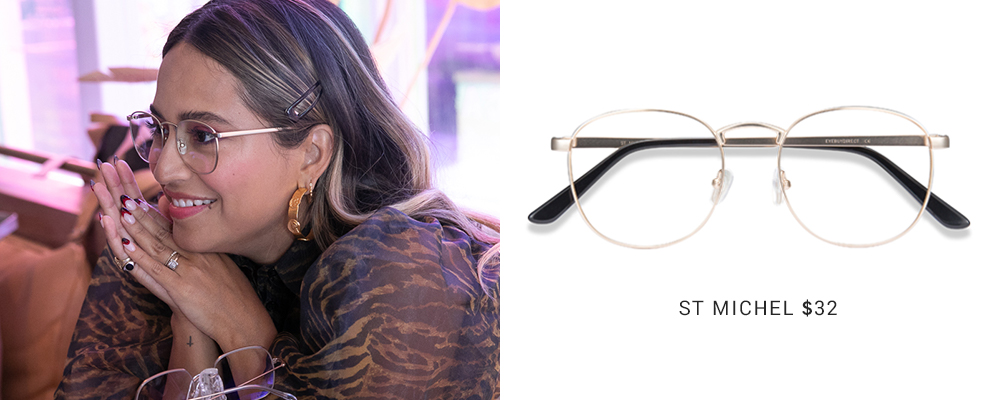 Chillhouse Cofounder, Cyndi Ramirez Fulton wearing St Michel in Gold
Blue light is a bigger eye-health problem than most people realize, but that doesn't mean you have to cut digital devices completely out of your life! The new EyeBuyDirect x Chillhouse curated collection lets you beat out blue light and look great doing it. From retro classics to urban styles, there's a frame to match your personal fashion sense. If you've ever felt exhausted or restless after a day in front of a digital screen, this collection is for you. With EyeBuyDirect's Blue Light Blocking glasses, you can work, binge watch, and chill on your devices worry free.