Women's running sunglasses should be hardworking and practical. After all, squinting in bright sunlight can cause cause eye strain, discomfort and headaches. Finding a good pair of sunglasses can significantly reduce this, and squinting less even has the added benefit of forming fewer wrinkles around your eyes.  
A good pair of women's running sunglasses should let you forget about bright light and focus on your performance. We've summarized some of the main things we think you should be looking out for:
Picking the Right Fit for Women's Running Sunglasses
Fit is one of the most important features of running sunglasses. Whether you are running on the road or trail, your glasses must remain firmly in place, without bouncing around or sliding down your nose. They need to be ultra-lightweight, comfortable and stable.  A great pair of sunglasses should be ergonomically crafted, so that they stay in place and don't slip down your face, even when you get sweaty. Look for glasses that have been designed to allow air to flow properly, which will help to stop the lenses from fogging up.  
Women's running sunglasses are often adjustable too, so you can fine-tune them to find the perfect fit for your face. If you are running in areas with dust or debris, it's a good idea to find a pair that fit closely to your face, fully protecting your eyes.
Samba, in Red and Mint Frost
The Importance of UV Protection
Sunlight is made of two types of light: long wave ultraviolet A (UVA), and short wave ultraviolet B (UVB). Both are damaging to our skin and eyes. Long term over exposure to UV rays can cause serious medical issues such as cataracts and macular degeneration. It is vital that your sunglasses have both UVA and UVB protection.
Why Glare Reduction is Necessary
Bright glare from sunlight can affect depth perception and distort your view.
Polarized lenses reduce eye fatigue, and make running in bright sunlight significantly more comfortable. A polarized lens has an invisible filter which limits the amount of light that can enter your eyes. This reduces harsh glare, and makes your vision sharper and clearer.
You could try out some colored lenses, which have some added benefits depending on where you are running. Brown, yellow and pink tints are excellent for low light running to enhance obstacles against a dark background. So, if you are planning on running from dusk 'til dawn, a pair of colored lenses could be perfect for you!
In addition, many brands of women's running sunglasses offer frames with interchangeable lenses, so that you can have a selection of lenses at the ready to adjust your glasses to whatever today's conditions are.
And Lastly, Style
Let's be honest, we still want to look good when we are running. Whilst running sunglasses must be functional, there are also many stylish options on the market.
Check out our wide range of fashionable women's running sunglasses here.
Featured Frames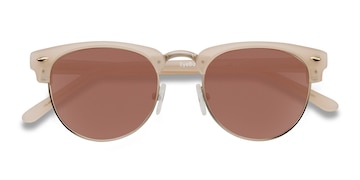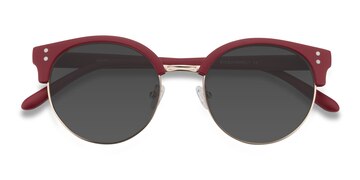 shop glasses