When finding the perfect pair of eyeglasses, it's important to know that each and every frame has the potential to speak its own story. Some frames tell tales of wild beach days, while others weave stories of warmly lit pubs or libraries. When it comes to men's gold frame sunglasses and eyeglasses, you can be certain that the story you're telling is one of wisdom and reliability. While metal frames with silver or jet black finishes might express modern coolness, men's gold frame sunglasses and eyeglasses make the wearer look both wise and mature. So what are you waiting for? It's time to embrace the golden standard.
Men's Gold Frame Sunglasses and Eyeglasses: The Styles
Gilded in gold, St. Michel is a character and outfit defining accessory. Ever feel like your shirt and pants combo is a little boring and drab? Don't worry. St. Michel's traditionally shaped lenses and keen golden frame can speak to a person's class and down-to-earth qualities. The oval structure keeps it a strong choice for nearly any type of face shape, so you can be sure that you'll be looking great, no stress needed.
For a perfect hint of classic charm, look no further than the quintessential half-rimmed frame. Esteban is one of our most tried and true looks, due to its combination of wood and gold finishes making it perfect for any occasion. It's a distinct look that's fit for any vintage-loving hipster, but at the same time it carries great modern flair. One look at these glasses, and you'll feel like you've been transported back to the good ol' 80s, living it up in a Cuban social club with a cigar between your fingers.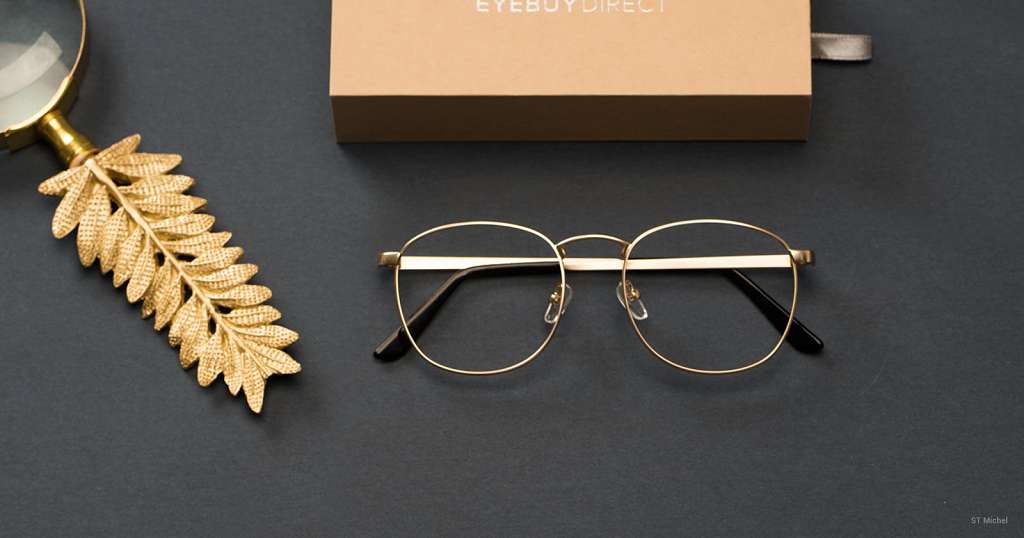 St Michel, in Golden
The Perfect Skin Tones for Men's Gold Frame Sunglasses and Eyeglasses
While golden eyewear looks awesome on just about any regular Joe out there, it can REALLY bring out some great looks in people with certain skin tones. Gold is a naturally warm and mellow color, so people with darker shades of skin can really rock the look.
If old school flair is what you desire, you know what needs to happen next. It's time to grab a pair of men's gold frame sunglasses and eyeglasses for yourself at EyeBuyDirect. All you need to do is visit our catalog of metal frames, and select "Yellow" in the color options to find your next pair of gilded goodness. On the lookout for sunglasses? Look here, and follow the same quick steps.
However, be warned. With great panache comes great responsibility.