Men's oversized glasses have found their way out from under dusty second-hand store display cases and onto the faces of our friends and the famed. What are oversized eyeglasses? Imagine a pair of glasses. Now imagine them a little bigger. Now, imagine them even bigger. Oversized glasses for men have frames that are a little larger than normal sized glasses, covering a lot more of the face and reaching a bit past the cheeks. These styles usually include awesome metal aviators, far out plastic trapezoid glasses, and frames with soaring circles or squares. These boss styles reigned supreme from the 60s until the 90s, where they slowly faded from favor. So how did this former fashion faux pas reclaim its place the spotlight?
A Brief Tale of Men's Oversized Glasses
In the 90s, futurist trends had taken over fashion. "The future is now!" we declared, as we blasted swing music and bell bottoms grooved their way back into our hearts. Blissfully unaware of the tides of styles and time, men across the nation allowed their glasses to slowly change. Styles waned from large and in charge to  small and smart rimless glasses. By the 2000s, men's eyewear was a sea of semi-rimless and rimless glasses with a rectangular or oval frames and short lenses. These looks were more colloquially known as the "Snowden," or the "Palin".
But quietly off in the distance, men's oversized glasses waited patiently. First, they watched as round hippie sunglasses and Lennon specs blossomed back into style during the 90s (thank you Justin and Britney). Then aviator sunglasses made their resurgence, riding the wave of a 70s-themed endless summer set to the tune of the mid-2000s. We call that the "Hollister-That 70's Show–O.C." era.
During this same stretch of time, alternative and indie rock bands emulating the looks of retro rockers started to crop up on MTV. While stars like Ashton Kutcher flashed metal aviator sunglasses (which would late give rise to the popularity of oversized aviators with clear lenses), musicians like Rivers Cuomo and Ben Folds sported chunky, oversized, black plastic glasses—driving enthusiasm for oversized geeky glasses.
As these styles and figures made their way mainstream, men's oversized glasses styles started to stir from their hibernation. Avant-garde fashionistas sifted through thrift stores, searching for vintage gems leftover from the 70s and 80s. And there they lay, tucked away for over a decade, in glass counter displays: oversized glasses, that seemed to gleam a little brighter than usual. "Is it time?" hipsters wondered. It was. So as the tides of styles ebb and flow, men's oversized glasses surged back into popularity.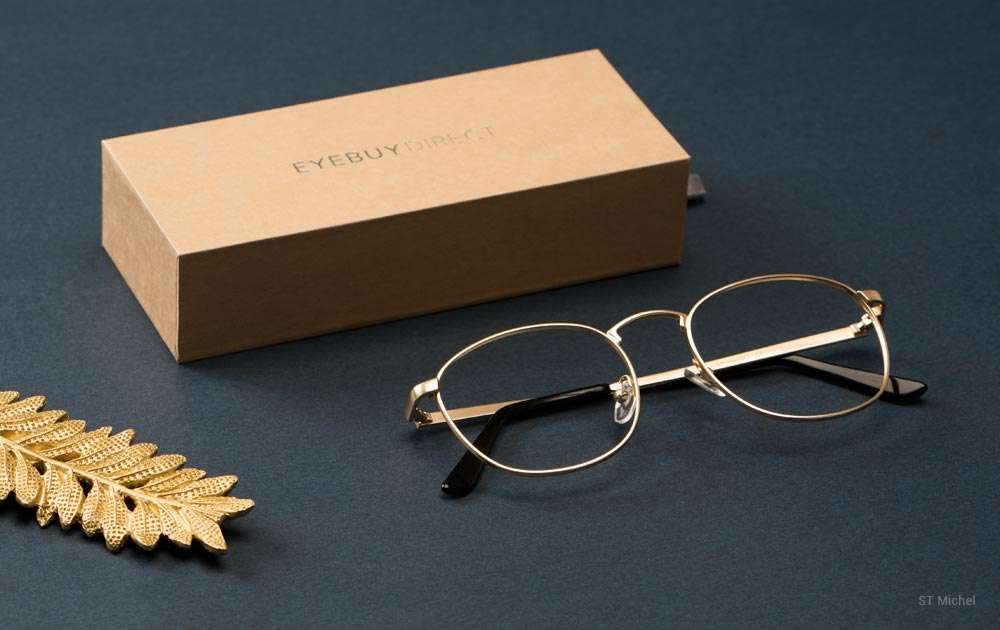 St. Michel, in Gold
But, alas hipsters were not the heroes who saved oversized men's glasses. In reality, these big beautiful wonders never really went away during the 90s and 00s. They were there, at school—that crazy chemistry teacher with his wire metal aviators—or at the video rental store in the form of huge plastic clear rims on the face of the teen clerk. We all knew a guy with oversized glasses. These gents are the true champions of this eyewear style. Through thick and thin, they refused to give in! Day in and day out, they donned their supersized spectacles, refusing to let the look fade into oblivion. These were the real-life heroes behind the revival of oversized glasses.
Oversized matters
All right fellas, we get that you may be feeling inspired, but before you go off and start shopping for your new pair of extra large glasses, we need to have a quick chat about size. While oversized glasses are a great way to smarten up a look, you gotta make sure that the glasses you pick aren't too big. How big is too big? While it may be okay for sunglasses, it looks a little odd when your eyebrows are completely encompassed by your glasses. To get the most out your oversized glasses, make sure that your eyebrows peek out a bit from behind the frames. Want to see what you'd look like in our oversized glasses? When you visit our site on Eyebuydirect.com, you can check out our EyeTry feature.  This digital fitting rooms lets you can try on any pair of eyeglasses to make sure that they fit your face.
That's it! If you're looking to go big, then check out our selection of oversized aviator glasses. Or take your style home with stylish, extra large round frames.