For that big framed retro look, there's nothing better than a pair of thick black glasses. Whether you're going for hipster or artsy, a pair of vintage-inspired, chunky glasses will take your style where it needs to go. But how do you know which pair of thick black glasses is right for you? It all comes down to shape and style. While big and black is always beautiful, you need to think about the shape of the frame and the features of your face in order to get the best look from your glasses.
Round or square thick black glasses?
Choosing the right frame shape is what makes a pair of good glasses look great. This is especially true if you're planning to go with some chunky black frames. Why? Thick black glasses will draw way more attention to the features of your face than any pair of specs with rimless lenses and a wire metal frame. For example, if you have a strong jawline choose to wear a square frame style, you'll end up with a very boxy look that highlights all of the strong features and angles of your visage. To avoid over-accentuating the shape of your face, it's important to find a glasses frame style that will counterbalance these features.
First of all, you've got to know your face shape. One of the easiest ways to figure that out is to snap a picture with your phone and trace the outline of your face (with your finger). To get the best look from your glasses, it's usually a good idea to find a frame shape that balances out your face. So for those of you with a square-shaped face, thick black glasses with rounder frames may work best for you. This creates a softer, balanced look by taking emphasis away from the strong jawline, high cheeks, and broad forehead of a square face shape.
Basic round or square glasses may be good and all, but maybe you're on the search for some spectacular spectacles to keep you from looking like too much of a square, maybe something a little more… edgy.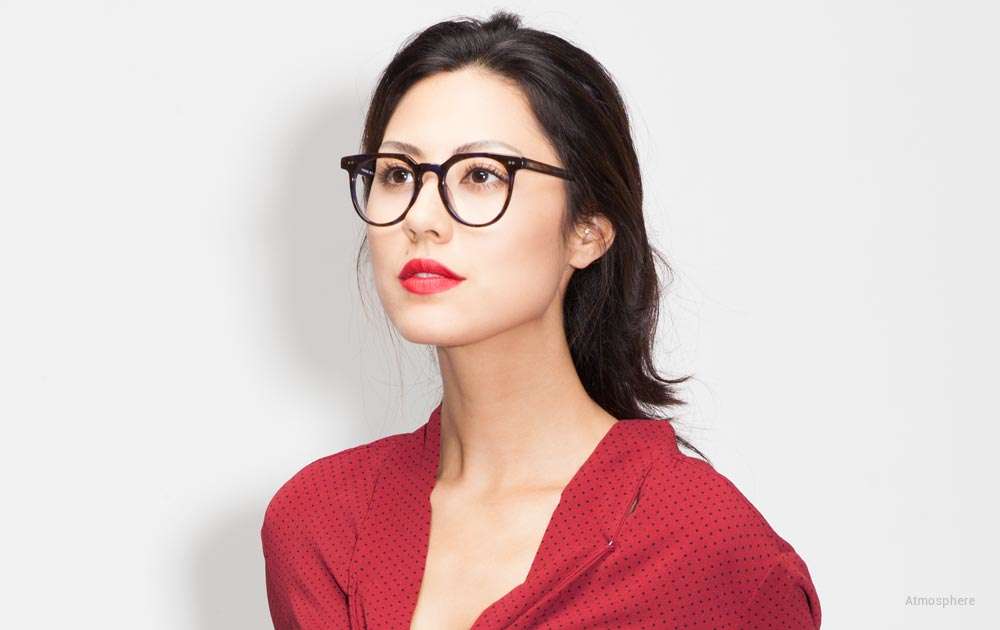 Thick Black Glasses: The original hipster look
Thick black glasses have been the official look of hipsters for over half a century. From beatniks to blues legends, glasses with big lenses, wide rims, and a thick black frame were a sign that you were with it and not just some other square. Contemporary takes on classic glasses styles like cat-eye and browline offer up some cool, modern looks.
While a lot of vintage-styled glasses are typically unisex, plenty of thick black throwback frames may be better suited for the faces of fella or a lady. So ladies, do you dream of the days of yore, filled with poodle skirts and serious updos? Set your beehive a-buzzin' and get the perfect pair of glasses to match your razor-sharp wit. All you need to do is just add some chunky, black cat-eye glasses to your collection and bake till' perfection. The flared curves of the brows and pointed rim tips are fierce enough to fit any feminine face.
And fellas, we know you're bebopping for something to show off how much of a hip cat you are. While cat-eye glasses might have that classically cool look, you may want to leave them to the ladies. Instead, why not sink your claws into a more masculine style with a pair of browline glasses? While the rims around the bottom of the lenses are typically thin metal on a pair of browline frames, the broad black brows are more than enough to give your glasses that bold look. This style is one of the most iconic retro power styles for men, popularized by visionaries such as Malcolm X.
Finding the right pair
So maybe you've already added a bunch of different types of thick black glasses to your shopping cart (or Favorites) and now you're trying to figure out which pair is best for you. What you need next is EyeTry. Eyebuydirect's EyeTry tool lets you try on any pair of glasses at your own leisure. See which your frames fit your face best, hassle-free. Just click "Try on" on any pair to see what they'll look like. What are you waiting for? Come find your perfect pair today!