Glasses for Diamond Shaped Faces
Angular frames like cat-eyes complement diamond shaped faces, but they can look great with rectangular and oval shaped frames too. Oval glasses help soften the strong, angular features of your face. Glasses with a rectangular frame shape offer contrast to your facial features, while horn or cat-eye eyeglasses extend beyond your brow to help bring more balance to the structure of your face.
EyeBuyDirect has the best eyeglasses to make a diamond shaped face shine
Not sure if you have a diamond shaped face?
Snap a selfie or take a look in the mirror and trace the outline of your face. If the shape you drew is wider in the middle than at the top and the bottom, you have a diamond shaped face. The angles and lines created by your facial features work well with more curved frame shapes. You can also try out some more daring styles, like eyeglass frames with strong browlines or more pointed temples.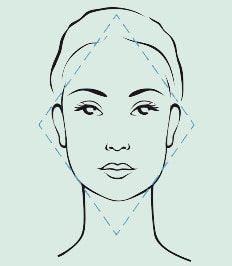 When shopping for eyeglasses, don't limit yourself! Full-rimmed glasses are perfect for your face shape, but rimless and semi-rimless can serve your inner fashionista just as well. If you're going for tech-savvy, EBD has some stylish metal, browline glasses with semi-rimless frames. Maybe you're in the mood for something more bold and beautiful. We just have one warning: Try to avoid buying glasses too large or small! Not sure what size frame will fit your face best? Check out our handy guide on frame measurements.