Sunglasses For Round Faces
Square and rectangular frame glasses work best for people with round faces. The sharp angles of these types of sunglasses work to complement the softer lines of round faces.
Love the retro vintage look? You should have no sweat rocking some classic Rectangle style glasses. Looking to try out something quirky and cute? Go wild with some cat-eye glasses and a pop of color.
What types of sunglasses look good on round faces?
Not sure if you've got a round face shape?
Step in front of the mirror and check yourself out. Oval face shapes are characterized mostly by a softly curved jawline. Plus, the width of your forehead should be just a bit wider than your chin, with your cheekbones usually placed just a little higher on the face. If this sounds like you, get ready- EyeBuyDirect has hundreds of frames that'll fit just right on you.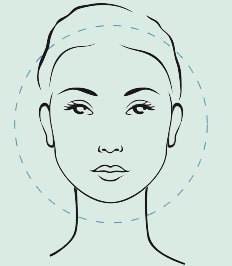 Trendy glasses for round faces come in all sorts of shapes and colors. Looking for a cute and fun aesthetic? Try adding a pop of color to a frame that catches your eye. Aiming for something more cool than quirky? You might find yourself in love with a sleek pair of transparent frames. Just remember that before you buy, be sure that you're selecting your frames in the right size. When it comes to round faces, it's important that your frames aren't too small. A small pair of glasses won't provide enough contrast to the rest of your facial features, and in some cases will even be uncomfortable to wear. Measuring your preferred temple width and pupillary distance can make a big impact in getting the perfect fit. If you need help, try checking out our measuring guide here.