Sunglasses for Heart Shaped Faces
Rectangular, oval, and aviator shaped sunglasses work for heart shaped faces. To balance out your facial structure and make your jaw appear a little wider, you want to look for sunglasses that accentuate your high cheekbones and defined jaw. For women especially, the frames should detract from the broadness of your forehead. The pair you select should extend beyond the forehead and end lower on the cheekbones.
What types of sunglasses look good on heart shaped faces?
Not sure if you've got a heart face shape?
Step in front of the mirror and take a look for yourself. The hallmark of a heart shaped face is a wider forehead that spreads out to both sides. with slanting cheeks ending in a narrow, sometimes pointed jawbone. Combined, these features can appear delicate and very attractive due to the easily defined structure of each plane. Sunglasses for heart shaped faces are easy to come by thanks to the versatility of that particular structure. So, what else should you consider when finding the right pair for you?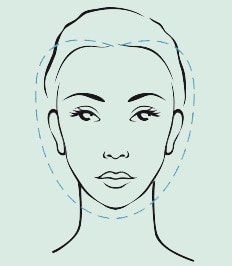 No matter which you pick, keep this in mind: Lighter colors are best, as the stark or black or other dark shades may be too blunt and make your face look bulky. In terms of lenses, sunglasses for a heart shaped face can have any shape — but larger are preferred.