Many people wait for the first bright, sunny day of the year to pick up a new pair of sunglasses. But leaving eye protection to the last second can often result in buying poorly made, flimsy frames.. 
But once you've made the decision to spend a little more for a better block between you and harmful UV rays, the choices can seem confusing and overwhelming —  particularly when it comes to polarized lenses. To help you figure out if you need the added boost from this particular lens technology, we've put together a quick and easy guide to polarized lenses.
What are the benefits of polarized lenses?
Let's start with the basics. While all tinted lenses reduce brightness, polarized lenses are particularly useful for limiting glare. Glare is what happens when the sun hits a flat surface and the light is reflected back into your eye at a greater magnitude.
Harsh glare also has some harmful impacts on your immediate vision — from reduced depth and color perception, all the way to temporary blindness. You're most likely to encounter glare on a bright day on the ski slopes, as water and snow are particularly reflective.
Glare reduction for a clearer vision
Regular sunglasses mean that while your eyes are shaded from overall light, they aren't protected from this direct reflective glare. Polarized sunglasses specifically filter a lot of this glare, giving you a clearer vision with less eye strain.
How do polarized lenses reduce glare?
Polarized sunglasses lenses contain a filter that absorbs horizontal light waves (reflections), while allowing the vertical waves to pass through (direct light).  By removing the horizontally reflected light, the polarized filter eliminates any glare but preserves color, depth, and clarity.
Buying polarized lenses guarantees the highest quality protection for your eyes,with several aspects to consider in order to choose them wisely.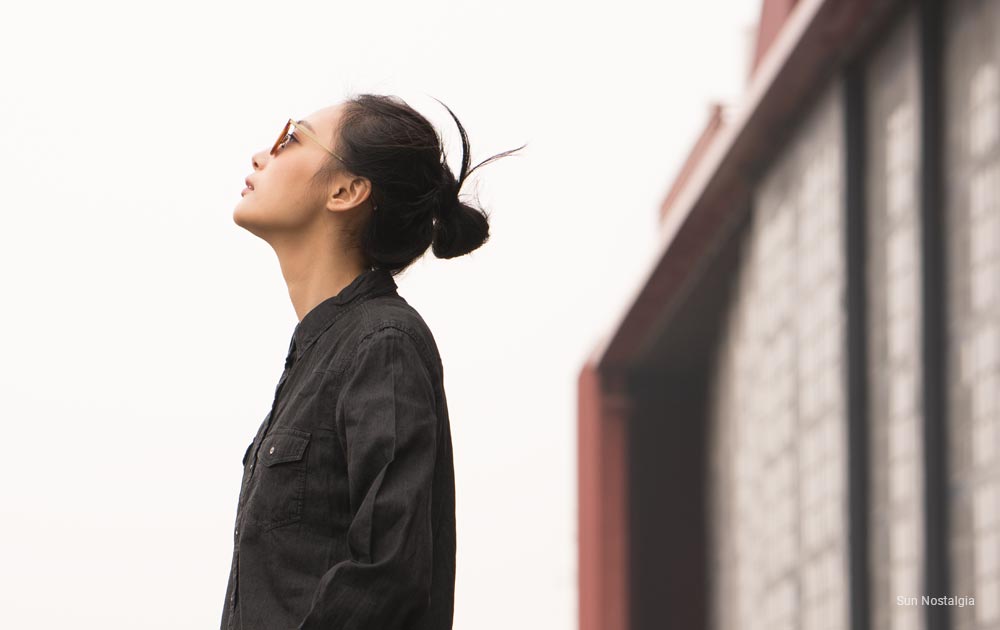 How to choose the right pair of polarized sunglasses
Choosing the right lenses requires care and precision. You want to find a pair that protects your eyes properly and fits your needs. Here are four aspects to consider when you're choosing sunglasses.
Anti-UV Treatment
UV rays protection is by far the most important aspect of your sunglasses — those invisible waves emitted by light are harmful to your eyes. Containing more energy than visible rays, the absorption of UV can affect the regeneration of your eyes and be damaging in the long term. And be aware, they're around all year long (not just on the warmest and sunniest days, but cloudy days too)!
Frame Shape
Love a good outdoor adventure? You'll want to have the most convenient and functional sunglasses for exploring. Look for the sunglasses with frames that will totally cover your eyes, as UV rays come from the sides too!
But you don't need to necessarily go big and bold like Lady Gaga (unless that's your vibe, of course!) — many polarized glasses have a discrete look and an effective eye envelope.
Prescription Sunglasses
Want to have your sunglasses adapted to your vision? No worries, you can easily get prescription sunglasses with polarized lenses — the best of both worlds, for your eyes only!
Lens Color
Various tints are offered and all have a different visual effect. The preferences differ from one person to another, and depend on the activity. Some eyeglass tints with brighter colors are better to play sports, while others maintain colors equally. You can easily adapt your polarized sunglasses to your lifestyle.
When should I wear polarized sunglasses?
You can wear polarized lenses at any time, but they're particularly useful while on sand, surf, and snow — from the lake to the slopes, water makes the likelihood of glare all the greater. That means you're much more likely to miss out on great views.
Polarized eyewear is also well-loved in the outdoor sports world, allowing athletes like cyclists, runners, rowers, golfers, and more to see their path with added clarity and protection.
When should I not wear polarized lenses?
We're assuming that most people don't wear their sunglasses inside, but it should be noted that polarized lenses often black out or severely reduce the visibility of liquid crystal display (LCD) screens. That includes your smartphone, tablet, laptop, and most other electronic screen-based devices.
With that said, it's easy enough to quickly take off your glasses, answer a text, check your email, then put your sunnies back in place without needing to miss out on the added protection of polarization.
Ready to find your next pair of sunglasses?
Here's a few more reasons to get polarized lenses: 
Reducing glare

Clearer vision

Better color perception

Less eye fatigue