There are two main types of glare reducing lenses for eyewear: lenses with an anti-reflective coating and polarized lenses. Both help to prevent glare in their own way. Glare reducing lenses can improve vision clarity, help people see better while driving at night, reduce annoying glare from water or other horizontal surfaces, and eliminate noticeable reflections on a lens itself.
What is glare?
Glare is caused by light bouncing off of a reflective surface. When talking about eyewear, people are most likely referring to lens glare or environmental glare. Lens glare is caused by the reflection of light off the surface of a lens. Whether it belongs to a camera, telescope, binoculars, or even just glasses, all lenses have some level of reflection with the lowest amount of reflection being less than 0.1%. Eyeglass lenses without a glare-reducing coating typically allow around 90% of light to pass through, depending on the lens material. The other 10% of the light reflects off the surfaces of the lens. The glare caused by this 10% reduces vision clarity, causes people to see halos around headlights and street lamps at night, and creates bright, almost white reflections on the lens itself.
Environmental glare is caused by light waves reflecting off of flat surfaces like water or the highway. It becomes focused and travels in a uniform direction parallel to that surface, creating a bright and intense reflection that we call glare. This type of glare affects everyone, regardless of whether or not they wear glasses.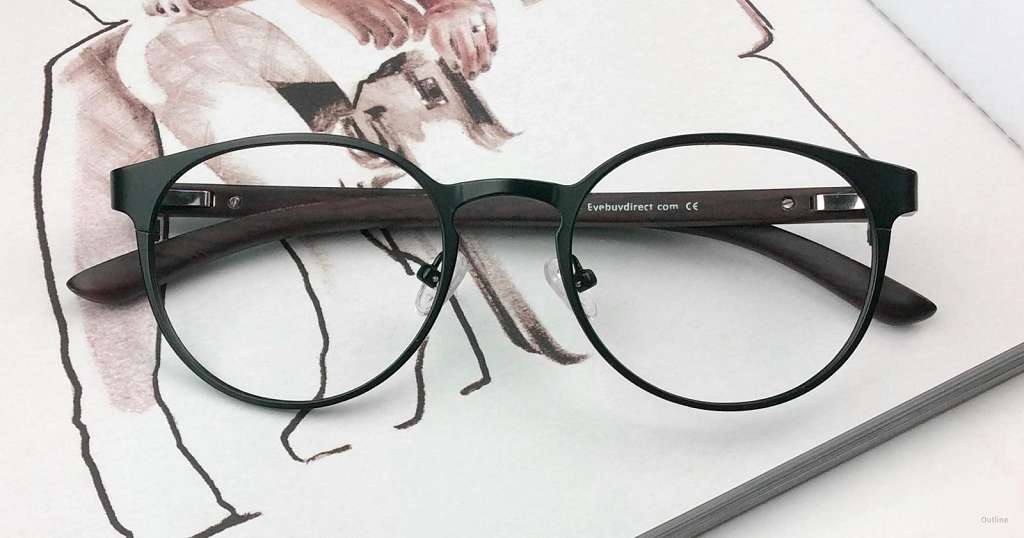 Outline, in Black
How do glare reducing lenses work?
While it may be impossible to eliminate 100% of the glare on glasses lens, technology has helped to get the number as close to 0 as possible. While both anti-reflective coatings and polarized lenses help to reduce glare, the technology behind these two is quite different. An anti-reflective coating (also known as AR or anti-glare coating) actually encourages more light to pass through a lens. When more light passes through, less light reflected off its surfaces, and thus, less glare.
Polarized lenses, on the other hand, reduce glare by absorbing light waves from a certain orientation. Most polarized lenses for eyewear are oriented to absorb horizontal light waves reflected off of flat surfaces like a lake or the snow-covered ground.
When it comes to eyewear, AR coatings are applied both eyeglass lenses and sunglass lenses. Anti-glare coating is applied to both sides of a lens to prevent light from reflecting off the back of the lens as well. Polarized lenses are typically used for sunglasses since the nature of its glare reducing technology is to block light instead of letting more through.
The benefits of glare reducing lenses
Many people question whether or not it's worth it to get glare reducing lenses. The short answer is: while not everyone may need sunglasses with polarized lenses, lenses with an anti-reflective coating will vastly improve the quality of life for a glasses wearer.
Lens glare is a major source of eye strain since it reduces vision clarity, forcing your eyes to work harder to focus. People who work with computers are especially susceptible to this type of eye strain since illuminated screens act as a direct and constant source of glare on lenses. Adding AR coating to your lenses significantly lessens this glare, helps you see more clearly, and reduces eye strain caused by computer screens.
Glares called "halos" can be seen around the headlights of cars and street lamps. These halosare a great source of discomfort and distraction for glasses wearers who drive at night. They reduce visibility and make nighttime driving difficult. Anti-glare coating prevents these halos and helps to make driving at night safer for glasses wearers.
If you're someone who is both literally and figuratively in the spotlight a lot, anti-reflective coating is a must. Glare caused by bright lights reflecting off a lens can be distracting. It also obscures your eyes, making it harder for people to find direct eye contact with you. So if you have a client- or customer-facing job, make sure to consider getting glare reducing glasses.
Finally, if you're someone who spends a lot of time out on the water or working in the snow, you're well aware of how much glare can reduce visibility and make it a literal pain to be outside. The tint on sunglasses with polarized lenses helps to reduce that all around brightness, while the polarization helps to save your eyes from blinding glare.
So for the best comfort while wearing glasses or sunglasses, consider glare reducing lenses. Not only will they help you see better, but they'll also help you get the most out of life. At Eyebuydirect, you can find affordable glare reducing lenses for any of our great styles. Shop from our collection of 1000+ frames today.