Men's optical frames come in a variety of frame shapes, styles, and colors. To you find the right pair, it's best to think about what kind of look you want to achieve. Are you looking for some optical frames to smarten up your office attire? Or maybe you're more in the mood for some frames that stand out. To help you choose, we've put together a short guide on how to choose the right men's optical frame for your look.
Finding the right men's frame
There are a couple things you need to take into consideration when shopping men's optical frames. These include a frame's size, shape, color, material, and type/rim. First up: frame size. Glasses that are too big look awkward and you'll spend half the day pushing them back up your nose. On the other hand, glasses that are too tight can pinch the sides of your head, which leads to day-long discomfort and possibly headaches. So just like Goldilocks, you a size that is just right. There are two ways to find your frame size if you already have a pair of optical glasses. Measuring by hand is one, but if you check the inside of the temple, the measurements might already be there. If the numbers look a little confusing at first, don't worry. Check out our guide to figure out how to read those numbers, or how to measure your frames on your own.
Next, you'll want to want to choose a frame shape. At the end of the day, the frame that's best for you is the frame you like most. If you're not sure where to start, there some basic rules to consider to help you pick a men's frame to match your face. When matching the right face shape with frame shape, it's all about opposites. In general, round faces work best with more angular frames, and faces that are more linear are best fit by round frames. Keep in mind, while most frame shapes work well for men, you may want to avoid cat-eye frames since they tend to be definitely feminine in their shape. Although they're similar in shape to horn-rimmed glasses (in that the browline noticeable extends past the lens), the most noticeable feature of a cat-eye frame is that the browline sweeps up and out, similar to a cat's eye.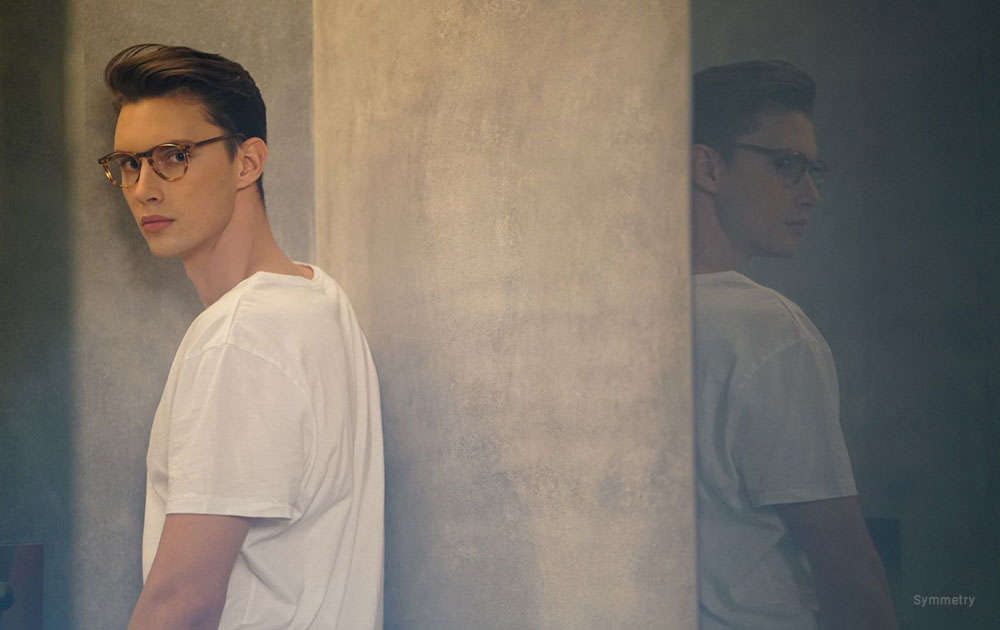 Symmetry, in Striped Caramel
The last three are a lot more simple. As for colors or patterns, it all depends what your style. With that being said, most floral patterns have a more feminine feel than tortoise or other mottled patterns. Also, most pink frames at EyeBuyDirect fall under women's frame and not under men's optical frames. There's nothing stopping you from shopping them though! Your penultimate decision is material type, which depends on your preferences and style. The final consideration you need to make is frame type, meaning full-rimmed, semi-rimless, or rimless. Once again, anything goes for rim, it all comes down to what style you want. Now that we've gotten all of that out of the way, let's talk about finding a frame for the look you want.
Men's optical frames for business
When it comes to smartening up a business look with frames, the best men's styles for optical frames tend to be semi-rimless or rimless metal frames with either a rectangle or oval lens shape. These styles work well in office settings for a couple of reasons. First, the whole combination of rim, material, and size is modest and conservative. This means they blend in with an outfit instead of standing out. In a place where the dress code (be it formal or informal) is black, gray, brown, or navy, wearing a pair of bright red acetate glasses might be a bit of a faux pas. Second, due to their conservative appearance, metal glasses with oval or rectangle lenses have become a universal standard for men's eyewear in professional settings. And if you're only going for one pair of glasses, don't worry. While this sleek look is great for a business atmosphere with discrete fashion, it blends well with casual styles and is perfect for everyday wear.
Men's optical frames for fashion
Whether you're going for laidback or flashy, there's a pair of fashion glasses for every man. Men's optical frames for fashion glasses include styles that tend to be more casual or creative. Casual glasses styles for men include larger and rounder frames, typically in plastic or acetate. Men's optical frames tend to be monochromatic with colors and patterns on the darker side, even with tortoiseshell.
Now, if you're looking for a bit of panache, then might we suggest something a little more creative? Fashion glasses are different from other styles in that they stand out instead of blending in. Stand-out shapes include oversized trapezoid glasses or aviators and colorful or see-thru frames. Since men's fashion frames are all about standing out, many stylists prefer to make sure the frame shape works with the face shape. While our guide is super helpful, the best way to see what a frame looks like on your face is to use our EyeTry tool. It's our virtual fitting room that lets you try on any pair of glasses from EyeBuyDirect's catalog. Just find a pair you like, click "Try On", and follow the instructions.
All right, that's a wrap!  Looking for a place to start? Check out our selection Men's frames and sort by "Most Popular". Oh, by the way, if you have any questions about a specific frame style or if you're looking for some tips, hit us up on Facebook or Instagram. Cheers!