Aviator sunglasses, like all types of eyewear, are available with a prescription. If you were concerned that you would have to choose between wearing your untinted eyeglasses or your prescriptionless sunglasses, then worry no more! Asking the question "can I get prescription aviator sunglasses?" was your first step in discovering our great selection of aviator sunglasses, all available with or without a prescription. Lucky you!
Prescription sunglasses actually work really well with the aviator style. Their full, rounded shape provides  good coverage for your eyes, preventing any of that sneaky sunlight from getting passed. The mirrored lenses common on aviator sunglasses can also hide any visual distortions on your face caused by stronger prescriptions.
Why are Aviator Sunglasses so popular?
Aviator sunglasses' timeless style means they are as popular today as they ever were. They were pioneered by Bausch & Lomb, and as the name suggests, were designed for American pilots during the Second World War. Aviator sunglasses helped to protect their eyes from bright sunlight during flights. Their large size and convex lens shape allowed them to prevent sunlight from dazzling pilots during even the most acrobatic of flight maneuvers.
Nowadays aviators are one of the most popular styles of sunglasses out there. They are associated with a 'rough & ready' look, commonly seen as tough and masculine. Despite this, many women can successfully pull off aviator sunglasses. Options like different lens tints and frame shapes mean they are more adaptable than ever.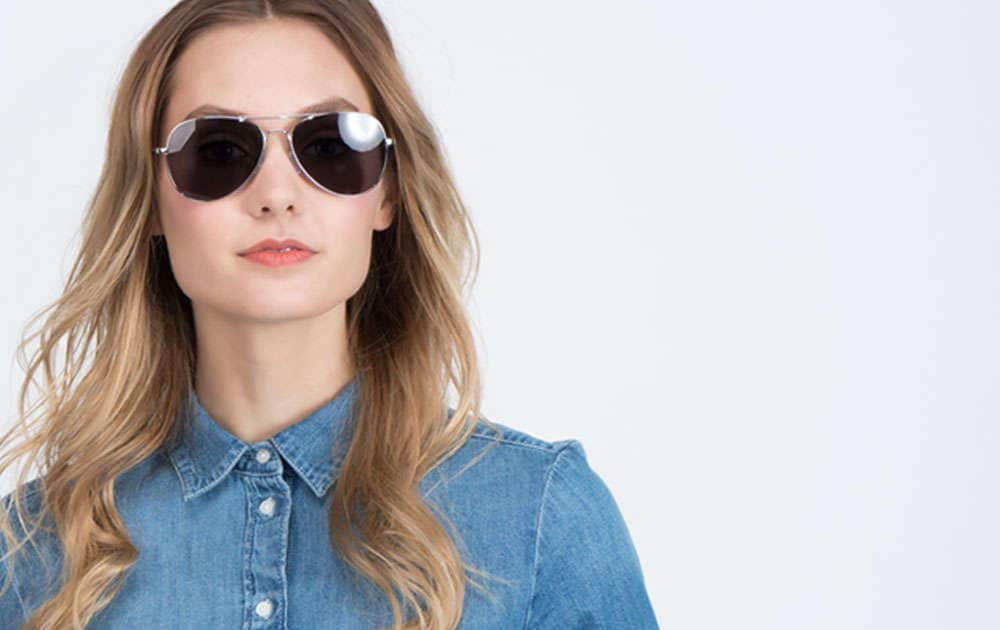 Camp, in matte silver
Are Prescription Sunglasses useful?
Prescription sunglasses are indispensable for anyone who needs vision correction. Other products like clip-on or magnetic sunglasses attachments can be handy, but the convenience of having sun protection along with your prescription in one frame is undeniable. It's easy to misplace attachments for your frame, so naturally it's much simpler to keep track of one pair of sunglasses.
If you are worried about your prescription aviator sunglasses making it hard to see indoors, you should consider transitions lenses. These work by adding a special layer to your aviator sunglasses that dynamically lightens and darkens depending on where you are. Lens technology is truly amazing right? 
Can you change aviators you have into prescription sunglasses?
Although it is possible to get prescription lenses fitted to frames that already have lenses, it can be expensive and troublesome. After having the question "can I get prescription aviator sunglasses?" answered, it's natural to wonder whether you could just replace the lenses in aviators you already own.  Your frame will need to be measured and fitted with entirely different lenses—it is usually much easier to purchase a sunglasses frame along with correctly fitted prescription lenses. Take this as an opportunity to pick up a new style of aviator sunglasses!
Are prescription Aviator Sunglasses for you?
Aviators are a fine candidate for prescription lenses. If they are the style you are the most interested in, then go ahead and live out your Top Gun fantasy with our collection of aviator sunglasses, don't forget to add your prescription when prompted.
As all of our sunglasses can be fitted with prescription lenses, take this chance to find the perfect style of sunglasses for you. From aviators to trapezoid frames, we have it all!