Dust off your textbooks and prep your wands. Harry Potter style glasses have arrived at Eyebuydirect, and you can bet that they're positively brimming with fashion magic.
Harry Potter Glasses
When it comes to the world of Wizardry, what are the first things that pop into your mind? Sure, fearsome dementors, magical alleyways, and revolving staircases are all some of the series' most iconic trademarks, but you shouldn't forget the fashion! After all: From the very first page, our hero Harry slung spells and countered curses with one trusty companion by his side — his iconic round glasses. (And yes, also his famous phoenix feather wand).
As the famous book series moved to the silver screen, actor Daniel Radcliffe's performance inspired a whole new wave of fashion in pop culture. This led to a revamped appreciation for round-rimmed frames in both hardcore Harry Potter nerds and movie newcomers alike, and the rest is history. Now, you can see harry potter glasses practically everywhere in urban street fashion.
The Meaning Behind Harry Potter's Glasses
You might be wondering: What about Harry Potter's round eyeglasses resonates so strongly with readers and movie fans alike? In an interview with J.K Rowling herself, it was revealed that his trademark round frames were a play on the fact that we, as fiction readers, are constantly experiencing fantasy worlds through our main character's eyes. By making Harry's frames round in shape, they embody a kind of cheeky "reader peeking through the looking-glass" metaphor.
In another interview, Rowling also stated that the choice to have Harry wear glasses stems from the lack of bespectacled heroes in her own childhood.
As a young student, the author wore glasses herself and was befuddled by how fictional characters with them were always relegated to backseat roles. By giving one of the fantasy genre's most prevalent heroes glasses, Rowling ensured that other glasses-wearing kids had someone to look (pun intended) up to.
Finding Your Own Harry Potter Style Glasses
Want to get the look? Our selection of round Harry Potter eyeglasses are just the thing to get you started on your way to fashion magic. For example, Roaring in Black. This delightful frame features a gold inlay that's a delight to the eyes.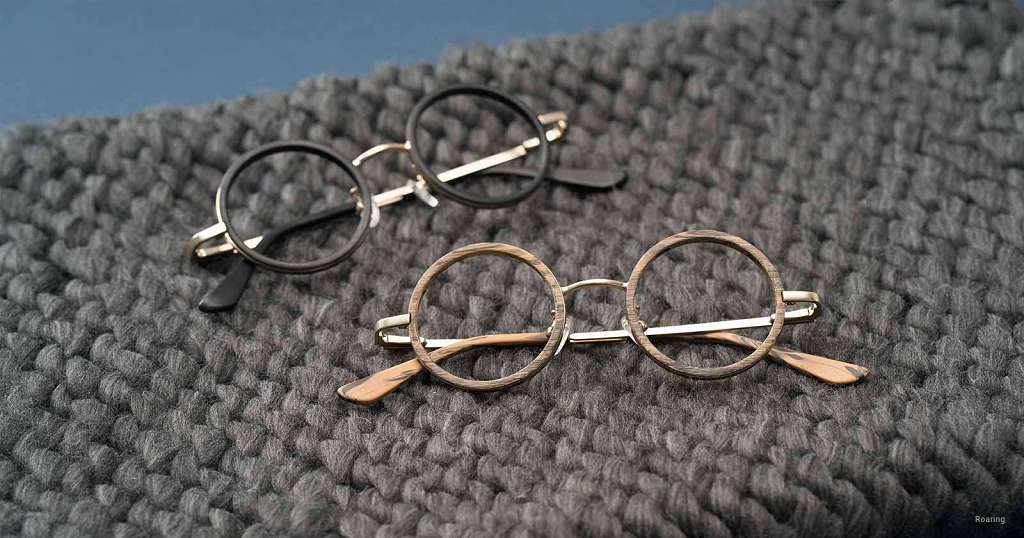 Roaring, in Black and Wood
Childrens Harry Potter Glasses
And don't think we've forgotten about all the fledgling Hogwarts students out there. If your young one is a fan of the book and wants their own inspired pair of round Harry Potter glasses, look no further. Available in blue and yellow is our Circo frame, built to last with durable materials and smart construction.  
Whether you're a clever and resourceful Slytherin or a bold and brave Gryffindor, round glasses can add a little touch of fashion to any outfit you have. So what are you waiting for? Get your very own pair of Harry Potter style  glasses today!