When the sun is shining and you're enjoying a day at the beach, it's wonderful to reach down and grab a pair of shades. When you're trekking on a rugged hiking path, a pair of sunglasses in your backpack will help you ward off the sun and focus on your pace. Sunglasses are so easily accessible that we may take them for granted. It really makes you wonder: What was life like before we could shield our eyes from the sun's harmful UV rays? You may think this form of eyewear is a fairly new invention, but the history of sunglasses actually goes way back. Even in ancient times, humans were looking for ways to keep the sun from shining in their eyes.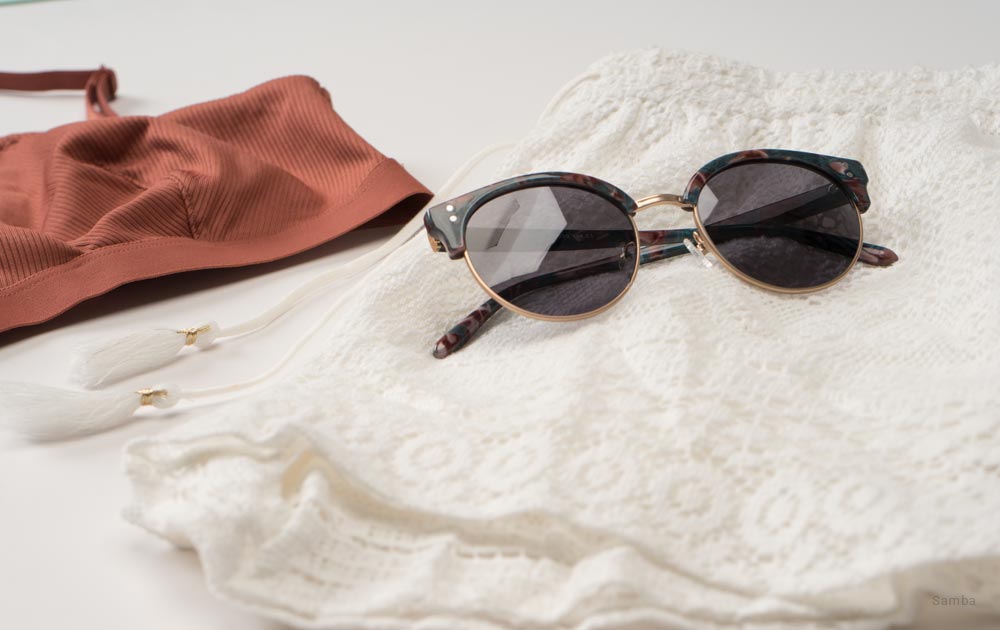 Samba, in Floral Gold
The History of Sunglasses Begins with Ancient Attempts at Sunglasses
The earliest reference we have of colored spectacles being used to block the sun's rays is good old Emperor Nero in ancient Rome. No — he didn't sport his shades when he burned the town down. But he did use polished gems to watch gladiatorial competitions.
The history of sunglasses continues in 12th century China, where pieces of smoky quartz were used by judges while listening to court cases. They weren't for the sun, though. These signature pieces kept people from reading the judges' expressions, much like that cool, aloof kid you went to school with who seemed to wear sunglasses even on rainy days. You could never tell what he was thinking.
During the Renaissance, that great era of enlightenment and innovation, one could argue that the greatest accomplishment to come from this time was the invention of sunglasses. It's believed the first pair was created somewhere between 1268 and 1289. All we know is by 1352 sunglasses appeared in a painting by Tommaso da Modena. After that, the rich and powerful used sunglasses as a symbol of distinction and honor.
The Popular Rise of Sunglasses
Since their earliest uses, sunglasses have gone through a lot of necessary, practical and fashionable changes. By the 1600s, an English spectacle company invented the first pair of prescription sunglasses. But it wasn't until the early part of the 20th century that they became in vogue.
On the beaches of Atlantic City, New Jersey, in 1929, Sam Foster introduced the sunglasses craze to America by selling inexpensive shades to beachgoers. People went crazy for these spectacles, which protected their eyes from the sun' always glorious but often annoying light. From there, sunglasses took on both utilitarian and stylish changes:
• 1930s: Bausch & Lomb develops eyeglasses for the Army Air Corp that reduce high-altitude glare.
• 1936: The Polaroid filter is used for the first time to make polarized sunglasses.
• 1937: Ray-Ban produces aviator-style polarized sunglasses, which become popularized by American movie stars.
As the public saw their favorite celebrities donning spectacular shades, the sunglasses craze took off and has never looked back. Styles have changed through the years — from the Cat Eyes of the '50s to the square frames of the '80s. And what was old becomes new again. One thing we can be sure of, though, is that sunglasses are here to stay.
Continue the History of Sunglasses By Making Your Own Fashion Statement
Nowadays, sunglasses are a style statement that goes hand-in-hand with sunshine and summer days. They define our signature look, give an air of mystery, and add sophistication to any outfit. At Eyebuydirect, we understand the importance of options. That's why our sunglasses catalog includes the latest trends and classic looks that never go out of style.
Try them out! If you're not happy, send them back as part of our 14-day Fit & Style Guarantee. In addition to our reasonable prices, we offer a 12-month Product Guarantee to ensure you're completely satisfied with our quality sunglasses. It's time to make YOUR mark on the history of sunglasses. Take a look at our sunglasses catalog today!
Featured Frames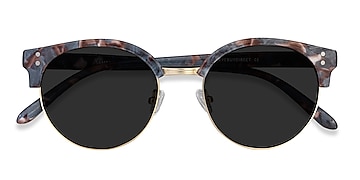 shop glasses