In the world of men's eyewear styles, there's bold and then there's red. And as flashy as they may seem, men's red glasses frames can find a perennial place in any wardrobe. And you don't have to go into the red to get yourself a pair of stylish, men's red glasses frames. Whether as an excellent statement piece or an essential accessory to tie an outfit together, we have the perfect pair of red men's eyewear for you.
Retro-styled browline men's red eyeglasses frames (
Yokote
)
Browline frame glasses are your grandad's glasses. A pair browline glasses smarten up casual outfits or can liven up the color palette something more formal. While red browline glasses may seem a bit daring, they're a piece that can add a touch of class or character to your outfit. Burgundy works beautifully as a frame color since it's subtle enough to stand out and neutral enough to blend in. When going casual, go vintage with a white or light-toned grandad or Cuban shirt.
Browline glasses have an inherently smart air about them, which make them great for business or formal attire. For jackets and tops, neutral colors blend nicely with the burgundy earth tone of the frame, giving you that classic preppy look. If you're looking to add a bit of panache instead, match your burgundy browlines with a windowpane check jacket. While a neutral red is quite versatile, not all men's red glasses frames need to be so somber.
Trapezoid
 men's red glasses frames (
Sylvie
)
We love the minimalist, toned down menswear trend as much as the next chap, but things can end up being a bit too black and white, literally. Every once in a while it's nice to inject a pop of color to burst a boring bubble. A flavorful pair of bright, raspberry red glasses for men does the trick just fine.
When going for something as daring as bright red glasses for men, getting the perfect balance of artsy and masculine can be a bit tricky. That's why trapezoid glasses are one of our top picks for men's red glasses frames. With strong lines and a broad body, trapezoid eyeglasses have all the trappings of a classic men's frame. Since bright red glasses can come off as a bit try-hard, keep things simple to avoid looking like a Guy Fieri fashion mash-up. Unless that's what you're going for, then by all means, take your trip to flavortown.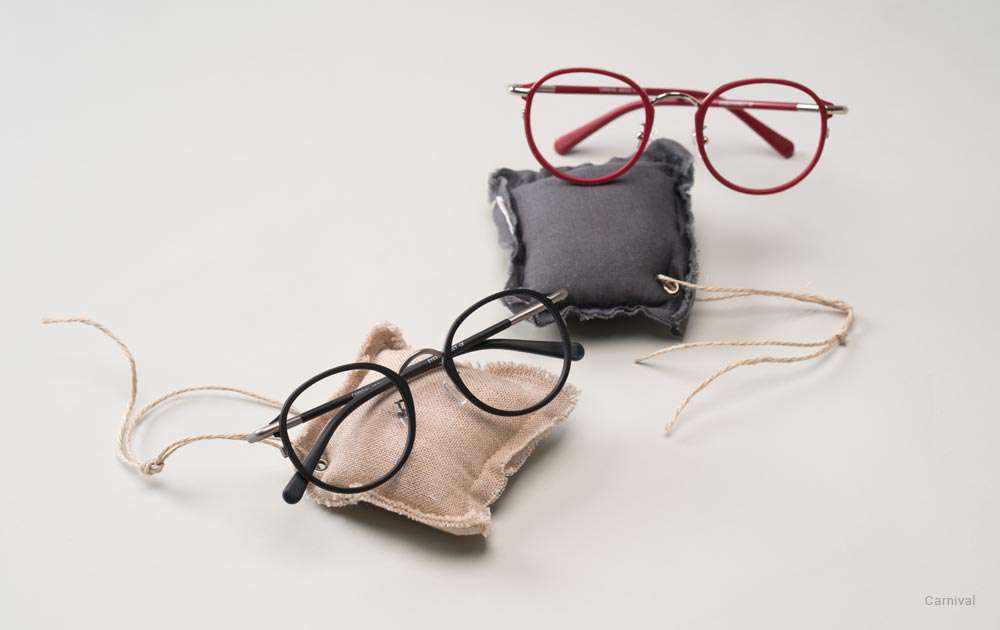 Carnival, in both Red and Black
Round metal and acetate men's red glasses frames (
Carnival
)
Whether it's on a small scale or a full-on outfit overhaul, going hipster and bucking conventional style can feel quite cathartic. It can also feel quite stressful. The best way to pull off something a little more daring like round red glasses is to feel comfortable. In other words, look like you belong in them. For men, confidence is a key component to wearing men's red glasses frames. When it comes to picking a pair of glasses, most men either opt for either metal or acetate (a plant-based plastic). This is even truer when it comes to frame colors like red. Once you have a red glasses frame you like, work it with a range of outfits from smart to casual.
But what if you're not in the mood for subtle? When the world is a sea of basic glasses styles, colorful mixed material frames are a beacon of hope. A pair of eyeglasses round silver metal frame with features wrapped in a matte red acetate will you stand out.
So there you have it. The next step? Finding a new pair of men's red glasses frames to deck out your face. Shop from our favorite men's red glasses frames today!