Fashion from the 1990s is becoming popular again in the 2020s. It's not surprising that a decade known for its unique styles, cool movies, and vibrant music scene is getting rediscovered in the internet age. Like clothing and culture, '90s glasses are once again making their way into the mainstream. 
Today's fashion-minded consumers are gravitating to wayfarer and aviator shades, oversized and circular eyeglasses, and frames with distinctive colors and accents. These silhouettes defined '90s eyewear, thanks to the celebrities and style icons who wore them. 
Here is a look at where '90s accessories got their start and how you can embrace the '90s nostalgia aesthetic with your eyewear selection today.
Who Influenced '90s Fashion?
Models, musicians, movie stars, and icons influenced '90s eyewear and made unusual and truly distinctive glasses part of every fashion-conscious person's rotation of accessories.
Fashion models like Naomi Campbell and Cindy Crawford, for example, were often photographed wearing sunglasses. In the early '90s, Campbell donned glasses that were modern takes on styles from the 1970s, '60s, and '50s. Thick-rimmed oval glasses, for example, came back into fashion during these years, with many options displaying multi-color patterned frames instead of a single hue. Nirvana singer Kurt Cobain proved that even men could rock this style as well.
Oversized glasses were a part of '90s hip-hop style, with Lil' Kim, TLC, and the late R&B superstar Aaliyah all favoring extra-large sunglasses. Actor Brad Pitt made sure this style remained popular until the end of the decade with his oversized specs in the cult classic film Fight Club. These '90s hip-hop glasses, worn by everyone from The Notorious B.I.G. to Run-DMC, first became popular when early rappers donned Cazal glasses. This hip-hop style remains popular today. 
Other celebrities favored thick frames and bright colors, with everyone from Mary J. Blige to Flea of the Red Hot Chili Peppers adopting this attention-catching eyewear style. 
Circular glasses were very visible throughout the decade, with celebrities like Gwyneth Paltrow and Jennifer Aniston favoring this eyewear option alongside fashion trendsetters like Lisa Bonnet, Lenny Kravtiz, Justin Timberlake, and Janet Jackson.
'90s glasses were known for being attention-getting and unique. However, this was also a sophisticated decade. Princess Diana was able to match her eyewear with her outfits during every outdoor royal appearance. Fashion designers also influenced the '90s glasses trends. Karl Lagerfeld favored thick rims in his designs, while Dior, Chanel, Gucci, and Thierry Mugler all offered distinct eyewear that celebrities quickly made part of the accessory collections.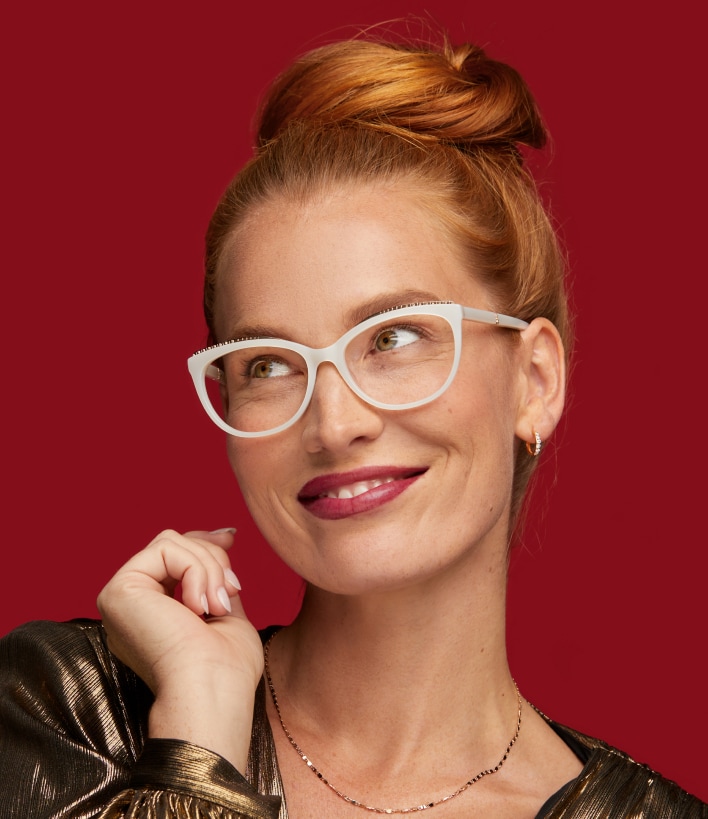 Brilliance, in white
Bold '90s Style Sunglasses
From your favorite online eyewear retailer, of course!  And at affordable prices. Embracing the '90s nostalgia aesthetic doesn't need to be expensive. In fact, some retailers even have special collections of '90s glasses featuring the best designs worn by the decade's icons.
Oval Sunglasses: Culture
The '90s brought round and oval-shaped lenses to the forefront. This particular option features lenses that are 1.26″ by 2.7″. The shape exudes the type of coolness that defined the decade. The black wire-frame and metal arms add to the understated appeal. Meanwhile, the lightweight (14 grams) and adjustable nose pads ensure a high level of comfort. Check 'em out!
Oversized Lenses: Elle
Thick rims and oversized lenses were a major theme for '90s glasses. From hip-hop style to high fashion, this trend really took off throughout the decade. Our Elle sunglasses bring this design back to the forefront. The black acetate rims are sturdy and, despite their smooth appearance, the material isn't a petroleum-based plastic. Eco-conscious shoppers will be happy to know that it is biodegradable. See this iconic design for yourself.
Bright-Colored Frames: Sun Kyoto
These bright yellow sunglasses have an appealing shape and an eye-catching hue that brings to mind the '90s ideals of standing out and being different from the norm. At the same time, Sun Kyoto frames have classic elements. The round lenses, keyhole nose bridge, and metal accents provide just the right level of sophistication. Get a look at Sun Kyoto in three hues.
Tortoiseshell Frames: Sun Bardot
Multi-colored and patterned frames were wildly popular in the early '90s, and the trend hung on into the later parts of the decade. Sun Bardot glasses are an example of the more sophisticated side of this style. These shades have ivory tortoiseshell rims, rounded oversized lenses, and a classic design. At the same time, a solid nose bridge, acetate construction, and a sturdy build make them comfortable and durable enough for daily use. See these  stylish 90s sunglasses right here.
Transparent Multi-Toned Shades: Sunset
This full-frame design has elements of several different well-known '90s trends. The thick rims, rounded lenses, and keyhole nose bridge are all traits of the decade. Meanwhile, the multi-toned plastic frame embraces the attention-grabbing philosophy common in '90s accessories. Thanks to their simple plastic design, these shades provide lots of value for those who want a well-made product for a reasonable price. Check out Sunset in all its glory, add a pair to your cart and see your style shine.
Add a Pop of Color to Your Outfit with these '90s Glasses Frames
Many retailers have vintage collections that include '90s glasses designs that were popular during the decade and are returning to fashion in the 2020s. These collections make it easier to find the styles that your favorite spec-wearing celeb first made famous in the '90s.
Oversized '90s Glasses: Corey
Corey eyeglasses bring to mind the oversized hip-hop glasses that were popular from the 1980s into the '90s. These modern specs have all the elements you'd expect from a faithfully recreated classic. The front is nearly 2″ tall, and the large round lenses have a pleasant curving design.
Corey boasts two of the sturdiest eyeglass materials: acetate and metal. The acetate has an appealing black coating that helps the front of the frame stand out. The metal arms and tortoiseshell tips add even more subtle detail to these stylish '90s throwbacks.  Take a look.
Round Eyeglasses: Morning
Round eyeglasses were popular in the 1990s, and the decade also saw people put a cool twist on stereotypically geeky fashions. Morning eyeglasses embrace both of these '90s trends. The thick and perfectly-round acetate rims and keyhole nose bridge bring to mind the attention-getting trends of the decade.
Meanwhile, the stud accents and tortoise color scheme bring a sense of subtle stylishness you might not expect. If you are seeking thoughtfully-designed glasses that'll help you stand out, add Morning to your collection today.
Aviator-Style Wire-Rim Glasses: Captain
Aviator-style designs were especially popular during the 1990s, and Captain brings this trend to the prescription eyeglass market today. These glasses have a classic appearance with a rounded, subtly curved frame and parallel bridges. The fine wire frame brings the durability of metal.
These '90s glasses are incredibly lightweight at only 11 grams. The weight and easily-adjustable nose pads make them one of the more comfortable options for those seeking eyewear with a '90s nostalgia aesthetic. If you are after a pair of eyeglasses that bring the '90s to mind but also fit perfectly in modern times, Captain is the frame for you.
Brightly-Colored Eyeglasses: Russell
Brightly-colored frames were among the most popular '90s accessories for both sunglasses and prescription specs. Russell eyeglasses embrace this aesthetic perfectly. This full-frame design boasts a mustard yellow hue and an acetate material that allows for an attractive finish and really lets the color pop.
A dual-bridge design gives Russell eyeglasses a classic look along with a few welcome extras such as spring hinges that make them exceptionally comfortable for daily use. Take a look.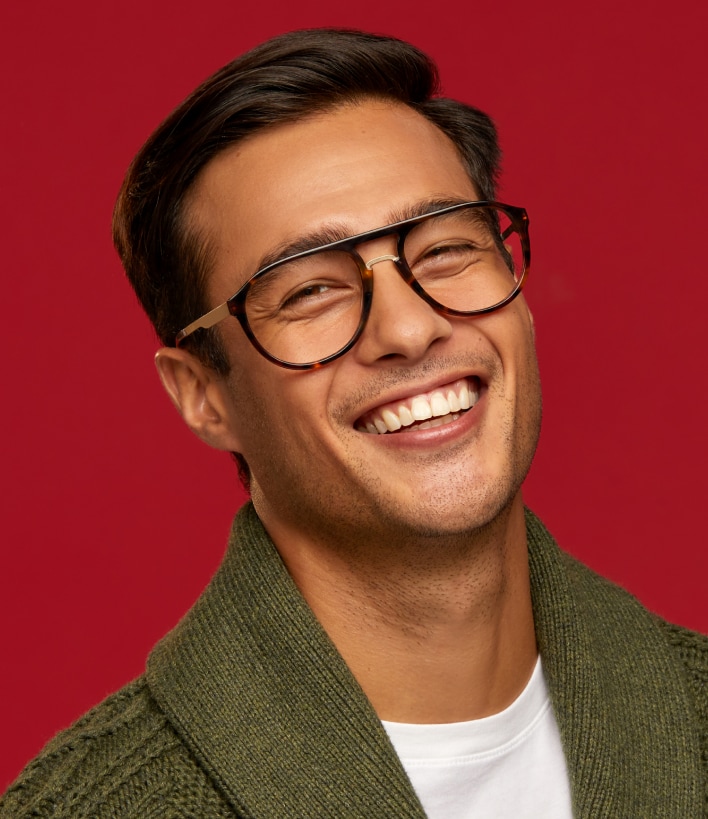 Rustic, in Tortoise
Tips for Choosing the Best '90s Glasses or Sunglasses
If the fashion items and trends from the 1990s stand out to you, the next step is to pare down your list of favorites and find the ones that'll fit your needs. You'll might want to consider things like material, weight, durability, size, and level of comfort to find a frame that checks all the boxes. Our Fit and Style Quiz can help you select the type of eyewear that you want while ensuring that you match your choice to your face shape, intended use, and size.
The size of your glasses can be especially important. The vital measurements don't actually have much to do with the design choice. The lens width, bridge width (over your nose), and temple length are all essential for finding a comfortable pair of specs. Lens shape and height have less to do with comfort and position on your face. Meanwhile, features like spring hinges, adjustable nose pads, and arm cushions can help you find the perfect fit.
Once you've decided on these details, it's time to make your final '90s glasses selection. And where better to do so than  your favorite online retailer? Go ahead, add a pair of '90s glasses or sunglasses to your accessory collection today.