How much does an eye exam cost? There's more than one answer to this question. The cost of an eye exam depends on several things such as whether or not you have vision insurance, where you go for an exam, and if you need extra services in addition to the regular exam.
The Average Cost of an Eye Exam Without Insurance
What you pay for an eye exam will depend on where you go. A 2023 survey of 100 eye doctors around the U.S. found these average exam prices:
$144 at a standalone/private practice   

$93 at an optical retailer like LensCrafters or Pearle Vision 

$89 at a vision center that's attached to a store such as Target, Costco, or WalmartVision center 
You may be wondering why the price at retail chains and vision centers is so much less than at a standalone practice. In most cases, this is to cover additional operating costs. 
Eye doctors in private practice have to earn enough to cover expenses like rent, equipment, and an inventory of glasses and contact lenses. Doctors at retail chains and vision centers often don't have to cover all these expenses.
While you can get a comprehensive eye exam at any of these locations, a vision center or optical retail chain may be more affordable if you don't have vision insurance.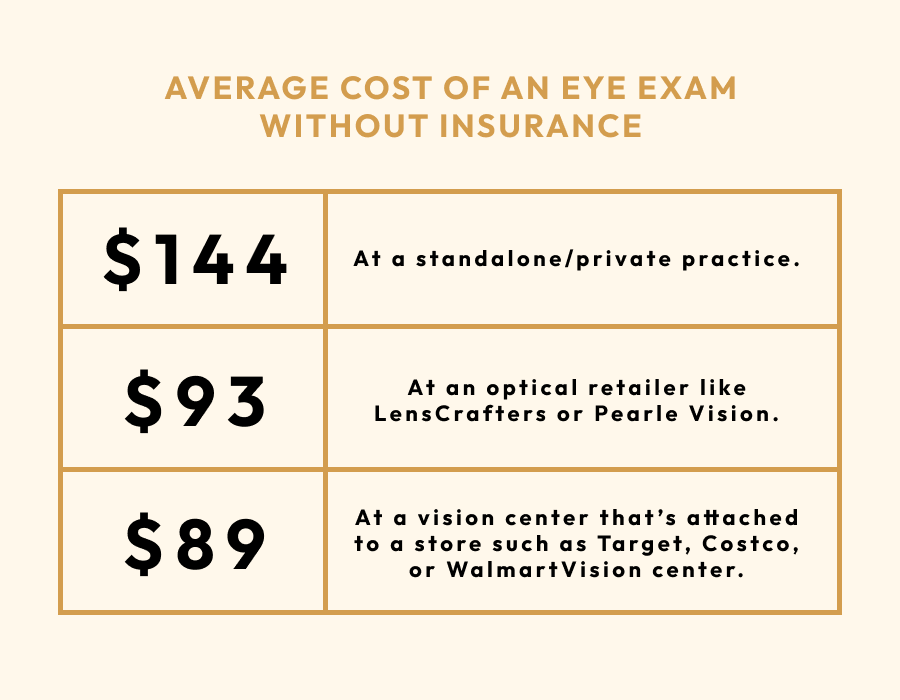 What's Included in an Eye Exam?
A comprehensive eye exam should include the following tests and procedures:
A discussion about your and your family's health history, including any history of eye problems

A

visual acuity

test to measure how well you can see at different distances 

A refraction test to determine what prescription you need in your glasses

Tests to see how well your eyes track objects and how well they work together, among other things

A slit lamp exam to check the health and structure of your eyes, and look for signs of cataracts, macular degeneration, and other conditions

A test for glaucoma (your doctor may use the "puff-of-air" test or a different instrument called an applanation tonometer)  

If you wear contacts, you'll also need a contact lens exam
The number and types of tests your eye doctor performs depend on the current health of your eyes, if you're experiencing any eye or vision problems, and if you have any questions about your vision.  
If you need vision correction at multiple distances, your eye doctor may recommend multifocal lenses like progressives or bifocals.
Factors that Influence the Cost of an Eye Exam
Retinal Imaging and Dilation 
The retina is the thin layer of cells at the back of your eye. Problems with the retina can lead to permanent vision loss if they aren't detected and treated as soon as possible. 
If your eye doctor needs to see more of your retina, they have two options that can add to your exam cost:
Retinal imaging

takes wide-angle pictures of your retina that can be kept in your file and compared against on future visits. 

Dilation

uses special eye drops to temporarily widen your pupils, allowing the doctor to see your retinas, optic nerves, and blood vessels more clearly.
If the cost of retinal imaging isn't included with your exam, you'll likely be charged an extra $25 to $50.
If dilation is billed separately, you can usually expect to pay an extra $20 to $25.
Contact Lens Exam and Fitting
You'll need a separate exam if you wear contact lenses or want to start. This is because additional tests are needed to determine what type and brand of contact lens will work best for you. You also need a separate prescription for your contacts since they rest directly on your eye and your glasses sit farther away. 
The price of the contact lens exam depends on the doctor, so it's a good idea to ask before your appointment.
New and Returning Patients
If you're revisiting an eye doctor you've seen before in private practice, it might be worth asking about a discount for existing patients. 
While it's unlikely this type of discount will exist at retail chains and vision centers, their eye exam costs will probably be more affordable.
The Average Cost of an Eye Exam with Insurance
If you have vision insurance, you pay regular premiums so you can pay less at the time of your service. A vision plan can help you save money on many eye-related health costs, including: 
Annual comprehensive eye exams 

Medical treatments when necessary

Vision correction, including prescription eyeglasses and contact lenses

Lens upgrades such as anti-scratch and

anti-reflective coatings

 

Eye surgery like LASIK   
The cost of vision insurance depends on your provider and plan. You can usually save money by using an eye doctor who's in your plan's network of providers.
Free and Reduced-Cost Eye Health Care 
There are many resources available if you're looking for free and reduced-cost vision care: 
The National Eye Institute

has a

list of programs

that provide free or low-cost eye exams and prescription glasses to people who meet eligibility requirements.

 

Optometry Cares: The AOA Foundation

lists eye health resources by state. 

InfantSEE

— part of Optometry Cares — works to have vision care included with infants' regular wellness exams so that potential vision problems can be detected earlier.   

EyeCare America

provides free eye exams as well as free and discounted medications to qualifying patients through the American Academy of Ophthalmology. 

Lions Club International

works with eye care professionals in their communities to provide vision screenings for children and adults.

While Medicare does not cover routine eye care, it does provide some exams, tests, and treatments for people who have or are at higher risk of developing

diabetic retinopathy

,

macular degeneration

, and

glaucoma

.

Medicaid and CHIP

cover vision screenings and any necessary follow-up exams and treatments for low-income children and adolescents who are enrolled in their plans.
It's important to take care of your eyes by getting an annual comprehensive eye exam. With a little time and effort, you can find an eye doctor who will provide the vision care you need at a price you can afford. And if you need glasses, we have you covered!
SOURCES
Eye exam costs in 2023: Just as expensive as everything else?

All About Vision. April 2023.

What to expect during a comprehensive eye exam

. All About Vision. February 2019.