It goes without saying that it's  important to maintain good eye health,  in order to keep your vision strong, healthy, and capable for many years to come. That's why glasses of all kinds are critical when protecting your eyes, whether you need a pair to see better or a pair to keep your peepers safe while working. However, it's important to note the differences between glasses for safety purposes and those that solely correct vision. We're here to help you learn more about safety glasses with a prescription, and discover how protective eyewear is just one small step in the right direction towards a lifetime of good visual health.
What are prescription safety glasses?
Prescription safety glasses are used for safety purposes when working in an environment where  vision clarity and eye safety might be a concern. The glasses protect the eyes against flying objects or any particles that might endanger the eye. Not only do prescription safety glasses protect eyes from possible injuries, they also make sure the wearer has maximum visual clarity while working in a potentially hazardous environment.
Examples of work that necessitates the use of safety glasses:
Working in construction sites

Conducting research in laboratories

Welding jobs

Garage workshops and mechanical projects

Agriculture and fisheries

Factories and similar industrial settings

Healthcare jobs like medical lab work, surgery, and nursing
Unlike everyday eyewear, our safety glasses are constructed out of transparent, impact-resistant materials. For maximum protection and durability, they feature a unique design that covers a substantial portion of the eyes, protecting the wearer from dangerous particles, spills, and high-impact flying items.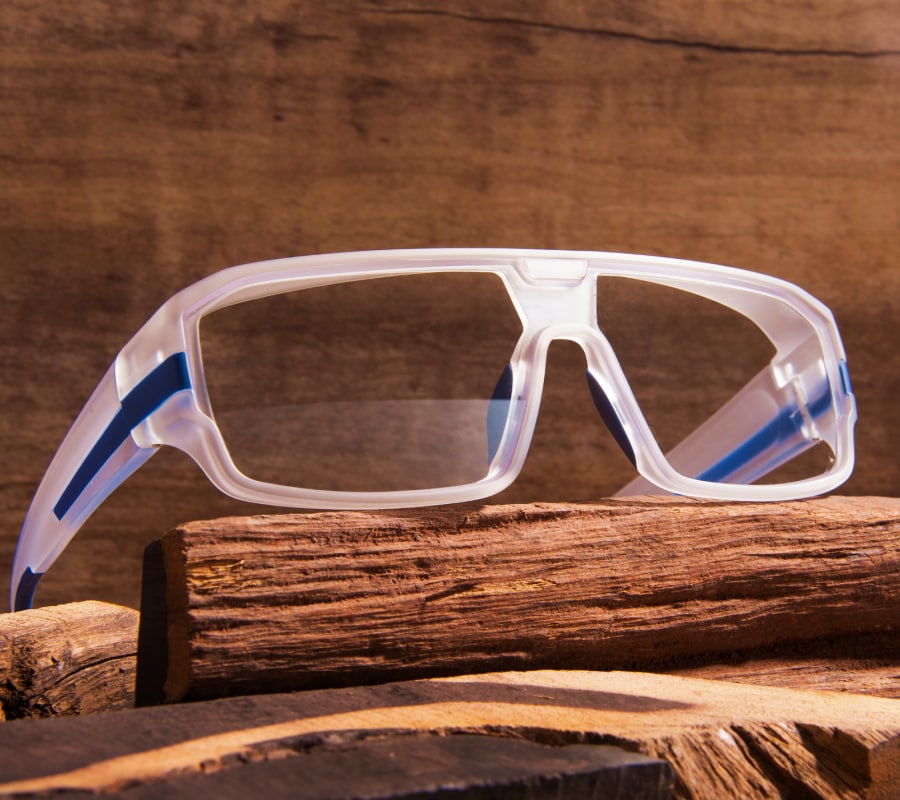 Types of Lenses for Prescription Safety Glasses
Safety glasses are essential for several industries, and for a variety of reasons. A lot of options are available in the market today, which might make it  difficult to know which pair to get. No need to fret, we'll provide you with tips on how to choose the best prescription safety glasses for women and men that are available in a range of sizes, shapes, and styles.
Safety glasses prescriptions come in several lens types: 
Single vision

: One focal point

Bifocals

: Features a specific reading-correction section

Trifocals

: Features a section for intermediate vision

Progressives

: Smoothly switch between near and distance correction
Additionally, they come in a range of frame types and materials, such as polycarbonate, glass, plastic, full-rim, wraparound, and rimless prescription safety glasses.
What does OSHA say about Prescription Safety Glasses?
The Occupational Safety and Health Administration, better known as OSHA, sets and enforces standards for safety in the workplace. When it comes to protective eyewear, employers are required to provide all workers with adequate safety glasses that meet the standards of ANSI Z87.1 to help prevent flying particles from entering a person's eyes, and also protect against other potential hazards.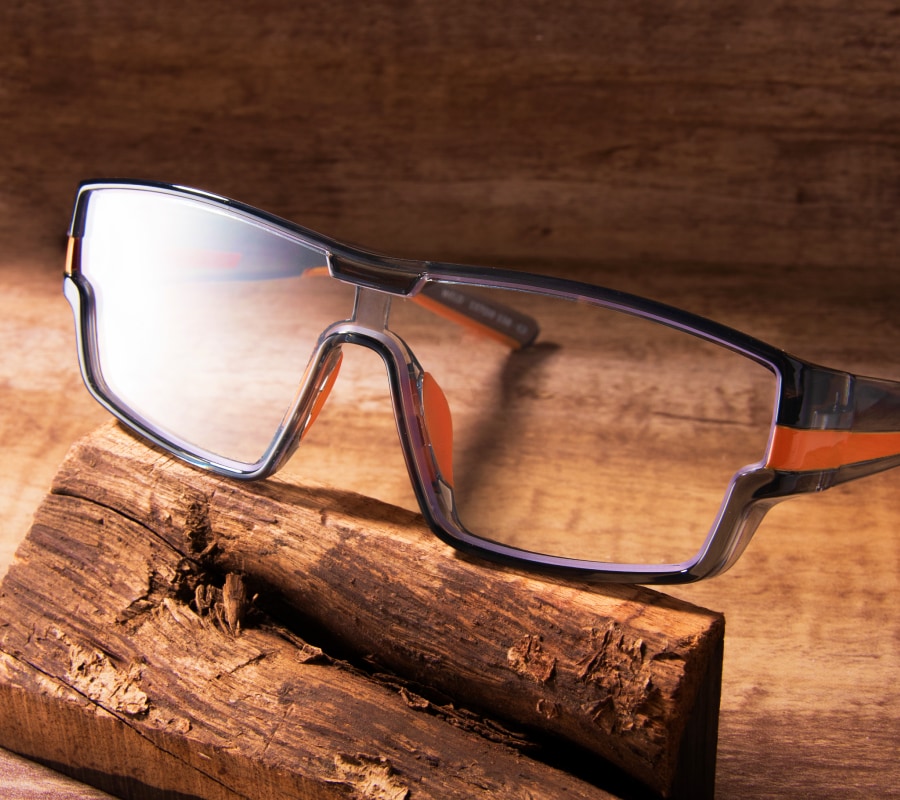 OSHA Regulations and Standards for Prescription Safety Glasses
According to OSHA standards, all safety glasses must be OSHA-approved and worn at work whenever there is even the slightest possibility that the worker might be exposed to:
Dust

Sparks

Splashes

Flying debris

Other toxins
The non-prescription pairs in our Safety Glasses collection are OSHA compliant to ensure users' eye protection.
What are ANSI Prescription Safety Glasses?
The American National Requirements Institute, or ANSI, has established standards for safety glasses that are both prescription and nonprescription, as well as for other protective eyewear including goggles, welding helmets, and face shields. OSHA follows these standards. 
The ANSI ratings for safety glasses are generally connected to impact and other eye dangers. When a pair of safety glasses is ANSI-rated, it signifies that they have been shown to fulfill the ANSI criteria for a certain rating and tested for impact resistance.
Prescription safety glasses that can withstand the impact of a steel ball one inch in diameter and weighing approximately 2.4 ounces falling from a height of 50 inches meet Z87 requirements. 
If you need glasses for eye protection, you should look for a pair that has been rated by ANSI or a comparable organization. These often provide the best eye protection.
All of the eyewear in our Safety Glasses collection adheres to ANSI standards.
Choosing the Right Prescription Safety Glasses
While every person is different and has their own sense of style, one factor to consider before making any selections is the type of work you perform on a daily basis.
If you'll be working outdoors, the frames should be able to handle the bumps and bangs of everyday life. If your job involves a lot of close indoor inspections, look for frames that have contrast to reduce artificial light glare. For example, prescription safety glasses for nurses may need additional protection such as anti-fogging or lens tinting. 
The right prescription safety glasses are tailored to your vision acuity needs, style, and comfort preferences. Whether you're looking for impact-resistant frames that are suited for outdoor use or frames that protect from harmful substances, you'll have options that cater to your work environment.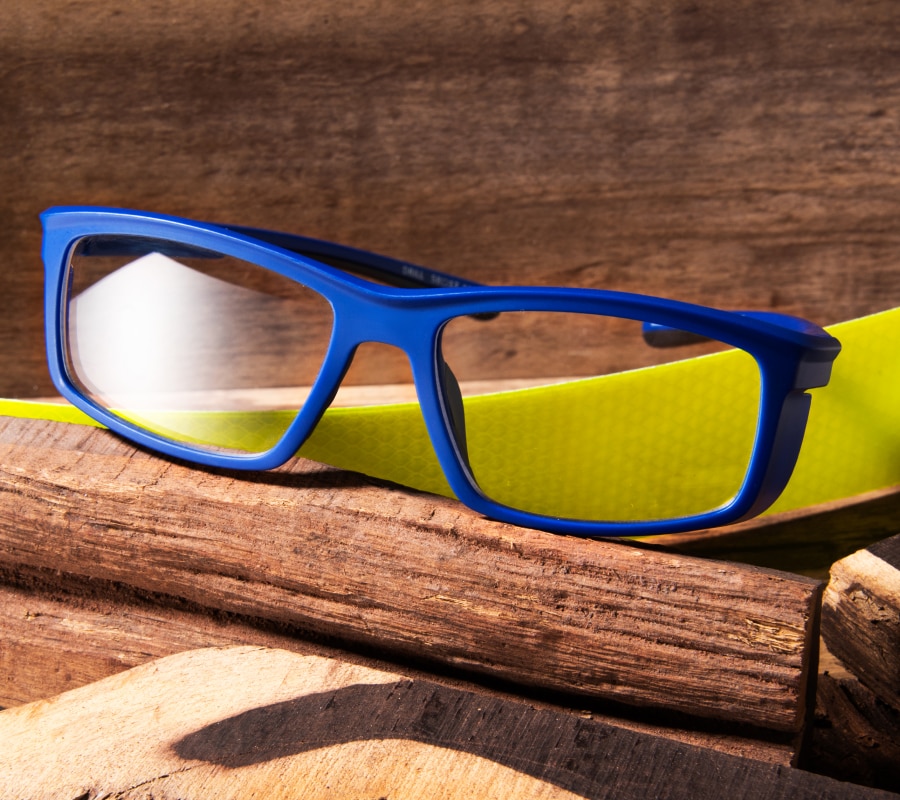 Buying Prescription Safety Glasses Online
We offer a wide range of styles and designs of prescription safety glasses online that are both highly functional and comfortable. 
When it comes to buying prescription safety glasses online, we are committed to offering the best experience possible. To help you get clear and comfortable vision, we want to provide only the best prescription safety glasses. With our 365-Day Guarantee and 14-Day Free Returns policy, you can feel confident with your purchase.