Glasses are pretty much the best.
They complete your wardrobe, update your look, and are just oh-so-stylish. Oh yeah — they also help you see clearly and all that important stuff. Sweet, right?
Well it's not all peaches and roses! In day-to-day use, every glasses wearer worth their weight in frames knows about the little challenges that can come up. Yup, that's right. Today we're joining Youtube lifestyle icon Twan Kupyer and talking about #glasses problems.
We've all had our fair share of glasses mishaps. But just in case you haven't, we asked Twan to help illustrate them. At the start of the video, you can tell that he's fallen in love at first sight (pun intended). Not before long though, he'll quickly learn some of the classic #glasses problems that happen everyday.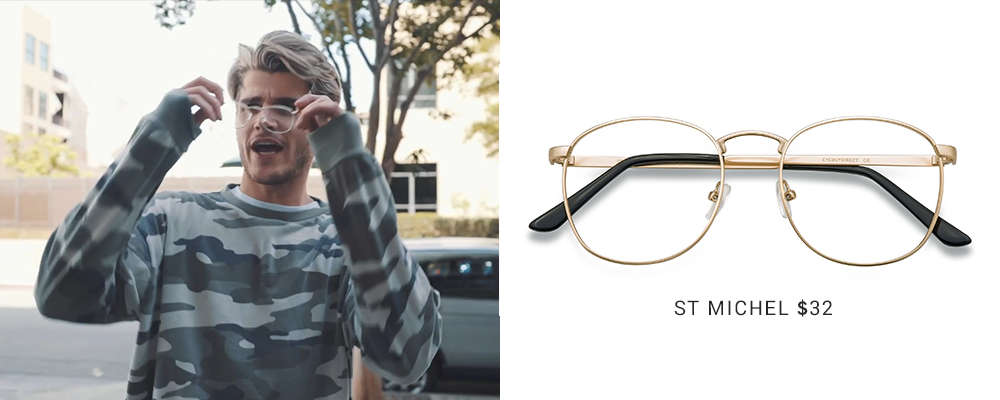 St Michel, in Golden
Problem #1: Fingerprint Smudges
Getting a brand new pair of glasses is a great feeling. However, it comes with one little drawback… All of your friends will want to try them on ASAP! It makes for a fun moment, but you can bet that after your special specs are passed around…  they'll be returned in a less than awesome state. Smudged.
Answer:
We all love our friends. But in case you don't want their pizza-greased fingers smearing up your lenses, you deserve glasses with our anti-smudge coating! The best part about these? They also protect against stray water drops and dirt build-up.

Pacific, in Clear
Problem #2: Foggy Lenses
Whether you're cranking out a cardio routine or just enjoying a hot cup of coffee… EVERY glasses wearer can relate to having their glasses fogging up! (And when you're on a date, it's just about the most embarrassing thing ever.)
Answer:
Nobody wants cloudy vision when they're busy. To prevent the occasional fog-up, every Eyebuydirect order comes with its own cleaning cloth. It's convenient to use and won't let you down.
Sequence
, in Ocean Tide
Problem #3: Scratched Lenses
You can't fight what you can't see! Before Twan's big rumble, he gets worried that his glasses will get damaged and takes them off. It's a thoughtful move, but it definitely didn't help him win. Just goes to show that constantly worrying about scratched lenses can prevent glasses wearers from doing their best!
Answer:
Anti-scratch tech puts those worries to ease. We're not saying that you're going to be in any street fights like Twan anytime soon, but on the off chance that you do any extra-physical activity like sports or dancing — make sure that your lenses are durable by shopping Eyebuydirect!
And there you have it!
Three glasses problems that everyone experiences, and ways around them! With Eyebuydirect's sweet glasses styles and high-tech lens options, you can customize your eyewear to fit your lifestyle and tackle any issue. With styles starting at just $6, the search for the perfect pair of glasses has never been easier!
And don't forget: Use the code "TWAN30" for 30% off your order!