'Tis the season when temperatures drop and the world outside becomes a little more beautiful. Unless you live in Australia, you'll be waking up to cooler air, crisper mornings and, just maybe, a little frost. A thousand tiny ice crystals remind us that winter is here before we even get outdoors. But can we use this harsh beauty to inspire us? If you plan to avoid the classic red and green Christmas combo, then you already have your inspiration. For the more adventurous among you, we give you clear framed glasses.
Why wear clear eyeglasses this winter?
Transparent glasses frames are understated but stylish. They express the winter mood of the season by mirroring the icey feel around us. When it comes to holiday inspiration, classic transparent glasses frames give a literal representation, whereas colorful clear glasses give a playful nod to the holiday party spirit. Our Aura frame is available in Translucent, Celeste, Clear Jade or Champagne, making it EBDs go to pair for glasses with clear frames.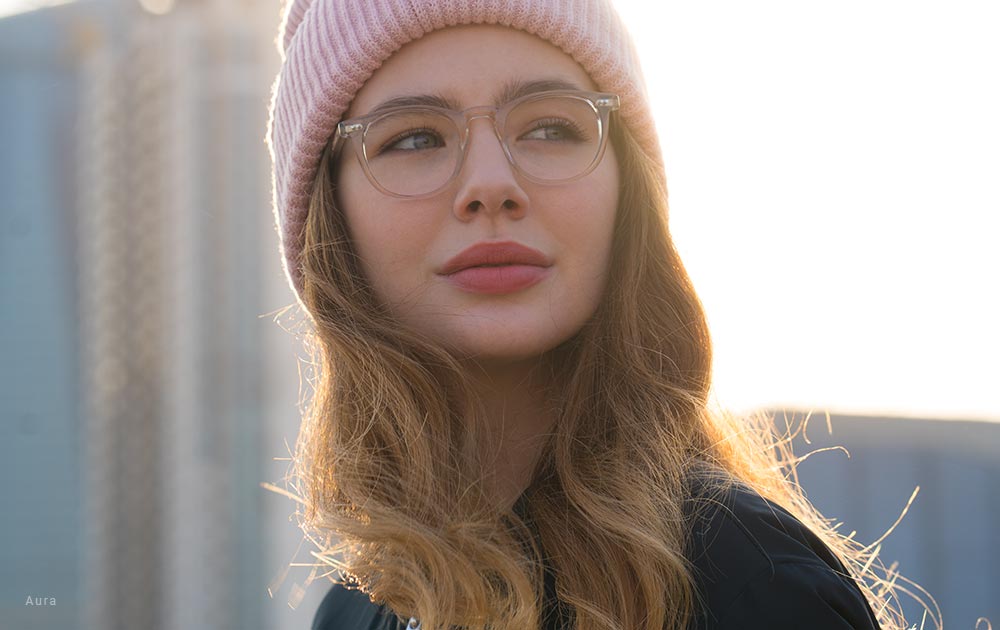 Clear Fashion Glasses
Our most fashion forward transparent glasses feature in our RFLKT line. Handmade from premium materials, these translucent frames are the stars of the show. If you want to look fabulous at your office holiday party or you're planning your most glamorous New Year outfit yet, then these are the frames for you. Theory in Translucent are perfect clear glasses for square faces with a contrasting round shape. To complement their square shape, Symmetry are a surefire option as clear glasses for round faces too.
Clear Glasses with a twist
If a pair of clear plastic glasses isn't for you, maybe you'd like a pair of clear rimmed glasses. All the style without all the commitment. Our Mood frame offers you just that, with clear acetate around the lenses and metal arms. It's a winning combo for those who prefer a more classic eyewear look.
So there you have it – your winter 2017 guide to clear plastic frames and glasses. The best part is, if you're still unsure, we have a 14 day fit and style guarantee. It means you can order your glasses and if you don't think clear framed glasses are for you, just send them back! What are you waiting for?
Hope it's all clear,
Tom