Learning how to choose eyeglasses color is one of the most important steps towards finding your very own perfect pair. While it might be effective to stick with tried and true options like basic black or classic tortoise shell frames, you shouldn't be afraid to explore and expand your personal style!
How to Choose Eyeglasses Color Based on Skin Tone:
Matching the color of your frames to the tone of your skin is one of the most effective methods in finding glasses that enhance your facial features.
Peach and Pale Skin:
People with peachy or pale complexions look great in frames with warm undertones. To just name a few, frames that are dark orange, brown, or red can give excellent contrast to your skin's lighter base color. Bonus tip: If you want to avoid looking colder than you actually are, be sure to stray away from frames that are blue or sport a lighter color.
Medium-Toned and Olive Skin:
People with medium-toned skin look amazing in almost any kind of neutral color. A fashion-forward pair of white or grey frames can greatly highlight your complexion. If you're in the mood to experiment with more unique colors, you can be sure that earthy greens and gold hues are excellent choices.
Dark Skin:
People with dark skin look amazing in deep browns or golds. If you have dark skin, one of our greatest fashion tips is to wear metal frames that are crafted in bronze. If metal frames aren't up your alley, don't worry: Any tortoiseshell variation should look beautiful against your skin's undertones as well.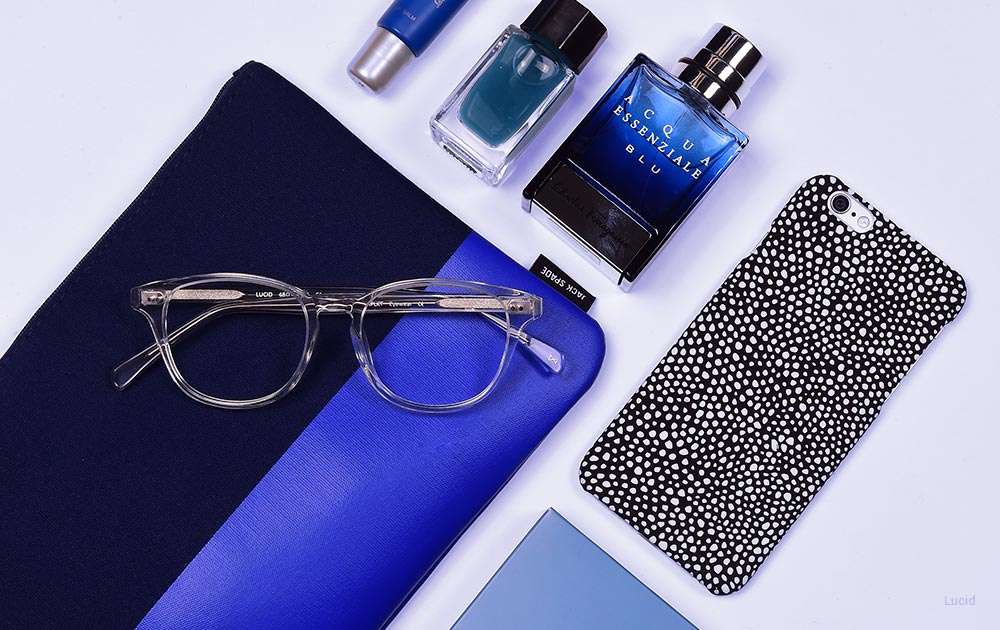 Lucid, in Translucent
How to Choose Eyeglasses Color Based on Hair Color:
Coordinating your eyeglasses color based on the hue of your hair is another super reliable way to find great glasses.
Glasses for Brown Hair:
If you have warm brown hair with gold or red undertones, you'll be looking your best in gold, red, and light green frames. For those on the other side of the spectrum, with cool brown hair, will find themselves feeling confident in beige and light-brown frames.
Glasses for Blonde Hair:
For those with warmer blonde hair, shades of pink and brown are great choices. They also look exceptionally good in a classic pair of tortoise shell frames. If you're a platinum blonde or strawberry blonde, the glasses that will fit you best are usually black, purple, or blue.
Glasses for Black Hair:
Depending on whether your black hair is a brown-black or blue black, it can pair well with a multitude of colors — especially black and green. If you're feeling adventurous, it's popular for people with black hair to wear frames with highly saturated colors. For example, strong reds, blues, and purples.
Glasses for Red Hair:
Red hair has many different variations. For those with a darker hue of red hair, shades of blue, blue-green, and black work extremely well. On the other hand, people with lighter red hair typically look wonderful in green or gold glasses.
Glasses for Grey or White Hair:
Regardless of shade, almost all types of grey or white hair pair magnificently with vibrant and eye-popping colors. Not only do they make excellent fashion statements, but the additional color will also make you feel years younger in style and spirit.
Color coordination ultimately ties your whole ensemble together, so you can't be lazy when it comes to studying up on it! Now that you've figured out how to choose eyeglasses color, you're one step closer to really bringing your fashion sense to its max potential. Now's the time to start your search with 1000s of our hottest styles.