So your lens fell out of your glasses. Have hope, because that alone doesn't mean it's time to buy new eyeglasses just yet. In many cases, you can fix a popped glasses lens without the aid of an eyewear professional. Most frames are easy to put lenses back into, as you can just push them gently into place. Others require a little ingenuity. Here, we'll give you some tips on how to fix a popped glasses lens.
Most of the time, plastic frames are the easiest to fix — all you need to pop the lens back is just a little force. If that doesn't work, try this
1. Make sure the frames aren't snapped or cracked. If they are, it's unlikely you'll get the lenses to stay in place without a professional repair.
2. If they're undamaged, put your plastic frames in warm water that's hot enough to soften the plastic but not so hot that you can't touch it.
3. After about one to two minutes, pull the glasses out of the water and place the dislodged lens along the top groove of the frame.
4. Holding it tightly, press the bottom part of the lens into its groove.
Metal frames generally hold their lenses in place with the use of a small screw. If your lens pops out, it could be because the screw is lost or loose.
To get the lens back in, you'll need to make sure you have the original screw or one that fits inside the hole. You'll also need a jeweler's screwdriver. Most eyeglasses repair kits come with these types of screwdrivers plus small screws in a variety of sizes. Once you've got that, here's what to do:
1. If the screw which holds the lens in place is still in its hole, loosen it. Otherwise, place the screw gently in the hole, but don't tighten it.
2. Place the lens in the frame. There will be a groove around the edge which will hold it snuggly in place.
3. Once it's in place, hold it firmly with one hand and tighten the screw with the other.
When you're dealing with how to fix a popped glasses lens, semi-rimless frames may be one of the trickiest types. Most semi-rimless frames have a metal bar across the top and a thin, clear wire usually made of nylon or another lightweight material that runs across the bottom holding the lens in place. To get your lens back into the glasses, you'll have to finagle the clear wire.
For this trick, we suggest using a thin strip of tear-proof material like that used by UPS or FedEx to make their envelopes. Cut a long, rectangular strip that measure half-an-inch by ten inches long. Then, follow these steps:
1. Find the groove which runs along the metal bar at the top of your frames and position the lens into it.
2. Hold it firmly in place and feed your tear-proof strip of paper between the clear wire and the lens.
3. Fold the paper over the wire and gently pull it down. Use the paper to pull the wire into the groove at the bottom of the lens where it fits. Start at one end of the lens and work your way along the whole bottom until the wire is back in place.
4. To pull out your tear-proof strip, move it to the center of the wire and slowly pull on it while securing the wire with your thumb.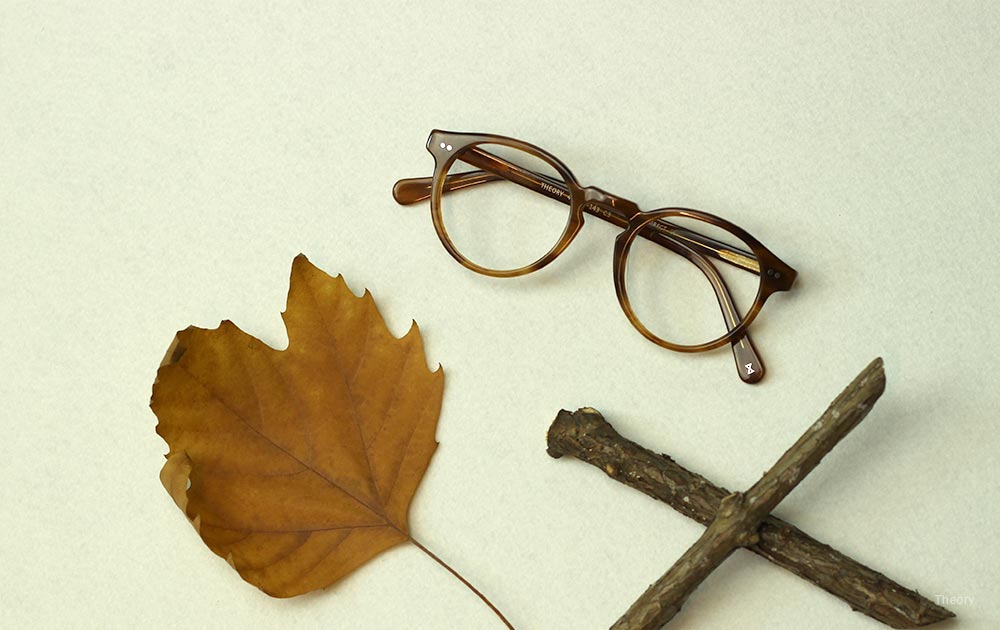 Theory, in Cognac.
Is it Time for Fresh Frames?
Feel like you've tried everything on how to fix a popped glasses lens? While we're not recommending you throw out your eyeglasses just because the lens popped out, this unfortunately sometimes means your frames are kaput. If you do need new glasses quick, then turn to Eyebuydirect. Our fashion-forward frames come in every style, so you're sure to find a pair you love.
We offer a 14-day Fit & Style to make sure you like them as much as you thought you would. We're so confident in the quality of our eyewear that we assure each of our frames with a 12-Month Product Guarantee, so instead of learning how to fix a popped glasses lens, you can peruse our eyeglasses catalog and just find your next new favorite specs.