It happens to the best of us. You put your glasses down for just a minute and … crunch. Whether you sit on them, step on them, or your kids got ahold of them, glasses get damaged for a whole slew of reasons. Don't fret! And don't order brand-new glasses just yet, either. If you love your specs, chances are there's a solution to fixing them. Get ready to learn how to fix bent glasses.
Bent glasses can be unbent. It may just take some time, patience, and a little TLC. Glasses are an investment and we don't want to see yours thrown in the garbage. Although a professional repair is always best, it may be more trouble and money than it's worth. If you're going full-DIY, here are our top tips on how to straighten and fix those bent glasses.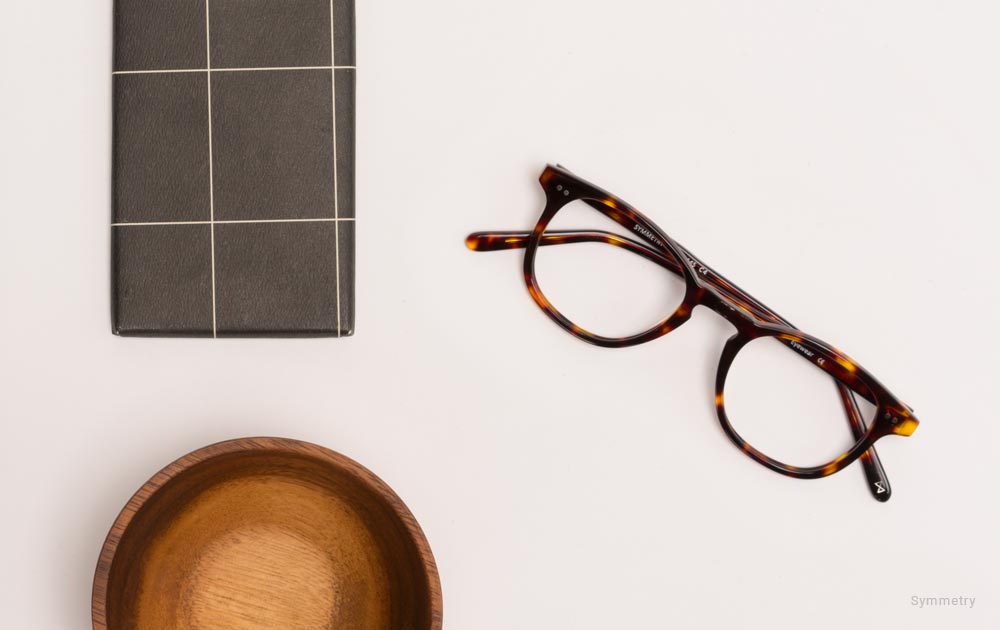 Symmetry, in Tortoise
Figure Out What Needs Fixing
The first thing to determine is where the kink in your glasses is. Sometimes it's obvious. Other times you'll know they're bent because they do not fit on your face right, but you can't tell exactly where the problem is.
There's an easy solution for this. Place your glasses on a table or other flat surface and see which side is up in the air. Take note, because this is the side that needs to be fixed.
Easy Does It 
Before you set out to figure out how to fix bent glasses, make sure you know what kind of problem you're dealing with. Depending on the type of glasses you bought, and if they're prescription, they may have cost you a pretty penny. Keep that in mind when you're ready to straighten your frames. If you try to force them back into shape, you may just end up snapping them accidentally. Here are some things to keep in mind:
Be gentle and don't use excessive force.
Don't apply too much pressure.
Avoid quick, jerky movements.
Most of the pressure you apply only needs to be concentrated on the nosepiece. If that doesn't work, there are different methods you can try depending on whether you have metal or plastic frames.
How to Fix Bent Glasses with Metal Frames
To fix metal frames, there are two things you'll need: soft, plastic-tipped pliers and a thin piece of cloth. Then, try these steps:
Place a thin cloth over the glasses to prevent them from getting damaged. This could be a hankie or a cloth napkin.
Make sure the cloth is unwrinkled so you can see how the glasses bend underneath it.
Position the pliers over the bent section of the frames.
Hold them secure but not too hard as you adjust the glasses.
Try them on to see if they fit properly. If not, continue to straighten as needed.
When eyewear retailers adjust plastic frames, they usually use a box filled with warm sand. This heats the plastic and makes it pliable without melting it. If you have sand you can use, that's perfect. But most people don't, so we have to use a different method. To fix your plastic glasses, all you need is warm water or steam. Then follow these steps:
Fill a shallow bowl with warm water, ensuring that the temperature is not too hot. If it's too hot to touch, it's too hot for your plastic frames.
Place your glasses in this bowl of warm water, hold them under a stream of hot water, or use steam. They need to be exposed to the warmth for between 30 seconds and a minute.
Once sufficiently heated, the glasses will be especially fragile.
Hold the glasses steady as your thumbs make minor adjustments. Apply pressure a little bit at a time.
After you try them on, if they still need some work, warm the plastic and try again.
Stock Up on Stylish Glasses
Sometime's it's not enough to know how to fix bent glasses. If your glasses can't be fixed, we know you may be bummed — but there's another simple solution. Eyebuydirect sells stylish frames for every look at prices that can't be beat. Plus, we offer a 14-day Fit & Style Guarantee for those who're a little squeamish about buying online. Every one of our chic glasses comes with a 12-month Product Guarantee.
Don't let bent glasses keep you from superior style. Browse our extensive glasses catalog and stock up on frames you'll love.