Are you serious?
Yes, actually, we are. Rimless eyeglasses have a bad rep these days, even in the EBD office. Some of us love them and some of us think they're dated, boring and unstylish. I can neither confirm nor deny which camp I fall into. When it comes to round rimless glasses, there are audible groans from a few at their desks just before silence falls upon the room. But should we write off rimless eyewear as old-fashioned just because it's no longer en vogue? Shouldn't we be searching for a way to make rimless eyeglasses the next big thing? As your one-stop online eyewear shop, we've done just that. We give you: Palo Alto.
Round Rimless Eyewear Inspiration
Without using a frame as a starting point, making a pair of round rimless eyeglasses can be tricky for designers. With fewer elements to work with, the lenses become the star and the arms are our only chance to make a statement for you, our wonderful customers. We have to look elsewhere to get our creative juices flowing and produce the same high quality, low price eyewear you've come to know and love. So, 'where did you look for round rimless glasses inspiration, Tom?', I hear you all now asking. I'll tell you. He's the father of our most-beloved modern day gadgets and his personal style is so iconic and instantly recognizable that a black turtleneck and some round rimless specs are all you'd need to go as him for Halloween. Mr Apple himself, Steve Jobs.
Steve Jobs was famous for wearing round rimless eyeglasses. A quick Google Image search will show you just how dedicated he was to his glasses and black turtleneck. We thought the co-founder of one of the world's most well known, advanced and stylish technology companies would be the perfect muse for a pair of our glasses. We took the style, which was part of Steve's personal brand, and gave it a few tweaks. Our Palo Alto frames, named after the Californian city Steve lived and sadly died, are the product of this inspiration.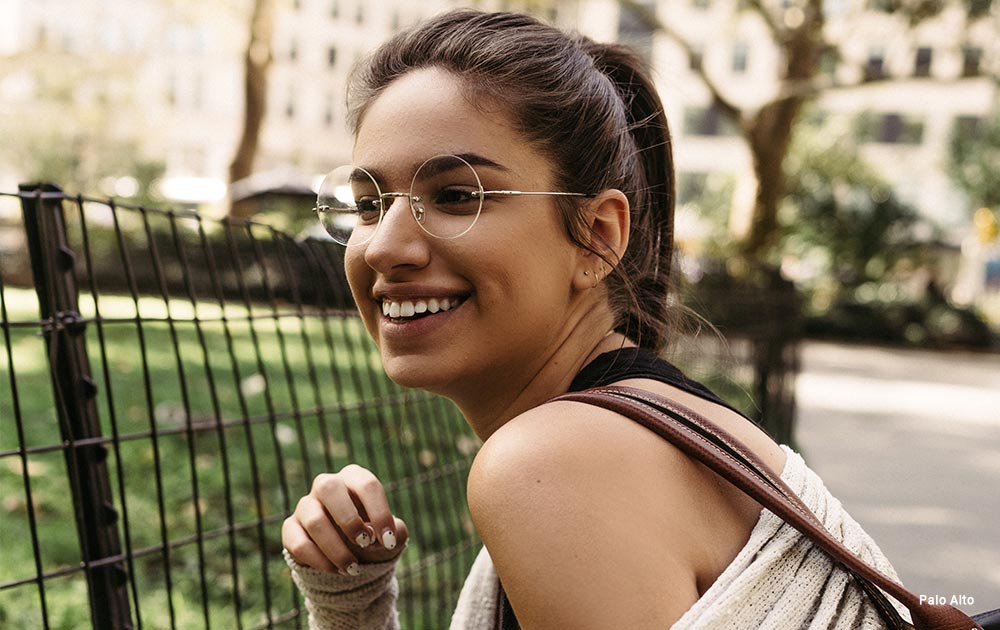 Round Rimless Gla
sses at Eyebuydirect
The result? Palo Alto features big, round lenses and simple but stylish arms. We oversized the lenses slightly, giving a modern feel to the frame, and it's available in both medium and large. The vintage feel isn't lost with these eyeglasses but they're definitely for the fashion forward, offering a contemporary detail to any outfit while allowing you to see clearly. The minimalism of the rimless frames is a great counterpoint to a bolder outfit choice, or statement makeup and jewelry. The arms were our one chance to help you express your personality through individuality. We kept with the sleek, minimal aesthetic and decided to create Palo Alto in Black and Silver so you can still be stylish but match with pretty much anything in your wardrobe. The arms are slender and simple to emphasize the lenses even more, and we added spring-hinges to give extra comfort and protection from breakage. The screws are intentionally silver in both colors. On the Silver pair, it creates a cohesive color dynamic and on the black pair, it's a little stand out detail to give you that extra something. If I knew you better, I'd even say it matched that twinkle in your eye.
Palo Alto is a hit amongst rimless cynics and fanatics alike. Their rimless design is discrete enough for everyday wear but their statement size and minimalism can be accentuated to show off your style. Dress them up, dress them down, wear them to work or show them off on your next brunch date with friends. You won't be disappointed. Even if you are, which I highly doubt, you can return any of our glasses within 14 days if you don't like them or they don't fit you – no questions asked. Just let our lovely customer service team know and they'll handle the rest.
An interesting little pair of spectacles, Palo Alto could be the next big thing in round rimless eyeglasses. A contemporary twist on a classic and our fitting tribute to the late, great Steve Jobs, who will not only be remembered for his contribution to the world of tech, but for his dedication to the round rimless look. Check them out today and maybe, just maybe, you could be the next big world changer with this pair of glasses in your pocket. Who wants to miss out on that?
What goes around, comes around – rimless or otherwise
Tom