Lenses 101: The Sun & Your Eyes
July is here, and it's time to soak up as many summer rays as you can. Which reminds us — it's also Eye Injury Protection Month! 
Sun damage is a serious topic. And while most of us are very aware of the effects sun has on our skin, the damage it causes to our eyes often gets overlooked (no pun intended). 
So before you head out, be sure to grab a pair of shades for extra sun protection (prescription or not!). Take a peek below to learn more about what lenses offer the best defense against damaging UV rays. 
Let's Talk About Lenses
When shopping for sunglasses, frames are usually the first thing that come to mind — but what about lenses?  Without proper eye protection, excessive sun exposure can cause an array of symptoms that have lasting effects on our sight, which is pretty serious seeing how much we rely on our eyes. 
Symptoms from UV damage may include blurry vision, pain or redness, light sensitivity, and in some cases,  temporary loss of vision. But don't worry — This is where protective lenses come into play. We've made it super easy for you to find the best lens for your summertime lifestyle that will help prevent damage from UV exposure, AND help you to see all the fun you're having!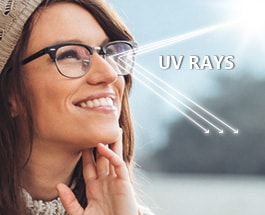 Light Adjusting Coating
Perfect for those always on the go. Light adjusting technology is an effortless option that transitions from specs to sunnies, becoming dark outdoors and clear indoors according to the amount of sunlight exposure.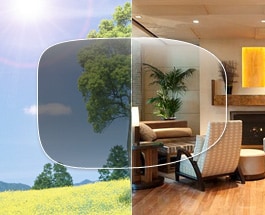 Polarized Coating 
For most, summer means more time spent outside. Polarized lenses make outdoor activities even more fun by reducing annoying (and sometimes dangerous!) reflections from water and roads.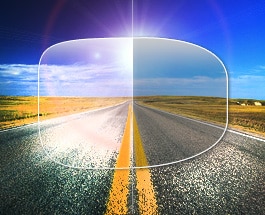 UV Protective Coating
Like sunscreen, but for your lenses! This invisible coating works by deflecting UV rays from the sun before they can damage your eyes. Think of it as 24/7 protection. 
Style Tip: Large sunglasses cover more of the delicate area around your eyes for maximum protection (and even more style). Oh, and don't forget to wear your sunnies even when it's cloudy. UV rays can still cause damage on a dreary day.