Although it's true that many of us need to wear eyeglasses to see properly, it's undeniable that your frames are also one of the best ways to express yourself. Knowing what eyeglasses are in style now is the first step towards finding a frame that is on trend while also presenting the real you.
Take a look at our huge selection of eyeglasses to get an idea of the type of styles you're interested in, and let's dive into current eyeglass trends to help you keep your look fresh.
Clear Glasses Frames
One of the most notable trends in modern eyewear is eyeglass frames built with transparent plastic or acetate. These are great materials for eyeglass frames – they are super lightweight and comfortable. Acetate especially is available in a huge range of colors and shapes. Clear frames can only exist due to these materials, and that really lends to their modern aesthetic.
Aura is a great example of a clear frame at Eyebuydirect. The different tints like champagne and jade add a little pizzazz while keeping the frame pleasingly see-through.
Clear glasses are adaptable as an accessory and look good with most colors and styles. That being said, dark outfits can slightly overpower the subtle stylings of clear frames. It might be better to stick to lighter clothes along with this type of eyewear.
Transparent frames are perfect for that futuristic aesthetic. If you're looking for the latest fashion in eyeglasses that is a bit more of a throwback, look no further than tortoise.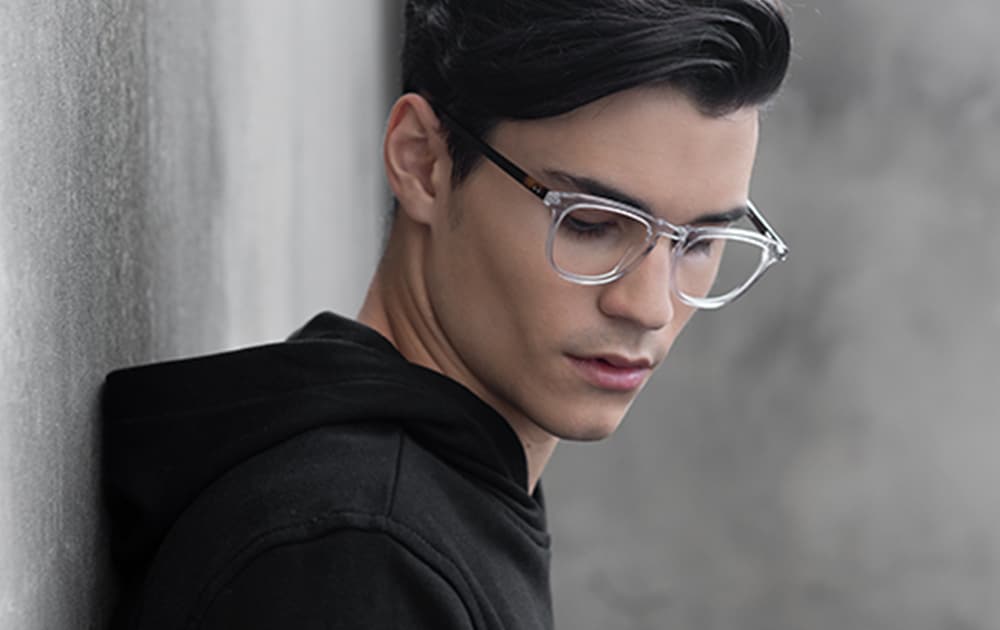 Illusion, in Clear
Tortoiseshell Frames
With warm colors and an eye-catching texture, it's no wonder that tortoiseshell eyeglasses have remained in style throughout the ages. These types of frames used to be made from actual tortoise shells! Luckily because of the adaptable acetate material mentioned earlier, we can rock this beautiful pattern guilt free.
Some of the most fashionable tortoise frames have more intense colors. The more earthy tones of classic tortoiseshell frames are still a great choice, but more modern colors are undeniably cute.
Another take on acetate is two-toned. These types of tortoise eyeglasses work to stylishly balance the top and bottom parts of your face. Concept features a warm tortoiseshell top half and a bright white lower section. The great thing about two-toned tortoiseshell glasses is that they are bold enough to be expressive but also easy to blend naturally with different outfits.
Tortoise frames are practically a mainstay in the fashion world because they can look modern or old-school depending on the rest of your outfit. Speaking of classic frame styles, take a look below for another shape from the past that really stands out.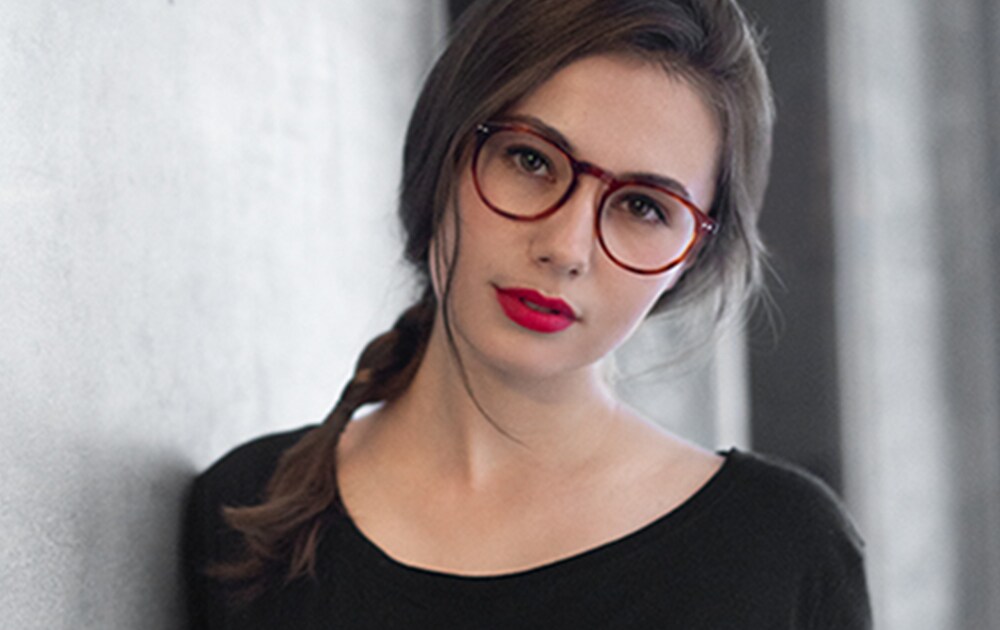 Planete, in Brown Tortoise
Aviators as Eyeglasses?
Aviators frames are some of the most popular styles of sunglasses. Extra cool and brimming with attitude, this style is perfect for adding some edge to any look. But stop the presses, aviators also work amazingly as eyeglasses! The thin metallic frames and large lenses give them a vintage appeal and keeps them comfortable. The double nose bridge is the defining feature of aviators, and also makes them sturdy and secure sitting on your nose bridge.
Fame is a perfect example of a set of aviator eyeglasses. The golden metallic finish and over-sized lens frames make them perfect for many different face shapes and skin tones. Another advantage that comes with aviator eyeglasses is the size of the lenses. They provide great coverage, ensuring that your full range of vision is covered.
Aviator eyeglasses are a perfect choice of eyewear that's both modern and classy. You could even add light adaptive transitions lenses to have both sunglasses and eyeglasses in one frame!
So what Eyeglasses are in Style Now?
Clear frames, tortoise colors, and aviator eyeglasses. These three styles of frame are all on-trend and distinctive. They are a great place to start when looking for current eyeglass trends.
Knowing the latest fashion in eyeglasses can help you select the perfect frame, but it is also important to find a pair that defines you as an individual. Take a look at our full range of affordable eyeglasses. If you find a frame that really represents you, don't let trends hold you back. Truly Expressing yourself is the secret to style!