When you look at what Oakley is today, it's hard to believe that this iconic sunglass brand got its start with an initial investment of just $300. Now one of the most popular eyewear brands for sportspeople and celebrities alike, the most well-known Oakley sunglasses models are ironically dubbed the "Oakley Model Family."
But if you are unsure about what separates Oakley Frogskin sunglasses from Oakley Holbrook polarized sunglasses, then this overview will tell you everything you need to know.
Oakley Holbrook Sunglasses
Released in 2010, the Oakley Holbrook with its signature square shape has become one of the most popular lifestyle Oakley styles. Inspired by the heroes of the silver screen in the 1940s, 50s, and 60s, the original Holbrooks are made of Oakley's patented lightweight O Matter plastic. Realizing that there was a need for a more serious look, the Oakley Holbrook Metal was released in 2017.
With five different varieties, the Holbrook caters for everything including those with smaller faces, those who prefer oversized or more rounded lenses, and even those who want a mix of the traditional O Matter and newer metal frames. Available with Oakley's revolutionary Prizm Polarized lenses as well as its HDPolarized lenses, the Holbrook includes prescription models and is available here.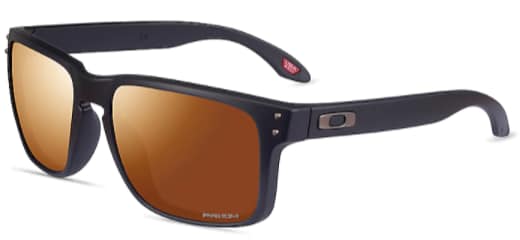 Oakley Holbrook – Square Black Sunglasses
Oakley Flak 2.0 Sunglasses
With its classic half-rim design and trademark Unobtanium ear stems, the Oakley Flak 2.0 is the successor to the wildly popular Oakley Flak Jacket and one of the most popular sports frames in the Oakley range. Sturdy and durable yet surprisingly lightweight, the Flak 2.0 combines all the best Oakley technology to provide a pair of sunglasses that suits just about any outdoor activity.
Featuring Three-Point Fit technology as well as Unobtanium temple tips and nose pads, the Flak 2.0 provides a stable and comfortable fit that actually increases its grip when wet. This means it doesn't slip if you get caught in the rain or are prone to perspiring heavily while running, cycling, rock climbing, or adventuring in the outdoors.
Oakley Frogskins Sunglasses
Oakley's first-ever lifestyle sunglasses, Generation 1 Frogskins were released in 1985 and were immediately compared to the classic Ray-Ban Wayfarers that had been around for 30 years already. Discontinued in 1997, Frogskins were re-released in limited numbers shortly after Oakley was purchased by Luxottica in 2007.
With casual rounded lenses and a flexible and lightweight O Matter frame material, Frogskins are designed for all-day comfort. But these are purely lifestyle sunglasses and don't feature the popular anti-slip Unobtanium material that makes most Oakley sports sunglasses so desirable.
Available with just about every lens option that Oakley provides as well as through Oakley's Custom Program – there are literally thousands of frame and lens color combinations to choose from. Go ahead, explore the options!
Oakley Radar EV Path Sunglasses
The original Radar Oakley eyewear combined everything it had learned from decades of research conducted while partnering with the world's best athletes to create such an iconic range of sports sunglasses. A stylish pair of performance sunglasses known for their versatility, Oakley Radars feature interchangeable discipline-specific lenses that you can swap according to the sport you're doing and where you are doing it.
Standing for Extended Vision, the Radar EV Path has a taller profile than the original Radar and Radarlock sunglasses. The peripheral coverage is also extended, meaning that they offer great protection from the wind, dirt, and sun on all sides. Radar EV lenses use "new generation" air vents to provide improved circulation and manage the heat that tends to build up behind sunglasses when you are engaged in heavy physical activity. There are plenty of styles to choose from.
Oakley Sutro Sunglasses
Designed with cyclists in mind, the Sutro and Sutro Lite both fully embrace the "bigger is bolder" trend that is dominating cycling eyewear at the moment. Although intended for urban riding, these Oakley Sutro cycling sunglasses work just as well on road and gravel. And thanks to the wraparound lens and ski goggle style frame, they work just as well in casual settings.
Made with the same O Matter nylon-infused plastic that Oakley uses for all its performance frames, the Sutro weighs in at just 32 grams – making it almost light enough to make you forget you're even wearing sunglasses. And with interchangeable Prizm lenses, your Oakley Sutro's use of hyperspectral imaging technology means they are suited to a game of baseball, fishing, shooting, golf, and much more.
Oakley Kato Sunglasses
Featuring impressive optical engineering that erases the usual central nose cutout of every pair of sunglasses ever, the mask-like Oakley Kato sunglasses are designed to "empower you to channel your inner superpower for limitless possibility." With three different-sized Unobtanium nose pads coming as a standard part of the package, the Kato promises a perfect fit for anyone.
This promise of a perfect fit is further ensured by Oakley's new Adjustable Rake that allows you to change the angle of the lens in relation to the frame. If the protruding nose of the Kato isn't to your taste, though, the Kato X offers all the same features but with the traditional cutout nosepiece on the wraparound lens.
Are Oakley's Flak, Sutro, or Radar better for sports and activities?
There is no definitive answer to this question because the choice of which Oakley sports and performance sunglasses are the best depends entirely on your personal preferences and needs. The Oakley Flak 2.0 is a great pair of all-around performance sunglasses suited to almost any outdoor activity, but some may find they don't like the smaller lens coverage they offer.
While designed specifically for cyclists, some might find that they don't like the overlarge lenses of the Oakley Sutro. They may also find that the extended arms cause problems when worn with some helmets that offer deeper coverage. Probably the most versatile of all Oakley's performance eyewear, some might not like the taller profile of the Oakley Radar EV Path as it can have contact issues when wearing a helmet or cap.
Celebrities Wearing Oakley Sunglasses
Whether vintage-inspired or insanely futuristic, celebrities have tons of experience when it comes to choosing the best eyewear. They become a basic necessity when there are photographers with brightly flashing cameras documenting your every move, after all. Add in the fact that the right pair of sunglasses can totally transform an outfit, dressing it up or down and making it exponentially cooler — the choice of which pair to wear can be daunting.
But even if you care more about the functionality of sunglasses rather than the fashion aspect, you can't ignore the health benefits that come with built-in UVA, UVB, and UVC protection. So, if you are looking to invest in a pair of high-quality Oakley sunglasses, here's some inspiration of the celebrity variety.
Oakley Holbrook
Although these vintage-inspired glasses have been around for decades, they're timeless enough to be popular with celebrities of all ages. So, while it seems natural to see Robert Downey Jr. sporting a pair, it's no surprise that Zac Efron has been seen wearing them, too. And while they're often considered more masculine sunglasses due to their square shape – Jessica Biel has proven that they're perfect for ladies too.
Oakley Flak 2.0
Oakley Flaks walk the line between fashionably stylish and functional yet sporty. Celebrities who have been spotted wearing a pair of Oakley Flak 2.0s include both reality star and Hollywood A-lister Kourtney Kardashian and former world number one ranked professional golfer Rory McIlroy.
Oakley Frogskins
Although Frogskins are the original lifestyle Oakley sunglasses and are popular with celebrities everywhere, including the stunning Liv Tyler and Ashley Greene of Twilight fame, that doesn't mean you won't see sports stars like Valentino Rossi and Sebastian Vettel wearing them, too.
Oakley Radar EV Path
Although designed for sports and performance wear, Oakley's Radar EV Path sunglasses are casual and cool enough that celebrities adore them. Some well-known stars that have been spotted rocking a pair of Radar's include Miley Cyrus, Dua Lipa, Jon Favreau, and of course – none other than Lance Armstrong himself.
Oakley Sutro
Designed for cyclists as we've said – Oakley Sutros have still been popular as casual sunglasses that celebrities can wear whenever and wherever they happen to be. One example is Doja Cat wearing a pair in her "Rules" music video and NFL star Juju Smith choosing them for when he's not on the field.
Oakley Kato
First spotted on the face of Chris Froome during the Vuelta a España, a 21-stage Grand Tour race that winds around the Iberian peninsula, there were fears that the Oakley Kato would never be officially released for purchase. But, they were finally debuted by none other than MVP Patrick Mahomes during the 2020 Super Bowl and started appearing on shelves in January the same year.
As you can see, there is a perfect pair of Oakleys for everyone – and that's not even counting all the other ranges and styles that the premium brand  has to offer.