Chances are, you've heard about blue lenses and how they're the new "next big thing" in eyewear. But you may have wondered about the purpose and benefits of blue-lens glasses.
Read on to get the deets on blue-lens glasses, sunglasses, and everything in between. Then you can shop smarter, easier, and (if you're feeling bold) bluer.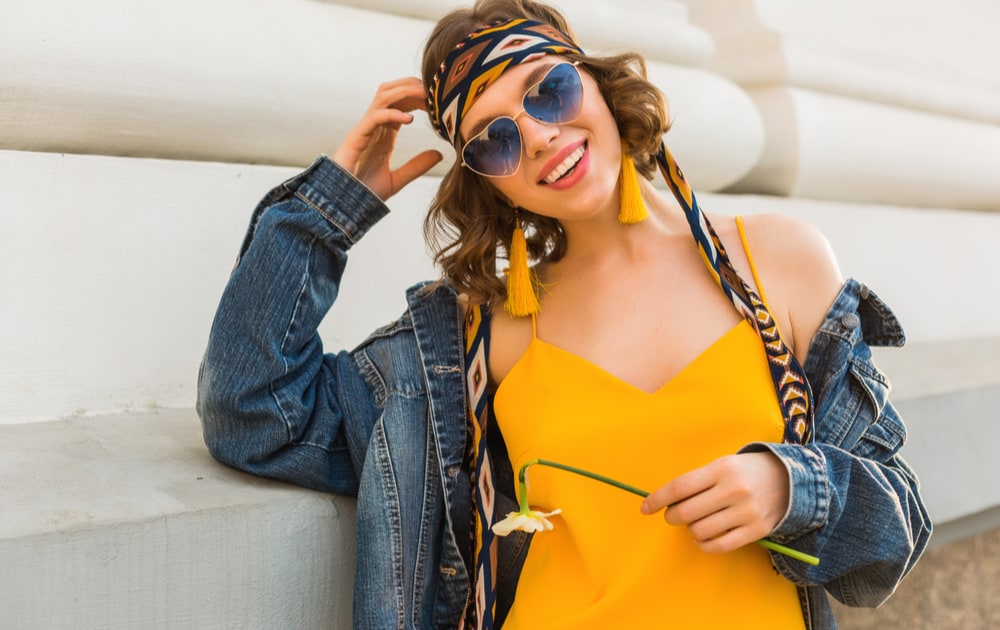 What Are Blue-Lens Glasses Used For?
Blue-tinted glasses provide both style and function. People wear them because:
Bold-colored lenses make an unforgettable fashion statement.

Blue lenses are available in both prescription and non-prescription glasses.

A blue hue enhances the wearer's perception of colors and adds a stronger contour to nearby objects.

Additional lens features are available to boost the quality of your eyewear, including UV protection, an anti-glare coating, and scratch resistance. 
These features are great for anyone, but they are ideal for people who spend a lot of time outdoors.
Benefits of Blue-Tinted Sunglasses
A bold-colored lens calls for attention and draws plenty of compliments. In addition to making a fashion statement, blue-lens sunglasses provide many benefits to their wearers.
A blue lens tint can: 
Enhance color perception 

Reduce glare in snowy conditions

Improve object contours 
Here are some situations where blue-tinted lenses may be especially helpful:
Snow sports (skiing, snowboarding)

Water sports (fishing, boating)

Outdoor leisure activities (golf, walking)

Low-visibility conditions (fog, mist, snow)
Lenses with a blue tint can also provide 100% protection against UV rays, just like darker tinted lenses. Make sure any sunglasses you buy are labeled as providing 100% UV protection — no matter what color the lenses are.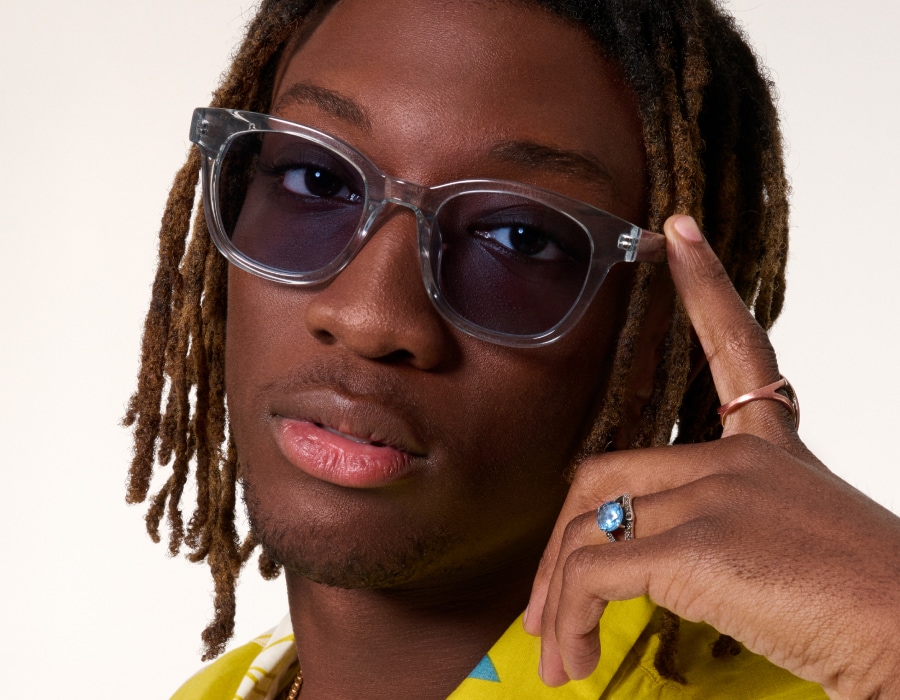 Types of Blue Lenses
Blue-tint glasses can be tailored with a specific type of tint, shade of blue, or other lens feature to fit your lifestyle and preferences. Here are some tint options to consider:
Light blue

– At 20% tint strength, this tint is useful for indoor environments or overcast conditions because it's not too dark.

Medium blue

– At 50% tint strength, this tint is perfect for outdoorsy types who require a bit more visual clarity in the sun.

Dark blue

– At 80% tint strength, this tint is ideal for sunny conditions because it greatly reduces brightness.

Gradient blue

– A trendy look, this tint has a darker shade of blue at the top of the lenses that gradually lightens as it moves down toward the bottom of the lenses. 

Mirrored blue 

– This tint adds a bit of flashiness to your already fashion-forward lenses.

Polarized blue –

This tint reduces glare in extremely bright environments and improves hazy vision.
Where to Get Blue-Lens Glasses
Ready to indulge in a tinted lens? You can browse each of the options above when picking out lenses for your new glasses on Eyebuydirect. Simply click "Select Lenses" under your preferred frames and you'll be prompted to pick the lens features you want on the next page. 
Tip: For eyeglasses, you'll need to select "Sun" under the lens color selector to find blue lenses. This option appears after you've selected your lens usage. For sunglasses, you only need to click "Select Lenses" to find the option for blue tints.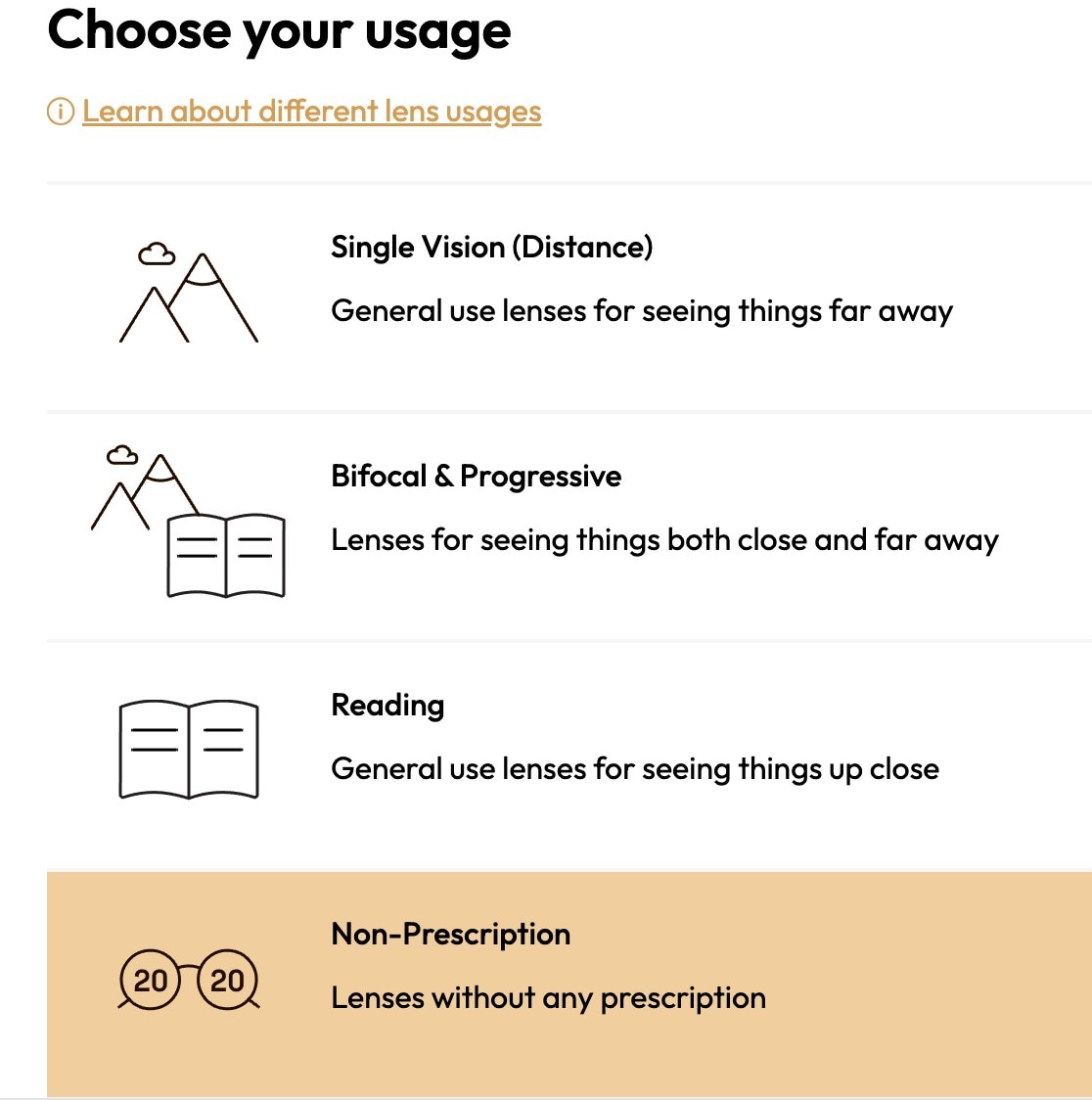 Select 'non-prescription

Select 'sun'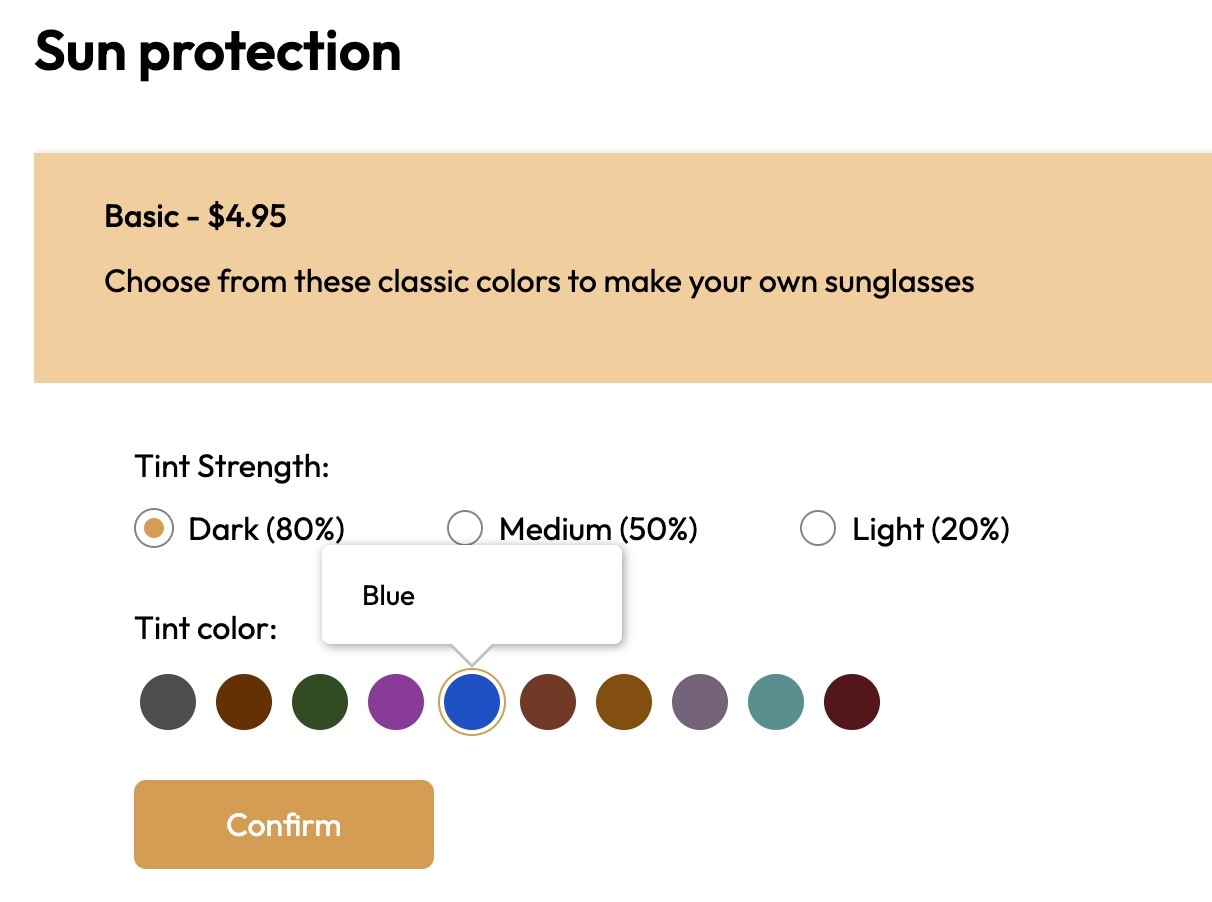 Select 'blue'
Blue Lenses vs. Blue-Violet Light Lenses
Blue-tinted lenses should not be confused with blue-violet light filtering lenses. It may seem obvious, but blue-tinted lenses are not specifically designed to filter blue-violet light. Glasses with blue light filtering lenses are also sometimes called blue light glasses or computer glasses. 
When you order from Eyebuydirect, you can add blue-violet light filtering technology to any non-tinted eyeglass lenses.