You finally did it, you finally found the perfect pair of sunglasses. It took years of bad pairs, pairs you thought were great but ended up hating, pairs that slipped off the nose or pinched the bridge. But now you have the holy grail of shades and you want to wear them all the time, every single day. Contacts aren't an everyday product for everyone and so you may feel stuck unable to wear your sunglasses the way you want to. So what do you do? Put your perfect sunglasses away half the time and instead wear your regular glasses? Put in contacts any time you have to drive or go out? Finding out, "can you use sunglasses frames for eyeglasses?" is your next step towards making your favorite frames perfect for any occasion.
Actually, you can get the best of both worlds if you put your lenses in your sunglasses frames. Sadly that won't work for every pair. Here is what you need to know about turning your favorite pair of shades into a pair of glasses and the alternative if you can't.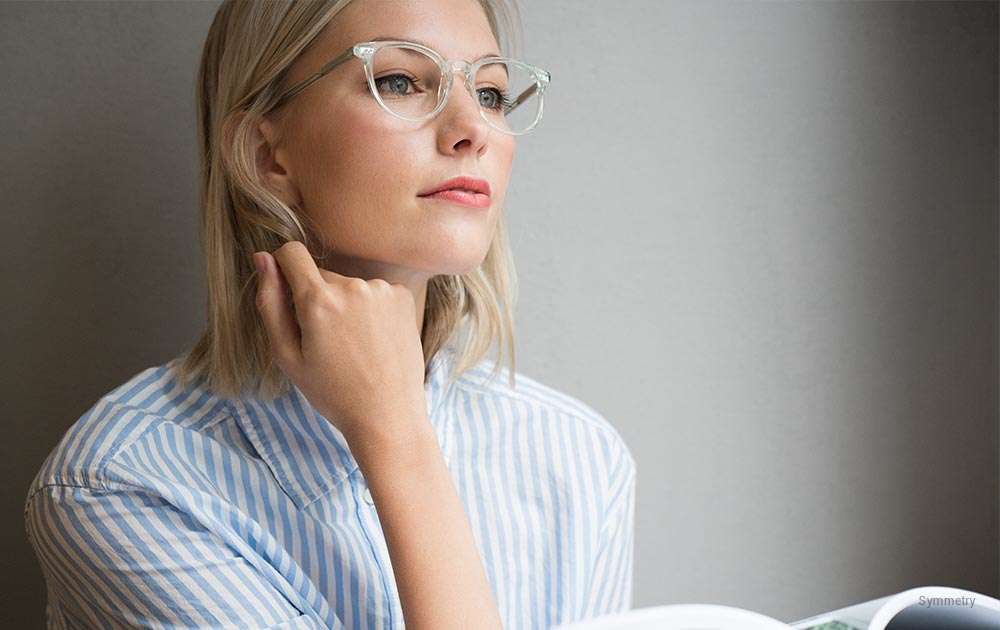 Aura, in Celeste
Can You Use Sunglasses Frames for Eyeglasses?
That depends on the quality of your sunglasses. Let's say you are at a mall and there is a kiosk selling sunglasses. You find a gorgeous pair for $150 that looks amazing on you. They are from a reputable brand and promise high quality materials and a warranty. Those sunglasses may or may not be qualified for prescription lens fitting.
If you are at a drugstore and you see a cool looking pair for $10 on display and pick them up, those won't work. A low-quality pair isn't suited well for finding out the answer for the question, "can you use sunglasses frames for eyeglasses". Sure, they may look good and feel sturdy for the price. But they just aren't high quality enough to hold prescription lenses and there is no way an optometrist would agree to fit them.
For the best bet of finding a pair that can be fitted, buy frames from your optometrist's office and speak to them about the fitting. That will keep you from wasting money, plus you can be assured the highest quality sunglasses possible. You can also find them on an optometrist website dedicated to selling high quality eyewear.
What Constitutes Good A Frame?
Before fully answering the question, "can you use sunglasses frames for eyeglasses," it's important to figure out what you should search for in a good frame. There are two materials used for frames, metal and plastic. In the plastic category, you want frames made from a version that is both lightweight and strong. Zyl is the lower cost option and while great, some optometrists won't fit lenses in it because there is more of a chance that they can break. They prefer cellulose acetate propionate or nylon frames that are more flexible.
Metals are stronger though sometimes heavier. Titanium is arguable the strongest but can become worn if wearers spend a lot of time near or in salt water, such as living by the beach. In which case they may want to try either Beryllium or Monel, which is a mixture of various metals to make a combination alloy.
Are Prescription Sunglasses Worth The Cost?
As you can see, while it is possible to get lenses fitted into sunglass frames, it is a complicated process that depends on a lot of factors and the willingness of your optometrist. For some people it might just be easier to buy a pair of prescription sunglasses.
These usually start around $200 and can vary in price up to $2500. Sometimes insurance will cover a percentage of the cost, so be sure to check out your plan and any special deals being offered by your selected retailer.
What About Transitions Lenses?
Transitions lenses are another option. These photochromic lenses work by transitioning in different lighting from one shade to another, depending on how bright the environment is. So indoors when it is dim in the room  you might have clear lenses, then as it gets brighter they will darken. Outside in bright sunlight they will go completely dark with everything in between.
It costs less to go with this option because you can incorporate it with your next pair of glasses, or get these lenses fitted into your current frames.
You Have Options!
As you can see, there are plenty of ways for you to get sunglasses to match your prescription power. You just have to find the option that works best for you, your lifestyle and your budget. Whether that means fitting your existing frames with prescription lenses or getting a whole new pair is up to you.