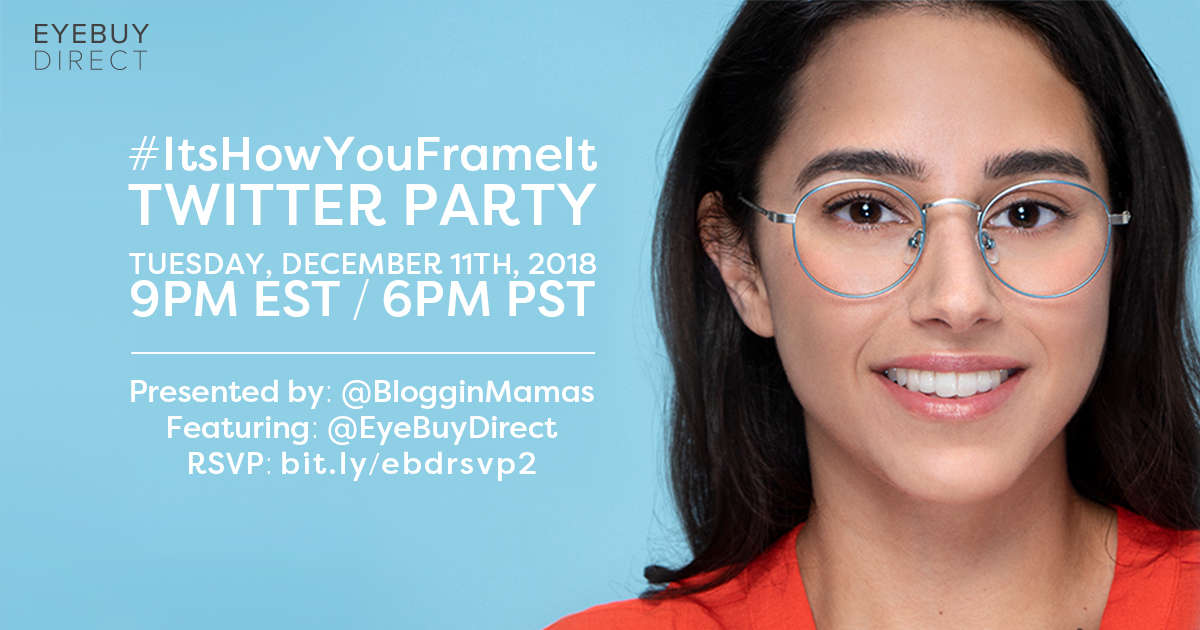 The holiday season is a time to reflect on the year, celebrate accomplishments, and enjoy festive parties with our friends and family! Here at EyeBuyDirect, we love the holidays and would like to invite you to join us in our celebration.
On December 11th we are holding our annual holiday Twitter party to show thanks to our amazing community of customers.
Sharing Perspectives
Our party will be brought to you by our host: Bloggin' Mama's, and we'd love to hear about your happiest memories from 2018! To join the conversation, follow @EyeBuyDirect or @BlogginMamas on Twitter, and post a tweet using the #ItsHowYouFrameIt hashtag during the event. You can also RSVP via Bloggin' Mama's website here.
Reflecting and Inspiring
We believe that a great pair of glasses can change your perspective on the world. This is important for looking back on this year's best memories, and for making new ones. After all, #ItsHowYouFrameIt!
With this in mind, we are proud to launch our limited edition Holiday Collection — inspired by beautiful winter landscapes, sparkling festive decorations, and cozy holiday treats. Brighten your holiday style with our bestselling frames in exclusive new colors such as Frost Blue, Emerald Green, and Cinnamon Red. Only Available while stocks last! This eye-catching collection is available starting December 3rd — just in time for all your holiday events.
A Holiday Gift from Us
As our holiday gift to you, we will be holding a prize draw during the party. Everyone that tweets will be entered for a chance to win stunning frames from our selection of over 1000 quality styles. Each winner will receive a gift card between the value of $25 and $150 to shop our quality crafted collection of frames. Join the fun for the opportunity to choose your own fashionable frames from our comprehensive range of colors and finishes -for a party look, or something fresh for your winter style.