Fashion experts agree: minimalist glasses are a cornerstone piece of any slim and sleek wardrobe. Through decades of style, their geometric angles and modern structure have made them the perfect expression of sophistication and class.
If you're searching for an accessory that can act as the finishing touch on your business or formal ensembles, then look no further. The versatility of minimalist glasses makes them the perfect companion for any formal occasion, and a contemporary choice for casual events as well.
Minimalist Glasses with Structural Flair
In the realm of minimalist glasses, rimless frames reign supreme. By breaking down the concept of eyewear to it's bare essentials (lenses, a nose bridge, and temple arms), rimless frames such as Primo, Regis, and Woodrow stand at the forefront of modern fashion.
What makes these three frames so unique? Well, it's all in the details. For example, Regis is a rimless frame with subtly pronounced design elements. The curve of it's singular nose bridge serves to attract attention to the eyes, and a trio of engraved lines decorates one temple arm. This is minimalist design in its most refined form.
Rimless glasses aren't the only option out there. If full-rimmed frames are more up your alley, than eyewear built from top-quality titanium is also available at Eyebuydirect. The sheen of these specially crafted rectangular frames are eye catching without being overbearing. The best part? Their strong material makes them extremely durable.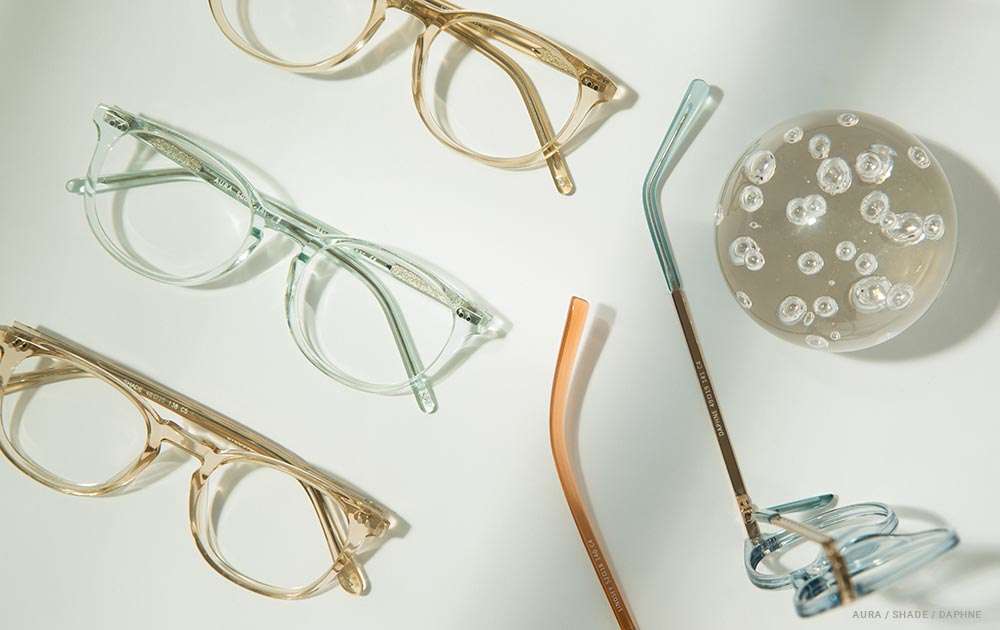 Aura in Translucent, Shade in Champagne, and Daphne
Minimalist Glasses with Smart Color Use
It's a common misconception, but minimalist design can be expressed in so many more ways than just the structure of your glasses. Not many know it, but a smart and restrained use of color can also provide the subtle and sleek flair you desire.
Clear frames are so minimalist in color that they're — you guessed it: virtually transparent. Their flair is so effectively subtle that they almost give off the impression that you're not wearing glasses at all.
Want more? Eyebuydirect's premium eyewear brand, RFLKT, incorporates a suite of minimalist design philosophies. In both color and structure, this collection of eclectic frames redefines the modern eyewear trends with refreshing ingenuity.