Two tone glasses are reminiscent of classic Browline glasses, a type of eye wear that originated in the 1950s. Browlines are typically heavier and darker around the top of the frame, and lighter at the bottom. The top of the frame defines the wearer's face, whilst the lighter bottom prevents them from appearing too chunky. Traditionally, Browline glasses were made of a plastic top, with metal bottoms and plastic arms.  
Two tone glasses are usually made from plastic, and incorporate multiple colors in the glasses' frame. The style often uses the same principles as Browlines, featuring a darker color on top, blending into a lighter color towards the bottom. The great thing about this style is its sheer versatility. Two tone glasses appear in a myriad of colors, from a traditional soft pallet of dark browns and blacks, to bright, warm colors like blue, red and green. They can incorporate patterns into the frame, such as tortoiseshell, and can even use multiple colours within one frame, resulting in a truly modern and distinctive pair of glasses.
So how do you decide which pair of two tone glasses is right for you? You can start by choosing a color that best suits your complexion. Here are some of the main colors you might find on the market, and the complexions they suit best:
Red Two Tone Glasses
Red is a beautiful, rich color. It perfectly balances ashy complexions, adding warmth. There are many shades of red to choose from, ranging from deep mahogany and burgundy, through to stronger shades such as scarlet or cherry. If you feel intimidated by a brightly colored pair of glasses, then a dark red is a perfect choice for you, offering subtle warmth without drawing too much attention. However, if you really want to stand out in a crowd, a pair of bright red glasses will help you to do just that.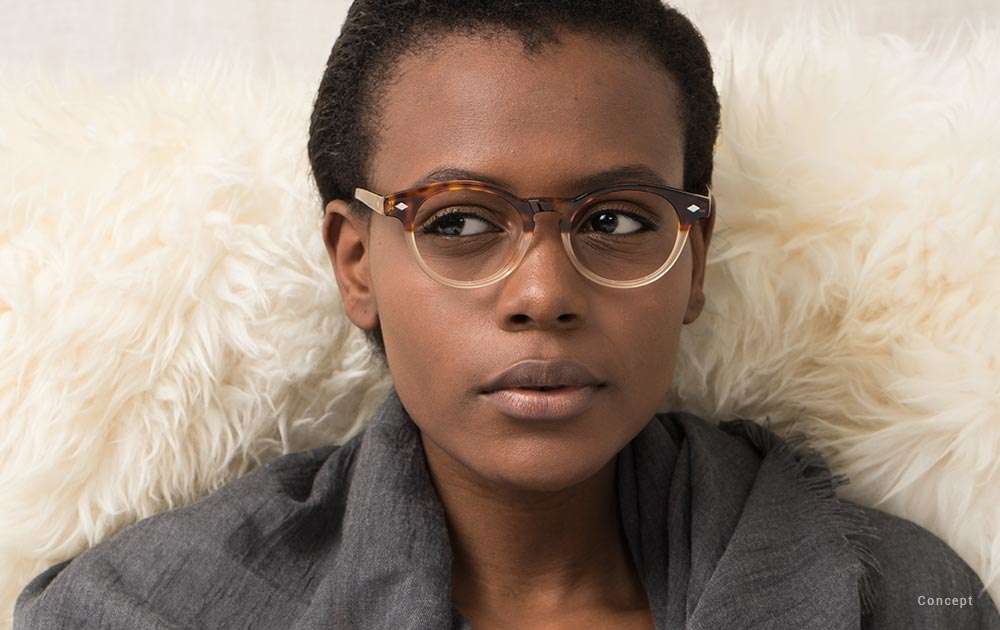 Concept, in Macchiato Tortoise
Green Two Tone Glasses
Darker greens such as olive and emerald are amazing against dark skin, whilst bright greens such as jade and lime look fabulous against a pale, creamy complexion.
Blue Two Tone Glasses
Think tropical hues of topaz, azure and cobalt. These cool tones work well for those with a warmer complexion, and beautifully compliment blue and green eyes.
Purple Two Tone Glasses
Purple is a universally flattering color. From delicate mauves to rich midnight hues, the color purple complements warm and cool skin tones alike, and flatters all eye colors. Purple toned glasses are appropriate for any situation, from work events to casual social occasions.
Earthy Two Tone Glasses
Choose some classic black or brown earth tones for a versatile pair of glasses that will suit every outfit and every occasion. The great thing about two tone glasses is that you can even combine a neutral shade with a dash of color, blending a tawny brown into a soft amber, or black into a rich dark mulberry.  Or why not go all out and combine two bold colors for a distinctive and unique pair of glasses.
Have a look at all our two tone glasses (and more!) and check out all the different possibilities.