At EyeBuyDirect, we often get asked if we have wholesale clear lens glasses. Sometimes, people are wondering if we're a glasses wholesaler, while other times, they're using the term wholesale as a way to describe affordable eyeglasses. To help clear things up, we thought we'd take a few moments to answer a few of your questions.
What are wholesale clear lens glasses?
First up, let's define wholesale. Wholesaling is the sale of large quantities of goods or products to a merchandiser or distributor, usually at a discounted price. In this case, it's the selling a large stock of clear lens glasses at a discount. So what does that make EyeBuyDirect? We do sell over a thousand different eyeglass frame styles and we have super affordable prices that won't break the bank.
Does that make us a wholesaler? Not quite. Well, not unless individual customers start ordering 100+ pairs of glasses with the same frame and same lens prescription! But we do provide low prices by producing our eyeglasses with a wholesale-like process.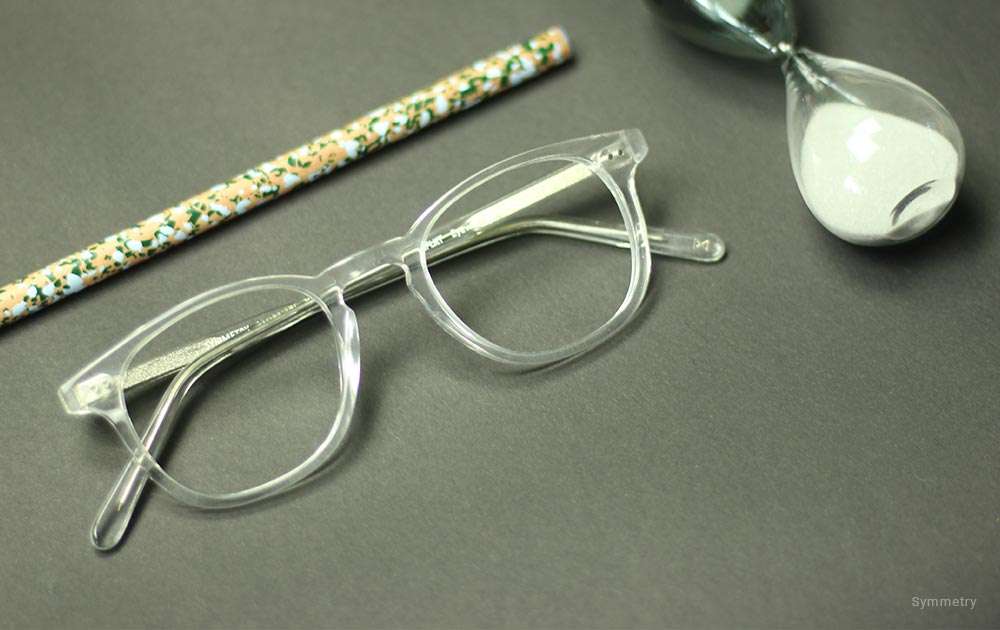 Symmetry, in Translucent
Why are eyeglasses at EyeBuyDirect affordable?
EyeBuyDirect takes a wholesale-like approach when manufacturing our clear lens glasses. We have a large stocks stock of individual frame styles, which is more cost-effective than just producing a handful of frames for each style. And instead of ordering each individual lens needed for a single pair of glasses, we order large quantities of different types of lenses. This allows EBD to pass the savings onto you, the consumer.
How does the process work?
Once the frame is designed and the prototype is signed-off on, we figure out the right number of frames we need to make in order for you to get wholesale clear lens glasses savings. This, in turn, allows us to order the right amount of materials and components so there's no extra cost due to waste. So whether it's sheets of acetate for frames or hinges to connect the temple arms, we always have the right amount.
EyeBuyDirect also purchases its clear glasses lenses wholesale. That's one of the main reasons EyeBuyDirect's lenses are so affordable. On top of that, we cut and set our own lenses in our own lens lab, creating extra savings for you.
Passing these combined savings from our frame manufacturing process and our wholesale lens ordering onto you is what makes even our premium frame styles and lenses more affordable than most traditional brick and mortar glasses shops.
Can I order wholesale clear lens glasses from EyeBuyDirect?
While each order has an eight pair limit, that doesn't mean you can't extra save money when ordering more than one pair! If you're ordering several pairs of eyeglasses at a time and are looking for some savings, there's always a deal to be had. First, make sure to check out our coupon page for our special promotions on frames, lenses, and more. You can also shop our sale section for select styles for lowered prices. For those of you who are motivated by notifications, sign up for our newsletter to stay abreast with the latest deals or follow us on Instagram and check our stories for exclusive eyewear offers, like BOGO or overstock sales.
Does EyeBuyDirect offer partnerships with opticians and other retailers?
We get it, we have some pretty cool clear lens glasses frame styles. And they're pretty darn affordable to boot! If you're an optician, optometrist, or ophthalmologist who'd like to purchase EyeBuyDirect frames, feel free to contact us at eyecare@eyebuydirect.com to learn more about how to stock EBD frames in your glasses shop.
So there you have it! Hopefully we've covered any questions you may have had. If not, feel free to send us a message on Facebook or Instagram. Ready to get your savings on multiple? Check out our On Sale selection and save up to 50% on some new eyeglasses!